The two RET spots for 2021 have been filled, but we encourage you to consider applying in future years. Please read the description below to learn more about the program, and reach out to Ashley Alred, MH-YES Program Coordinator, with any questions at alreda@caryinstitute.org.
 
MH-YES RET Fellowship
MH-YES RET (Research Experiences for Teachers) Fellows will be innovative, local high school teachers interested in strengthening their teaching, research and mentoring skills. They will join a professional learning community focused on engaging a diverse group of students and community members in Science, Technology, Engineering, and Math (STEM).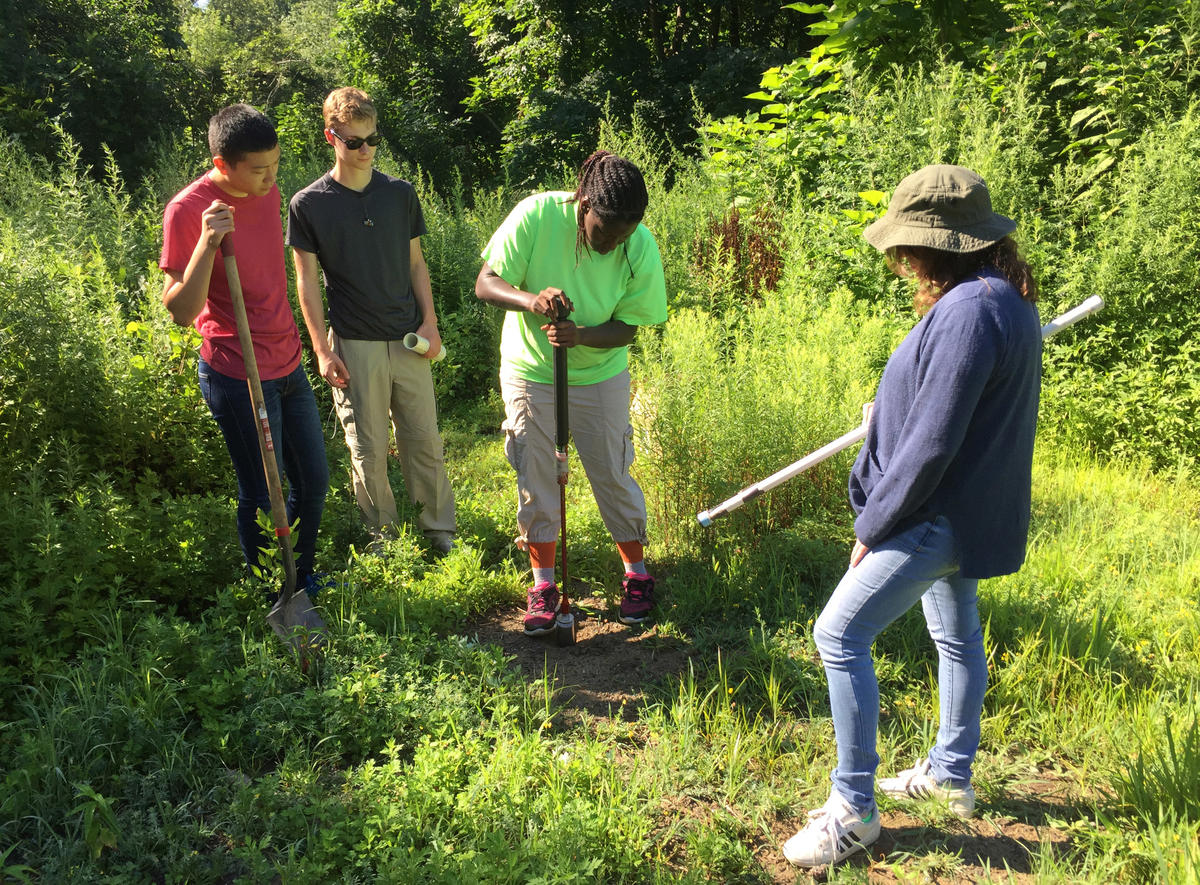 The RET Teacher Fellows will conduct research in urban terrestrial and aquatic ecology under the mentorship of Drs. Alan Berkowitz and Zion Klos. Each Fellow will be an integral part of one of two teams of four high school students, each being mentored by an undergraduate student and advised by the scientists. These teams will collaborate to design and carry out a research project during the summer program.
Drs. Berkowitz and Klos have extensive experience working with high school teachers as RETs. The Fellows also will be mentored by Ashley Alred (Cary Education Program Leader) in the education component of the experience.
The Fellows will develop applications of the ecological research to her/his teaching, producing an instructional unit to pilot test in the 2021-2022 school year. We will follow-up with the RET Fellow periodically during the school year, coming into the classroom to observe and assist during implementation of their units, and helping with assessment and documentation. Each Fellow will produce a small portfolio at the end of the school year to document their experience and insights from the program.
Work with scientists and educators to mentor students in authentic research!
MH-YES Teacher Fellows will spend three weeks this summer working with an undergraduate to co-lead research teams made up of 4 high school students, under the mentorship of Cary Institute and Marist College scientists and educators.
Both research teams will focus broadly on current watershed-related issues in the Hudson River region, including but not limited to: 1) impacts of microplastics and other micropollutants of emerging concern in Hudson River tributaries 2) habitat modification in streams, 3) influences of contaminants on the ecology and hydrology of soils, and 4) habitat modification influences on the ecology of terrestrial animals. 
While the general research topics are set, the MH-YES Teacher Fellows will work closely with the high school students, undergraduate researcher, and participating scientists to develop specific questions and experiments. We are especially interested in local teachers who have experience working with students from under-represented groups.
Participants can expect to gain:
Training in scientific research and mentoring practices targeting students from under-represented groups
Experience collaborating with undergraduates on leadership and mentoring
Experience conducting lab and field research in aquatic and terrestrial ecology 
A stipend of up to $3,500 ($200/day) for participating as a YES Teacher Fellow in the MH-YES Program  
A supplies stipend of up to $500 for materials needed to implement their instructional unit in their classrooms during the school year.
Total time commitment and stipend:
Up to 3 days (part time) between April 1 and July 26, 2021 to help with program planning, student selection, and orientation activities for students and mentors.
15 days (full time) during the program.
Up to 2 days (part time) between the end of the program and the end of the 2021-22 school year to help with participant follow-up and to implement and document outcomes from planned instruction with students.  
*Some travel support is available for teachers
Questions? Please contact Ashley Alred: alreda@caryinstitute.org