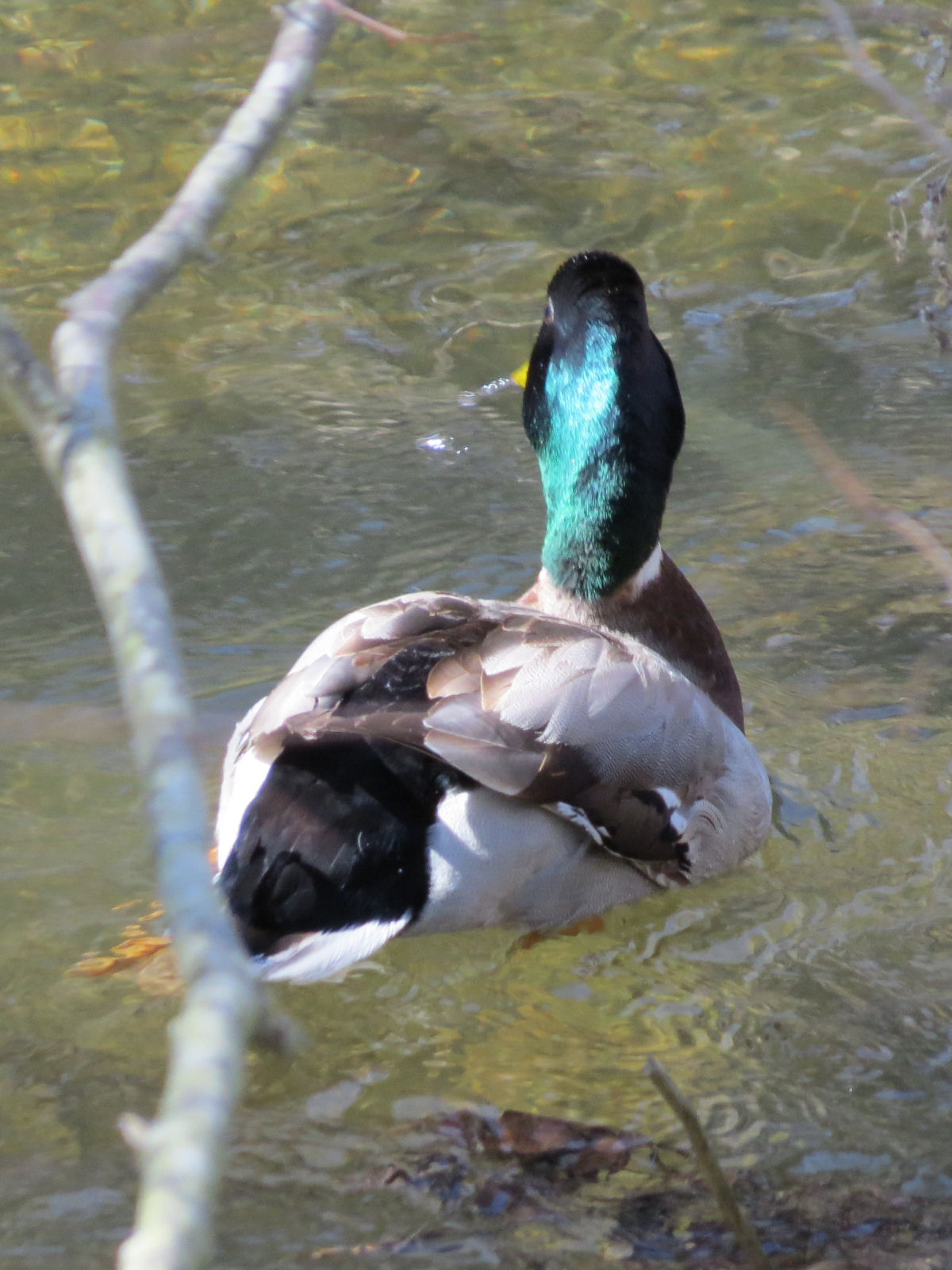 Mallard
Notes and Changes since last report
It was 60°F, clear and breezy on April 20, 2022.
The air was much cooler than last week, and the annoying bugs were less annoying.
New things have been sprouting or blooming almost daily this time of year.
This week's trail report covers the Wappinger Creek Trail side of the trail system.
---
The Trails
Grass was greening at the Gifford House trailhead.
Tree swallows were in the air or clinging to tree tops in the gusty winds.
Along the side of the front Old Hayfield, honeysuckle bushes were leafing out. The early leaf out of many invasive plants is more than a head start - it shades out native plants before they have a chance.
Underfoot were the first dandelions of the season.
Closer to the edge of the path was purple dead nettle.
Back up at eye level was the darker green of privet.
Reaching out for the unwary was multiflora rose.
At the corner of the field Japanese barberry was getting green and sporting flower buds as well.
On the other side of the field, an eastern towhee was calling.
At the head of the Sedge Meadow Trail, ground ivy, or creeping Charlie, was up and flowering.
Skunk cabbage leaves were unfurling on either side of the Sedge Meadow boardwalk.
The trail running along the edge of the Sedge Meadow is a favorite for bird watching.
Violets can usually be found in sunny patches.
The Sedge Meadow itself was getting green.
That was largely due to the tussock sedge.
Out in the back Old Hayfield, burningbush was budding up.
An exciting find was a cecropia moth cocoon. The spectacular adult moth is the size of your hand.
After the recent rains, the Wappinger Creek was pretty full today.
Patches of afternoon sun along the trail down the hill harbored an eastern comma - one of our few butterflies that overwinter as an adult.
Along the edge, Canada mayflower leaves were unfurling.
Tufts of Pennsylvania sedge were starting to flower in the background.
Down at the bottom of the hill, the floodplain was green and yellow.
Invasive lesser celandine looks similar to our native marsh marigold.
Farther downstream, several mallards were feeding.
Once in a while the light was right and a head would turn from black to iridescent green.
In the lowest part of the path, toothwort was getting ready to bloom.
Mixed in was cut-leaved toothwort.
Some times those cut leaves are pretty broad, and then the downy upper stem is a helpful feature.
Compare with the smooth stems of regular toothwort.
Just beyond, wood anemone was starting to bloom.
The young, closed bud is pink, but that changes to white as the blossom opens.
And that brought us around to a favorite bench at the Appendix.
Next week: the Cary Pines Trail the side of the trail system.
---
Sightings
Birds

2 Mallard
1 Red-tailed Hawk
1 Mourning Dove
3 Yellow-bellied Sapsucker
1 Hairy Woodpecker
3 Northern Flicker
1 Eastern Phoebe
3 Tree Swallow
2 Tufted Titmouse
1 White-breasted Nuthatch
3 Ruby-crowned Kinglet
3 Eastern Bluebird
1 American Robin
2 European Starling
1 Pine Warbler
3 Eastern Towhee
1 White-throated Sparrow

Plants

1 Bradford pear
1 Chionodoxa
1 Dandelion
1 Ground ivy
1 Lesser celandine
1 Purple dead-nettle
1 Violet
1 Wood anemone

Butterflies