MH-YES 2021 Program
The Mid-Hudson Young Environmental Scientist (MH-YES) program is an opportunity for eight high school students – mentored by two high school teachers, two undergraduate students, and four scientists – to work together to design and conduct research projects focused on both terrestrial and aquatic components of local watersheds—in the field, in the lab, and near their own homes!
MH-YES is a full time, 3-week program starting Monday July 26 and ending Friday August 13, 2021. The program runs from 9 am to 4 pm Monday-Thursday, and 9 am to 1 pm on Friday, and takes place at Cary Institute in Millbrook, and Marist College and field sites along the Fall Kill Creek in Poughkeepsie. Students will also work from home several days during the program to conduct field studies, building upon the success of last year's virtual program. Transportation will be available for a limited number of students between their homes and all program activities, if allowed within current COVID safety guidelines.
New This Year!
Interested in five weeks of field research experience? This year you can apply to both Cary Institute's MH-YES program and New York Department of Environmental Conservation (NYDEC)'s The Institute Discovering Environmental Scientists (TIDES) program with the same application! We scheduled MH-YES and TIDES so students can participate in both programs to gain an even more in-depth learning experience about the Hudson River watershed. The deadline to apply is May 21st.
Undergraduate Internship Opportunity
Two undergraduate students serve as "near-peer" mentors to the high school students and fulfill an integral role in cultivating a supportive, positive learning environment while performing field research about watershed ecology.
One undergraduate from Marist College will serve as the "aquatic" mentor, while Cary Institute will have one undergraduate to serve as the "terrestrial" mentor. This internship is for Cary Institute's "terrestrial" undergraduate mentor.
Application Deadline: April 30, 2021
2021 MH-YES Program - Timeline
Early June: Selected students are notified and participation confirmed.
June: Selected students participate in a one-hour after-school orientation session.
Late-June to Mid-July: Background readings
Week before program (July 19-24): Students participate in a brief in-person meet-up for team building activities one weekday evening or Saturday morning (scheduling dependent upon students' availability) 
July 26-August 13:

Students, teachers, and scientists work in two teams to design and conduct collaborative research projects. 
Field trips, participate in workshops in communication, career opportunities in environmental science, and networking with other students and scientists in the region. 
Community outreach and engagement activities periodically during the program.

August 13: Final Symposium (location TBD) – ALL INVITED!!! – where students share their research findings with the community.  
Through the MH-YES program, high school students will build skills in research, data collection, interpretation and analysis, and lab and field techniques, in tandem with developing communication, collaboration, leadership and presentation skills and a deeper connection to their local watershed—both in the field and at home.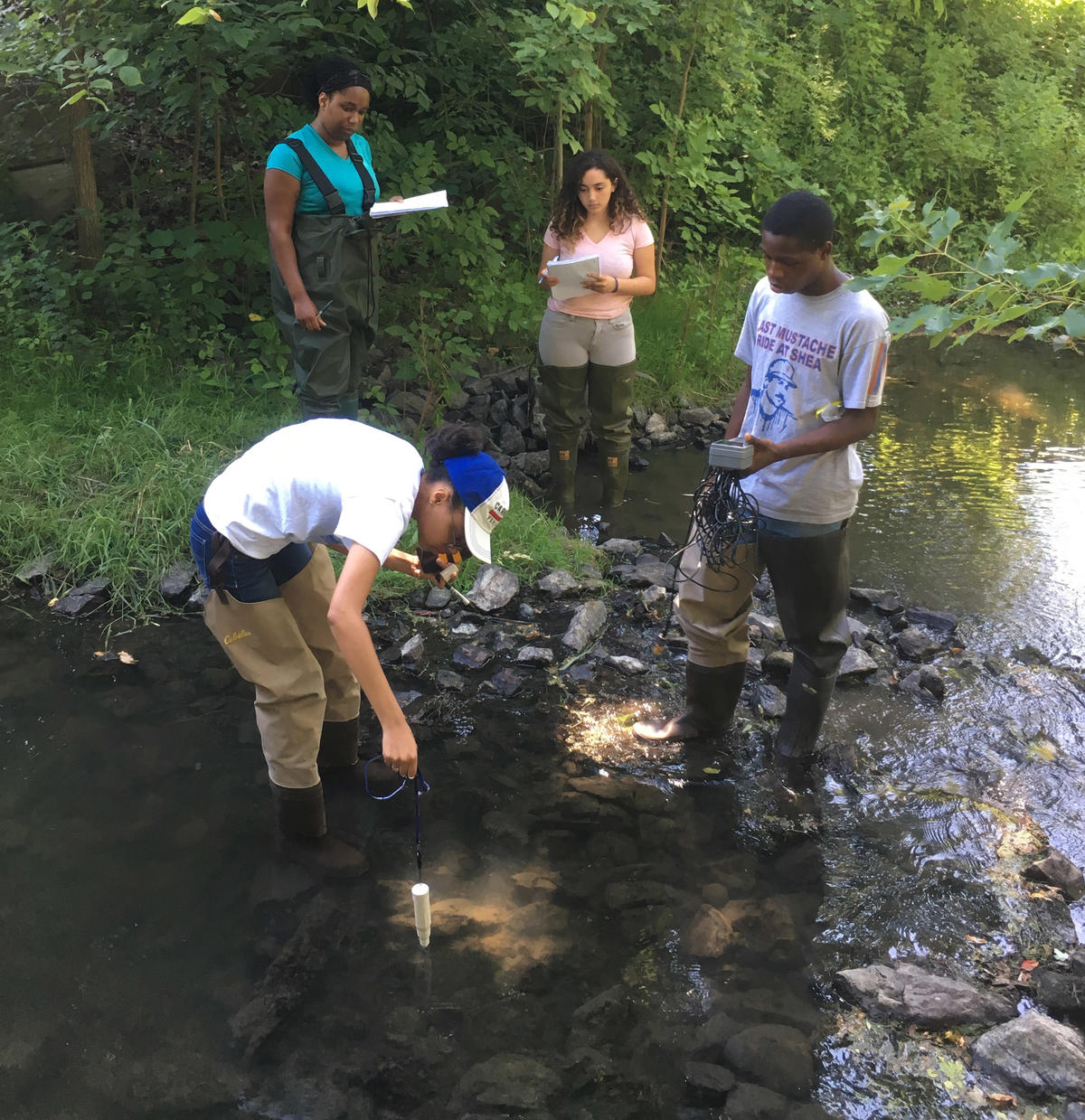 Teams
Each team will consist of four high school students, an undergraduate student, a science teacher, and research mentors. Teams will conduct research on pertinent issues concerning the ecology of watersheds in the Hudson Valley, including but not limited to: 1) impacts of microplastics and other micropollutants of emerging concern in Hudson River tributaries 2) habitat modification in streams, 3) influences of contaminants on the ecology and hydrology of soils, and 4) habitat modification influences on the ecology of terrestrial animals. 
Past student research projects include:
Impacts of Hydrological Infrastructure on Water (2020)
Coniferous versus Deciduous Soil: Pre and Post Storm Water Quality (2020)
Effects of Impoundments on Water Quality in the Upper Fall Kill Creek Using Multiple Independent Variables (2019)
Fecal Indicator Bacteria on Plants in the Fall Kill (2018)
Exploring Soils' Retention of Salt and the Effect of Road Salt on Plant Height (2018)
 
Student Eligibility
Anyone who is a high school student in the 2020-2021 school year is eligible to apply. (The MH-YES program is seeking one undergraduate student to be a mentor to the high school participants. If you are interested in this opportunity, please contact alreda@caryinstitute.org.)
We select participants based mainly on their desire to do field and laboratory research, and who are excited about working in a team collaborating on projects and spending much of the day outside or in a laboratory. We are interested in what you are doing in school, but we do not assess applicants based on grades or test scores.  If this sounds like a great way to spend three weeks of your summer, we would love to work with you! 
Cary Institute and the New York State Department of Environmental Conservation seek to support participants with the unique backgrounds, circumstances, needs, and perspectives that reflect the diversity of our Hudson Valley community.
Teacher Eligibility
The summer RET (Research Experiences for Teachers) Fellowship Program is for local high school science teachers interested in strengthening their research and mentoring skills. The two RET spots for the 2021 MH-YES program have been filled, but we encourage you to consider applying in future years.
Duration
Monday-Friday, July 26th-Aug 13th, 2021
Hours
The program is 32 hours per week. Participants will work from 9am - 4pm Monday through Thursday, and from 9am-1pm on Friday. 
---

About the MH-YES Program
The MH-YES Program will engage a diverse group of local high school students with teachers, undergraduates and scientists in authentic watershed research that addresses pressing environmental challenges in the local community.
The aims are to build students' knowledge, skills, motivation, and confidence for pursuing environmental science careers, while supporting teachers' ability to pique student interest in environmental science.
Youth from underrepresented groups in the Hudson Valley often lack opportunities to engage with their local environment and consequently may feel that environmental science is not accessible to them. MH-YES addresses this problem directly by providing an opportunity for students to conduct original research. We have developed a network of scientists and educators in the mid-Hudson Valley committed to mentoring, research, and community engagement. Students will conduct collaborative investigations into human influences on the ecology of aquatic and terrestrial parts of the Hudson River watershed, including their very own home environments.
Research teams will work with scientists from Cary Institute and Marist College. The MH-YES program will engage with the community through the 3-week program and through two outreach events: one to learn about local watershed issues in Dutchess County and the other to share the teams' research findings at a final symposium. Additionally, teachers will take the experience back into their classrooms, further extending the reach of the program into local schools.
The MH-YES Program is part of a regional network of mentoring programs for high school students organized by the Lamont Doherty Earth Observatory at Columbia University Early Engagement in Research Program. It includes scientists, educators and students at Hudson River Park, Young Women's Leadership Network, and the Wildlife Conservation Society. (Full list of partners) 
Support for this program comes from the New York State Water Resources Institute at Cornell University and NYSDEC Hudson River Estuary Program, Marist College, the Henry Nias Foundation, Nellie Mae Education Foundation, Laura J. Niles Foundation, and Cary Institute of Ecosystem Studies.