The Mid-Hudson Young Environmental Scientist (MH-YES) program brings together local high school students, science teachers, undergraduates, and scientists to investigate watershed ecology in the Mid-Hudson region. Participants are divided into Cary Institute and Marist College teams. Over six weeks, the teams develop original research questions, conduct field experiments, analyze data, and share their findings. This year, the MH-YES program was run virtually, with students undertaking field experiments near their homes throughout Dutchess County.
Cary Institute Education Program Specialist and MH-YES coordinator India Futterman reflects on the experience:
The first time I met the MH-YES high school students in person was outside each of their homes as I completed contactless drop-offs of research supplies. This was two weeks into the program. Even from behind face masks and at a safe distance, our excitement was obvious. Perhaps most thrilling to the students were the plastic bins I was dropping off. Each was filled with materials the students had requested to do their projects: cake pans (to measure water evaporation from soil), plastic bags (to affix to tree branches to capture the water they release), digital kitchen scales (to weigh soil samples), and more.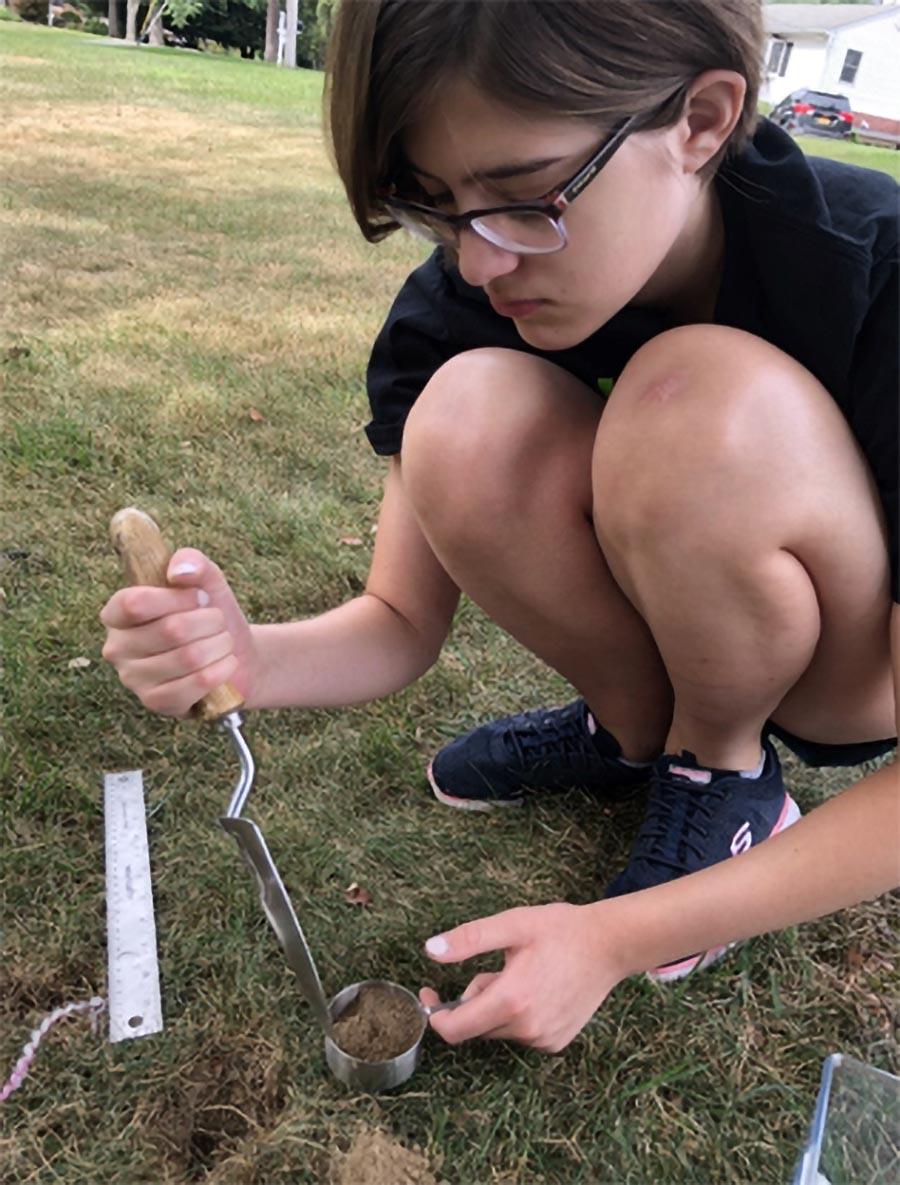 Supply delivery day was scenic, with stops in Amenia, Millbrook, Arlington, Hyde Park, Hopewell Junction, and Wappingers. Traversing Dutchess County's urban-to-rural gradient reinforced my view that the students were taking on a remarkable endeavor: investigating very different backyard ecosystems to answer complex ecological questions – without ever meeting in person.
The two teams of four students each spent their first week brainstorming research topics over Zoom with their mentors. An undergraduate, a local high school teacher, and a research ecologist guided each team. Outdoor exercises included scouting study sites, practicing field methods, and undertaking GIS investigations designed to connect local field observations with the broader neighborhood and watershed. After settling on their research questions, the teams developed methods to test their research questions, selected research supplies, then dove into fieldwork and data analysis for the remaining three weeks.
Student projects were novel and ambitious: one team sought to determine whether vegetation type impacted soil water quality following Hurricane Isaias. The other set out to compare 'water budgets' in their home ecosystems by quantifying 'inputs' like precipitation and drinking water, and 'outputs' like evaporation, transpiration, and wastewater. The team considered how built surfaces like roofs and pavement influenced these inputs and outputs. (Learn more about transpiration with this 'Bagged Branches' activity.)
Both projects ended up diverging from the original plans due to time and COVID-19 constraints, but the students were undeterred. The MH-YES leadership team reassured the young environmental scientists that research is always mutable; problem-solving, communication, and open-mindedness in the face of unexpected obstacles are all key to research success.
During a post-program interview, Sophie Lucal, a student at Millbrook High School, noted, "After doing the MH-YES program, I feel more confident in my ability to analyze data. Typically in class, there's only one defined way the data can be derived and interpreted – and you get dinged if you do something different. This summer, I learned that there can be many ways to solve a problem. I could propose an idea and someone else could propose a different idea, and they could both be correct."
The MH-YES students came away from their summer experiences with stronger teamwork skills, a better understanding of the ecosystems around their homes, and a sense of pride and ownership of their research projects.
Kaiya Lasher, a student at Franklin D. Roosevelt High School, commented, "The program increased my confidence with environmental science and working as a group because I was able to work with people who have the same kind of drive as me, that are motivated to work. I learned a lot while being told that it's okay to make some mistakes because you learn from them."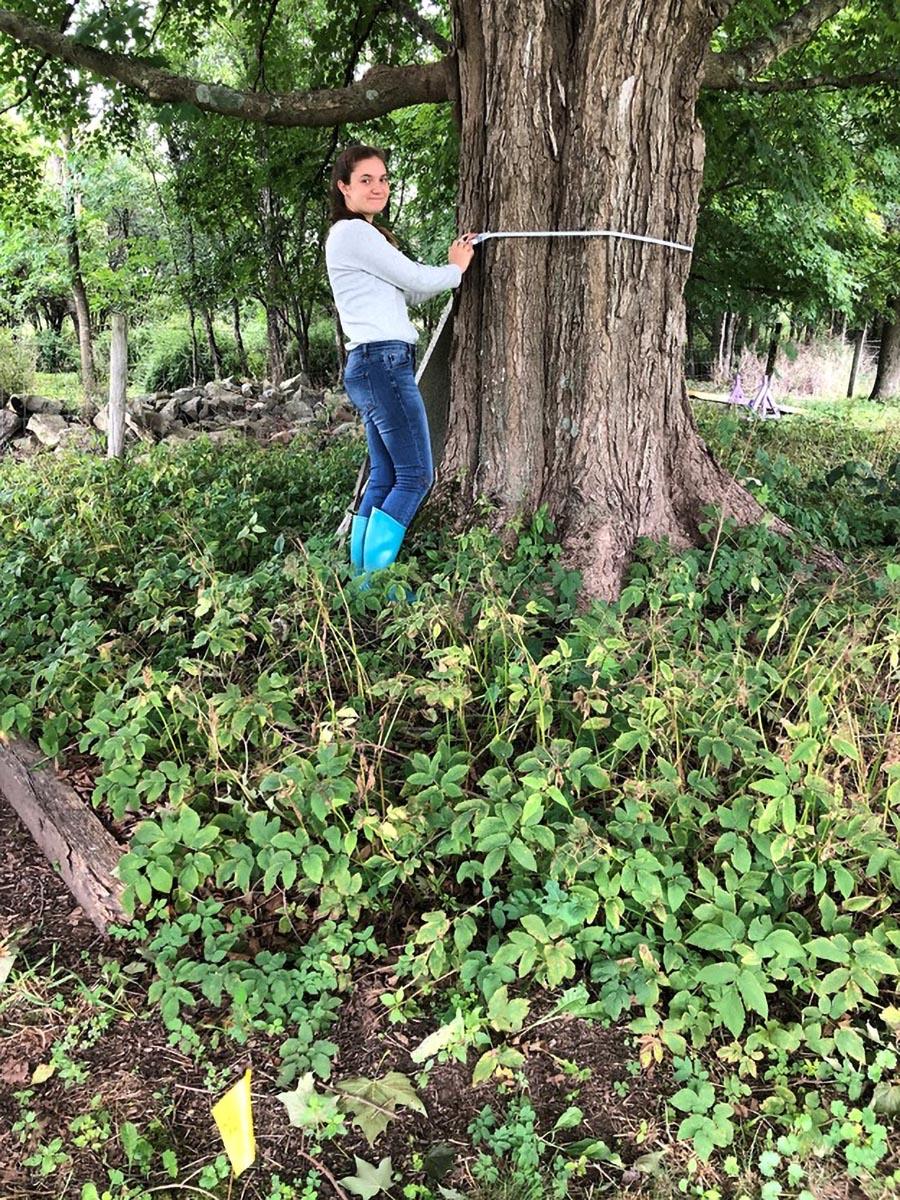 Students also noted improvements in their ability to learn and network virtually, an outcome I attribute to the group's high social cohesion. Students quickly formed strong bonds with their teammates and mentors over Zoom, which eased communication, feedback, and task delegation.
Maya Owen, a student at Our Lady of Lourdes High School, said, "MH-YES helped me realize that I can overcome a scientific obstacle with hard work. If I have trust in others – in my teammates, colleagues, or whoever I'm working with – and am able to talk openly and express my thoughts and ideas with them, then I can achieve whatever goal I set out to accomplish."
Top takeaway for educators and those supporting virtual learning
Cary Institute Education Program Leader Ashley Alred, who supported the MH-YES program adds:
One of the most powerful takeaways from this summer's virtual MH-YES experience is that the research techniques the students used can be implemented in any type of learning environment, including students' home ecosystems. While distance learning poses challenges for teaching many topics, learning about soil and water should not be one of them. An instructor equipped with an understanding of accessible field techniques can help cultivate students' science knowledge and research skills in their own backyards. With tools as simple as a recycled pineapple juice or coffee can, a ruler, and a timer, students can carry out investigations that provide insight into how their neighborhood or school fits into the larger picture of their local watershed and ecosystem. Try it for yourself with this activity guide.
Cary Institute's Head of Education Alan Berkowitz says, "Having students carry out these kinds of investigations at their individual homes provides a broader sample of the watershed than would be accomplished in a class field trip to the schoolyard or a single site. We are just beginning to explore the new opportunities for exploration and learning that this type of field study can provide students and teachers, both during the pandemic and beyond."
Feeling inspired? We're here to help! For guidance and advice on how to help your students conduct meaningful investigations about water's path through the environment, soil chemistry, and related topics, please reach out to Cary educators at caryeducation@caryinstitute.org.
Explore more resources for distance learning.