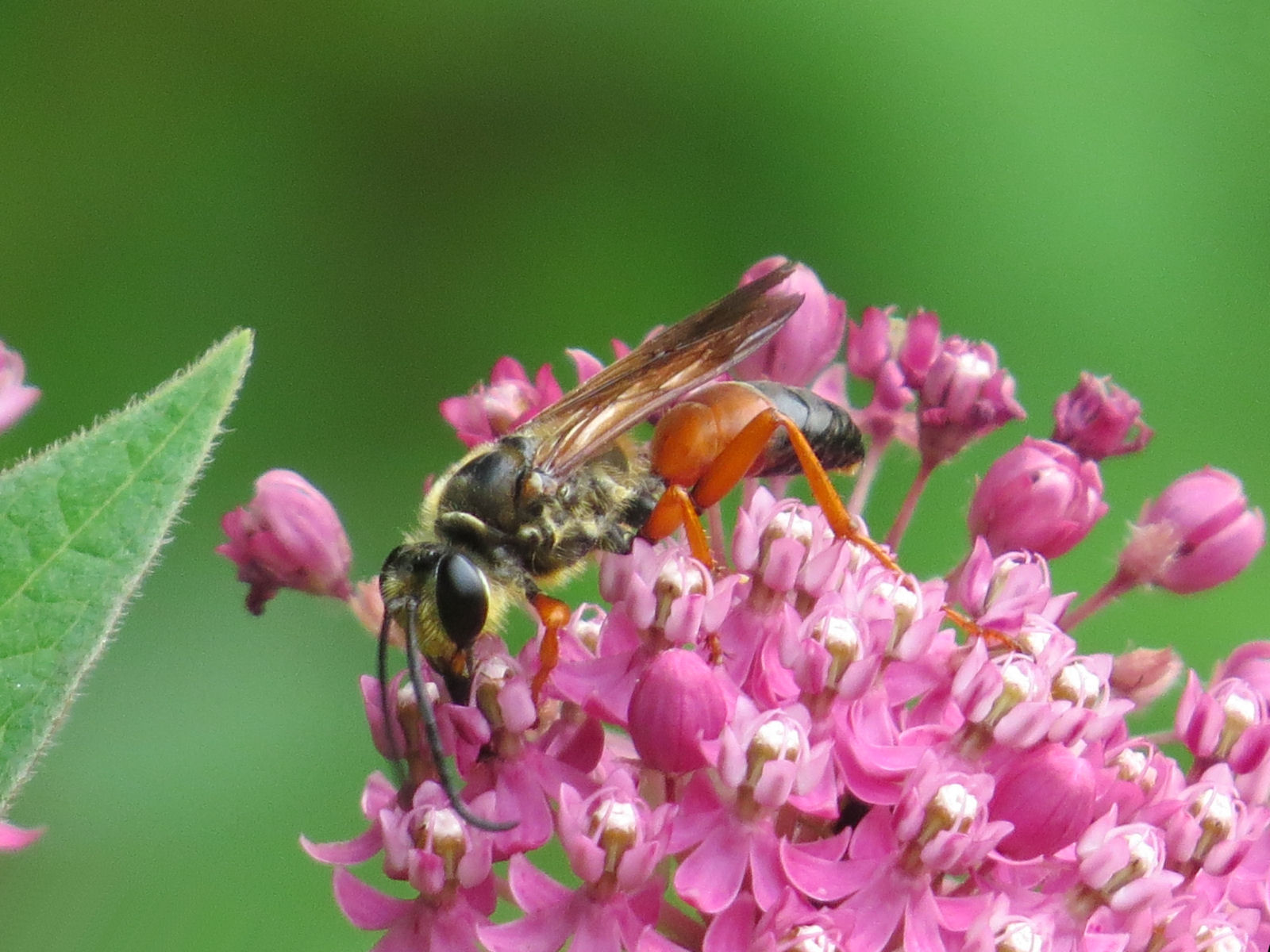 Great Golden Digger Wasp
Notes and Changes since last report
It was 75°F, cloudy and calm at 2:00 PM on August 4, 2021.
After all the rain this season, a few mushrooms were showing up.
Birds were a little quiet today.
This week's trail report covers the Cary Pines Trail side of the trail system.
---
The Trails
Finding goldenrod about to bloom last week was a little unsettling - this find by trail marker 10 was disturbing.
On the Cary Pines Trail, mushrooms were finally showing up.
This one looked familiar but it it usually bumpier.
Fine hairs on the surface gave this one a satin sheen.
Indian pipes seem hard to call plants without chlorophyll.
Fruit was forming on maple-leaved viburnum.
This monster mushroom was nearly a foot across.
Sun came out for a moment on a snowberry clearwing in the Norway Spruce Glade - the little meadow above the Fern Glen.
At the entrance to the limestone cobble, a tall spike was flowering.
It was Culver's root.
By the pond, sneezeweed was starting to bloom.
Yellow stood out on the other side of the pond.
That was green-headed coneflower.
A strong, sweet scent was in the air behind the pond.
It was coming from a single flower head of sweet pepperbush.
On the other side of the pond, trillium fruit were ripening.
Back in the fen, blue aster was open.
Milkweed was being visited by great golden digger wasps.
Also present were great black digger wasps. Both are said to supply their nest burrows with katydids and the like, but do not bother people.
A carrot family member, water parsnip, was blooming in a little trickle of water.
The umble was more sparse than say, Queen Anne's lace.
And the leaves were almost fern-like.
Common Indian tobacco was asking to be trampled.
By its flowers it's recognizeable as a Lobelia.
Off the side something looked a little like wood nettle...
... except for the flower, false nettle is pretty close.
Mad-dog skullcap was sprawling across the wet stones.
Tiny blue flowers were in the leaf axils.
Spotted Joe-Pye weed was starting to bloom in front of the pond.
One head was host to an ant, ambush bug, and bumble bee.
Well hidden at the front of the pond, wild mint had been blooming for a week.
It had gotten warmer and the air was close as today's walk was wrapping up along the Scots Pine Allée.
A pair of house wrens scolded me as I passed through.
Next week: the Wappinger Creek Trail side of the trail system.
---
Sightings
Birds

1 Red-tailed Hawk
1 Downy Woodpecker
1 Eastern Wood-Pewee
2 Blue Jay
2 Black-capped Chickadee
1 House Wren
1 Wood Thrush
4 American Robin
3 Cedar Waxwing
1 Indigo Bunting
7 American Goldfinch

Plants

1 Aster blue
1 Culver's-root
1 False nettle
1 Mad-dog skullcap
1 Sneezeweed
1 Spotted Joe-Pye-weed
1 Sweet pepperbush
1 Water parsnip

Butterflies

2 Cabbage White
1 Clouded Sulphur
1 Pearl Crescent
1 Monarch

Moths

Insects

1 Great black digger wasp
1 Great golden digger wasp