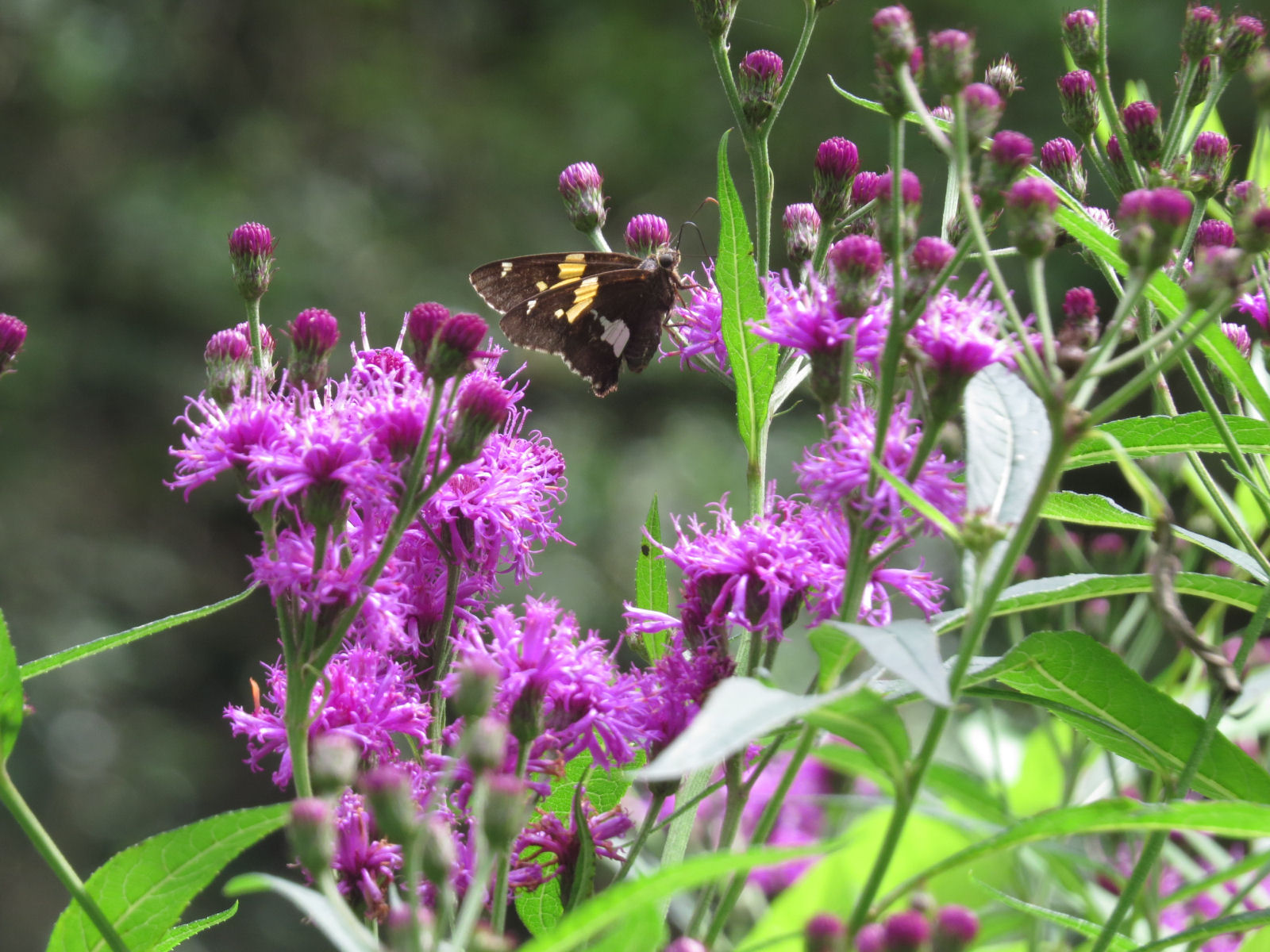 New York Ironweed and Silver-spotted Skipper
Notes and Changes since last report
It was 78°F, cloudy, calm and humid at 12:30 PM on August 18, 2021.
The front Old Hayfield had been mowed.
A number of new things were blooming after a quiet stretch.
This week's trail report covers the Cary Pines Trail side of the trail system.
---
The Trails
We left off last week with these two puffballs near trail marker 10. Surprisingly, they were not that much larger this week.
Another surprise was in the Norway Spruce Glade at the top of the Fern Glen: a dogbane tiger moth where there's no dogbane.
Expected on that sunny hillside was Zabulon skipper.
Females have been easy to find this year, indeed one was only a few feet away.
In the Fern Glen proper, spikenard fruit was ripening.
Back in the fen, boneset was starting to bloom.
The tiny petals of purple-leaved willow herb perch on the end of what will become seed pod.
Another easy to miss flower was that of tearthumb.
The stem, however, is hard to miss.
Joe-Pye weed was being attended by a feather-legged fly.
Common elder berries were ripening.
Turtlehead was doing well this season.
On the path out of the fen, virgin's bower, a wild clematis, was beginning to bloom.
Moss and lichen were ornamental on a witch hazel trunk.
The narrow leaves are as interesting as the whispy flowers of water parsnip.
Three lobelias were blooming: Indian tobacco had started a few weeks ago.
Great lobelia had just started.
Mysterious cardinal flower could only be found in one spot.
Several species of aster were blooming.
Along the side of the pond, sneezeweed was fully in bloom.
New York ironweed was attracting silver-spotted skippers.
Across on the other side, green-headed coneflower was coming up through the ostrich fern.
Tiny least skippers were weaving in and out of the grasses.
Out in the Little Bluestem Meadow, horse nettle had been blooming since last week.
Field sparrows were in and out of the Scots Pine Allée.
And along the edge, silver-rod, a white goldenrod, was starting to bloom.
Lance-leaved goldenrod was easy to recognize with its narrow leaves and flat flower clusters.
Butter-and-eggs is usually a taller, fuller spike, but it's an easy call.
Next week: the Wappinger Creek Trail side of the trail system.
---
Sightings
Birds

1 Turkey Vulture
1 Mourning Dove
1 Ruby-throated Hummingbird
1 Downy Woodpecker
1 Pileated Woodpecker
1 Eastern Wood-Pewee
2 Blue Jay
3 Common Raven
5 Black-capped Chickadee
1 White-breasted Nuthatch
1 House Wren
1 American Robin
2 Field Sparrow
5 American Goldfinch

Moths

Insects

Butterflies

1 Spicebush Swallowtail
6 Cabbage White
5 Clouded Sulphur
1 Eastern Tailed-Blue
1 Meadow Fritillary
3 Common Ringlet
6 Silver-spotted Skipper
3 Least Skipper
2 Zabulon Skipper

Plants

1 Butter-and-eggs
1 Cardinal flower
1 Great lobelia
1 Lance-leaved goldenrod
1 New York ironweed
1 Purple-leaved willow herb
1 Silver-rod
1 Tearthumb
1 Turtlehead
1 Virgin's bower