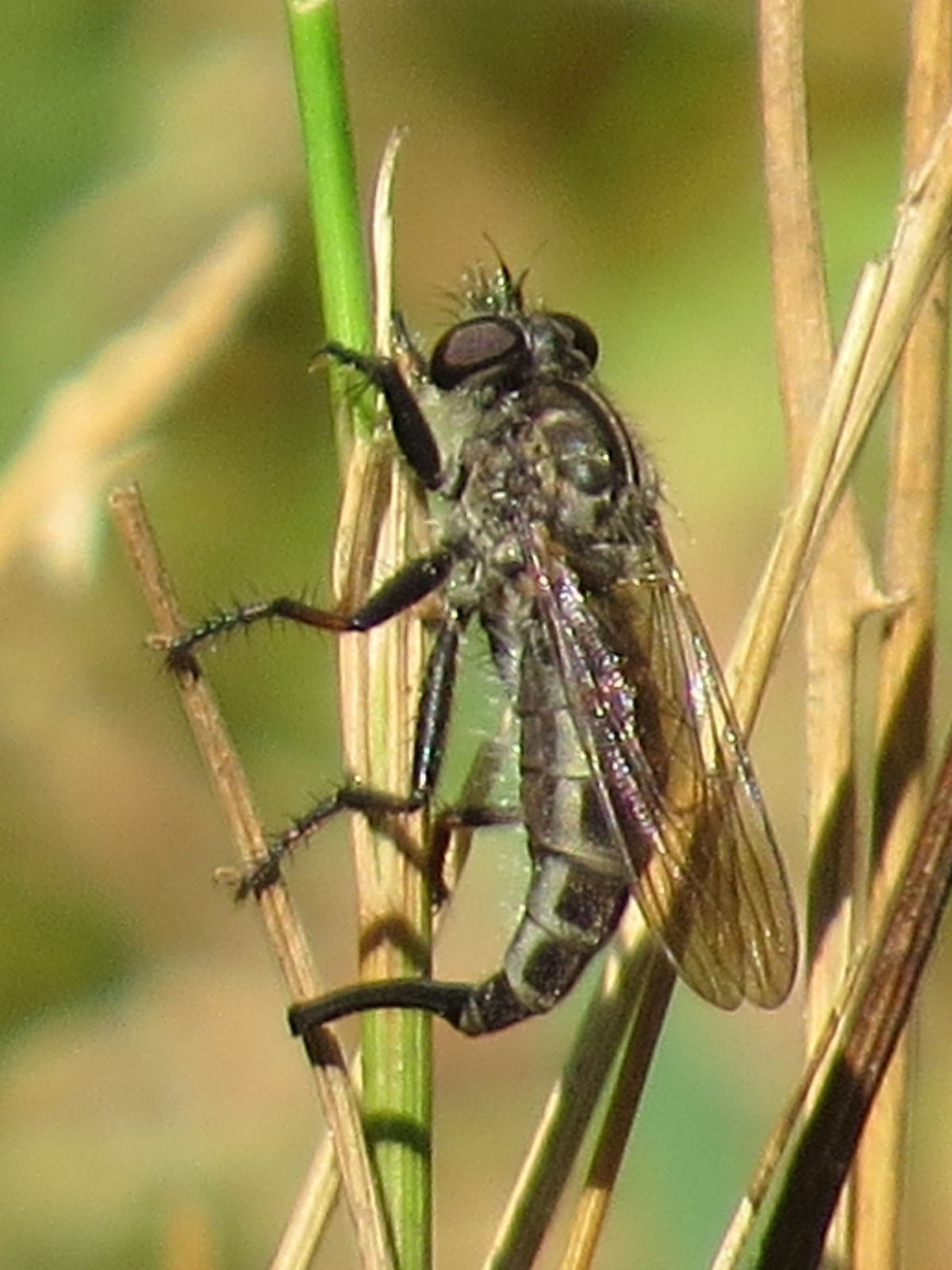 Robber Fly
Notes and Changes since last report
It was 84°F, mostly clear, calm and humid at 2:00 PM on August 25, 2021.
The edge of Hurricane Henri left a couple inches of rain over the last several days.
Birds and butterflies were quiet today, but little black flies out in the fields were attracted to eyes and ears.
This week's trail report covers the Wappinger Creek Trail side of the trail system.
---
The Trails
The front Old Hayfield had been mowed the week before.
Goldenrods were following Joe-Pye weed's schedule in the Sedge Meadow.
Smaller than the shad flies of spring, something was most annoying in back Old Hayfield, fortunately not so much in the shade.
Along the side of the field, Japanese barberry was taking on an impressionistic aura.
So humid was it that even in late afternoon, spider webs were still covered with dew.
A few common ringlets were weaving through the grasses.
Back on the Sedge Meadow Trail, pausing by a spider web did not reduce the flies around my head.
Something moved in a sunny patch ahead on the trail.
It was not the typical eastern comma but a silver-spotted skipper.
A small commotion in the grass in front of the bench in the Old Pasture was from a robber fly.
The Wappinger Creek was full but not crazy considering all the rain from Henri.
Farther along, a tiny orange mushroom was errupting from the edge of the path.
A colony of coral fungus was spreading along a rise in the trail.
Something dropped into a patch of sun.
Surprise, not a little wood-satyr, but another common ringlet. They are seldom seen in the woods like this.
Invasive Japanese stilt grass on the other hand, can be found in sun or shade, wet or dry.
Every once in a while there is a decidedly green mushroom.
After two weeks of observation, the puffball spot was recognizable, but there was only bare dirt...
Flipping over the dirt ball revealed the two slightly flattened puffballs. The rains must have loosened the soil enough for it to shift.
Next week: the Cary Pines Trail side of the trail system.
---
Sightings
Birds

2 Mourning Dove
2 Eastern Wood-Pewee
1 Blue Jay
2 House Wren
1 American Robin
2 Gray Catbird
1 Scarlet Tanager
4 Eastern Towhee
5 American Goldfinch

Moths

Butterflies

16 Cabbage White
5 Clouded Sulphur
1 Orange Sulphur
2 Eastern Tailed-Blue
1 Spring Azure
4 Great Spangled Fritillary
2 Meadow Fritillary
4 Pearl Crescent
3 Common Ringlet
5 Common Wood-Nymph
11 Silver-spotted Skipper
2 Least Skipper
2 Zabulon Skipper