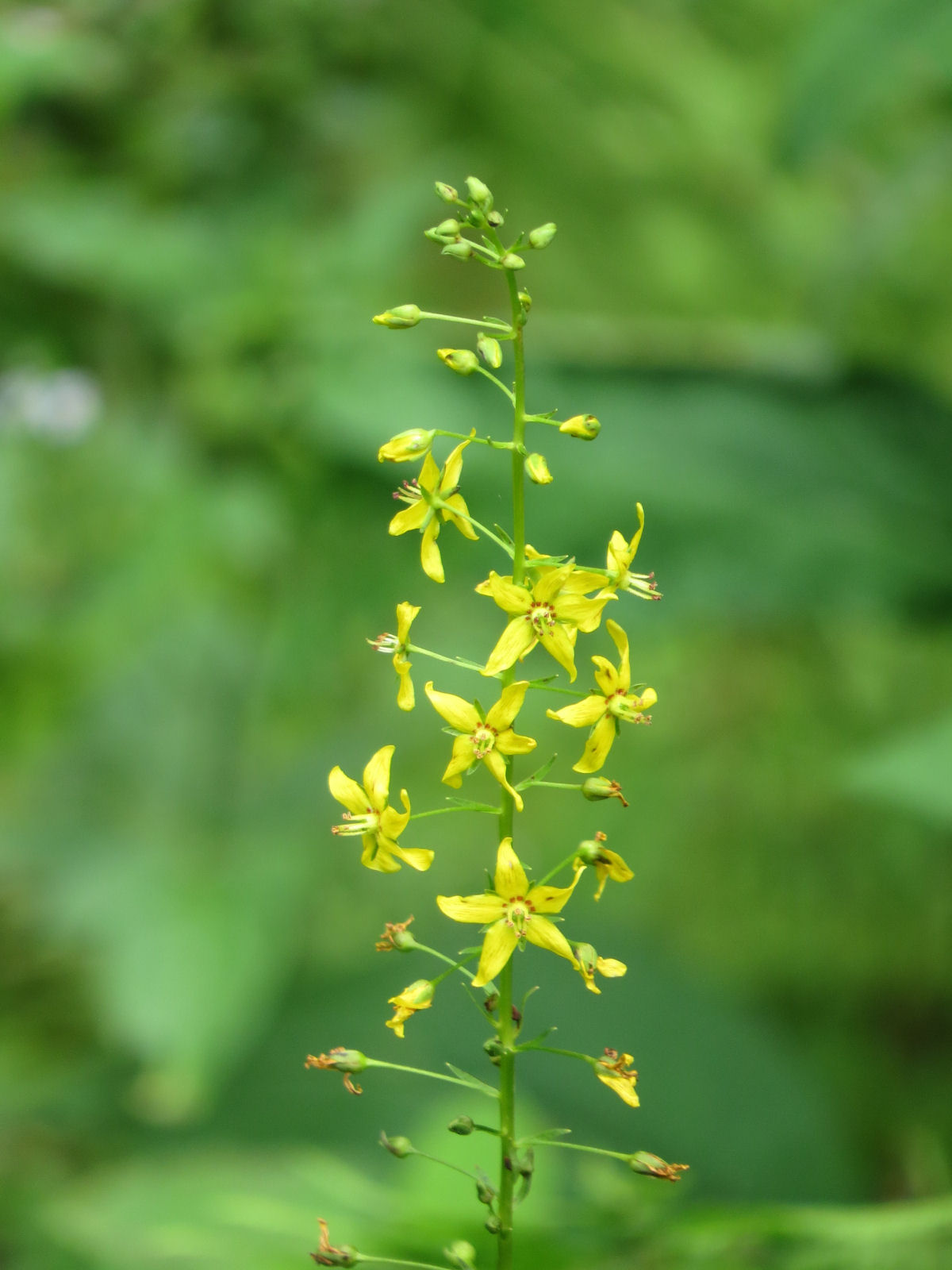 Swamp Candles
Notes and Changes since last report
It was 81°F, mostly cloudy and windy on July 6, 2022.
A nice day with 19 species of butterflies.
In particular, common wood-nymph was out in number.
This week's trail report covers the Cary Pines Trail side of the trail system.
---
The Trails
It was getting warm along the Scots Pine Allée on the way to the Fern Glen.
From overhead the burbling of a young eastern bluebird floated down.
The Little Bluestem Meadow to the left had been mowed, but the field to the right had not and the dogbane patch was attracting a number of butterflies including a banded hairstreak.
Stalks of enchanter's nightshade lined one side of the path through the Old Gravel Pit.
Flowers form from the top with the older ones becoming bristly seeds lower down. They release from socks very politely compared to some other species.
An eastern comma errupted from a sunny spot along the path and landed on broad, sunny leaf. Several would be encountered today.
A white-tailed unicorn bolted from a dense snag along the path.
In the Fern Glen, tall meadow-rue was starting to bloom at the entrance to the limestone cobble.
It actually stands nearly shoulder high.
Closer to the ground, delicate lopseed was starting to bloom.
Again, these flowers are older at the bottom where they will again wait as seeds for passing socks
Purple-flowering raspberry had started last week.
Off the boardwalk through the fen, a hint of yellow could be spotted.
Swamp candles had started the week before, as well.
On the other side of the boardwalk, swamp milkweed was getting ready to bloom. It usually follows common milkweed to stretch out the milkweed flowering season.
Limber honeysuckle berries were ripening.
Horsebalm was not ready to bloom, but the leaves were beginning to take on their lemon scent.
From the deck, a bit of pink could be seen near the base of the stone bridge.
Invasive Japanese spirea was beginning to bloom.
The front of the pond was hiding several secrets.
Lizard's-tail would not be able to hide long once the air fills with its sweet scent.
A dragonfly was motionless in the tall blades.
Next week: the Wappinger Creek Trail the side of the trail system.
---
Sightings
Birds

1 Pileated Woodpecker
3 Red-eyed Vireo
1 Blue Jay
2 Black-capped Chickadee
2 Red-breasted Nuthatch
1 White-breasted Nuthatch
1 House Wren
1 Eastern Bluebird
1 Veery
1 Wood Thrush
4 American Robin
2 Pine Warbler
2 Ovenbird
1 Louisiana Waterthrush
1 Scarlet Tanager
1 Eastern Towhee
1 Chipping Sparrow
1 Field Sparrow
1 Indigo Bunting
1 Red-winged Blackbird
2 American Goldfinch

Butterflies

1 Clouded Sulphur
1 Orange Sulphur
3 Great Spangled Fritillary
1 Eastern Comma
2 Little Wood-Satyr
5 Common Wood-Nymph
7 Silver-spotted Skipper

Plants

1 Japanese spiraea
1 Lizard's-tail
1 Lopseed
1 Tall meadow-rue