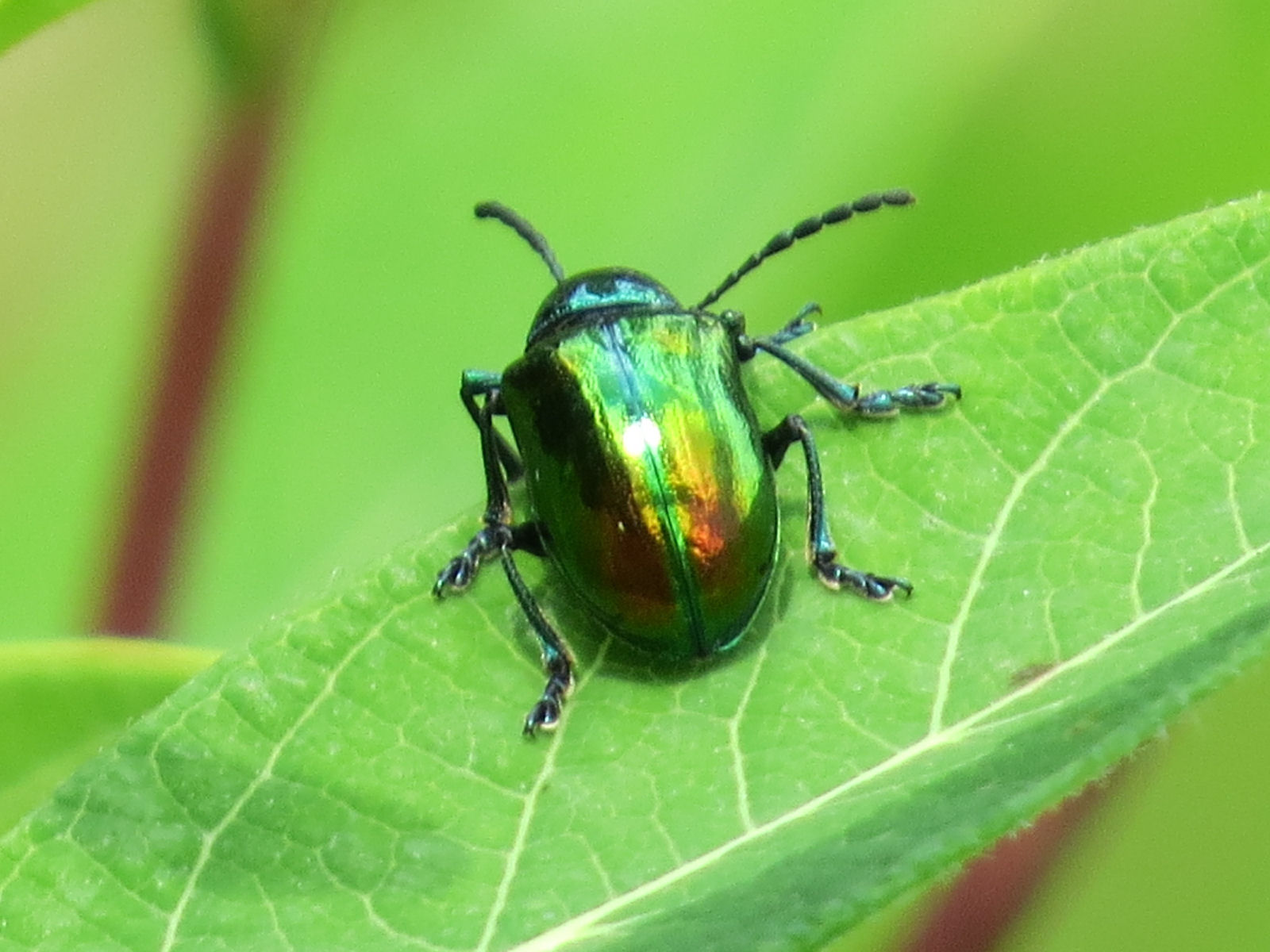 Dogbane Beetle
Notes and Changes since last report
It was 83°F, partly cloudy and breezy on July 13, 2022.
Another uncommonly nice day with warm sun and dry air.
Common wood-nymph was again the most abundant butterfly, but grass skipper numbers were starting to climb.
This week's trail report covers the Wappinger Creek Trail side of the trail system.
---
The Trails
We were just starting to see some brown in the grass from the Gifford House trailhead.
Common milkweed was finishing blooming and wild bergamot was starting up.
And it was just as popular among butterflies.
Here were great spangled fritillaries (note the wear and tear on the forewing margin).
And a hidden silver-spotted skipper (this one on wild basil).
Of the grass skippers, the dun skipper is one of the less boldy marked, but there is golden green sheen to the head.
The female has a few small white spots on the forewing above; the male lacks them.
As soon as you notice one, they are everywhere. The goldenrod ball gall is the larval home of a small fly. Several other insects make galls of their own style on goldenrods.
Out in the open on dogbanes was the dogbane beetle. Nothing secretive about this creature.
Pearl crescents have been few and far between lately.
Yarrow had attracted an American copper as well.
And it obliged us with a decent view from below.
Alien Queen-Anne's-lace had quite the long-horned beetle aboard. At least five other occupants were only noticed on the computer.
Along the edge of the field, a large lace-border rested quietly.
There was a commotion inside the field as another suitor attempted to interrupt a mating pair of common wood-nymphs.
The Sedge Meadow Trail was quiet except for an increase in the Appalachian brown population.
Out in the back Old Hayfield little wood-satyrs were weaving along the edge.
Japanese beetles had found the wild grape leaves to their liking.
It took a moment to figure out this Delaware skipper.
The strange location and posture were explained when a closer look at the photo suggested a spider was behind the scene.
Birders wear drab colors to avoid alarming birds; a birght yellow t-shirt attracted a dun skipper which was easily coaxed onto a finger tip to lick the salt.
The trail headed out of the hot fields towards the cool woods above the Wappinger Creek.
Along the way, spotted wintergreen was blooming.
Up ahead, the same tree as last time...
... had the same northern pearly-eye as last time.
Another tree had a couple white spots at the base.
They were female Gypsy moths - recently renamed "spongy moth" for the fluffy egg mass.
The brownish male usually zig-zags into and out of view and is seldom seen at rest.
Next week: the Cary Pines Trail the side of the trail system.
---
Sightings
Birds

1 Black-billed Cuckoo
2 Downy Woodpecker
2 Eastern Wood-Pewee
1 Great Crested Flycatcher
5 Red-eyed Vireo
1 Blue Jay
2 Black-capped Chickadee
3 White-breasted Nuthatch
3 House Wren
3 Veery
1 Wood Thrush
3 American Robin
4 Gray Catbird
1 Prairie Warbler
2 Common Yellowthroat
2 Scarlet Tanager
1 Eastern Towhee
2 Field Sparrow
1 Song Sparrow
1 Northern Cardinal
2 Indigo Bunting
1 Red-winged Blackbird
9 American Goldfinch

Plants

Butterflies

4 Cabbage White
2 Clouded Sulphur
2 American Copper
5 Banded Hairstreak
12 Great Spangled Fritillary
3 Pearl Crescent
1 Eastern Comma
3 Northern Pearly-eye
5 Appalachian Brown
7 Little Wood-Satyr
76 Common Wood-Nymph
5 Silver-spotted Skipper
6 Northern Broken-Dash
1 Delaware Skipper
1 Mulberry Wing
18 Dun Skipper

Moths

1 Confused Eusarca
1 Gypsy Moth
1 Large Lace-border

Insects

1 Dogbane Beetle
1 Japanese Beetle