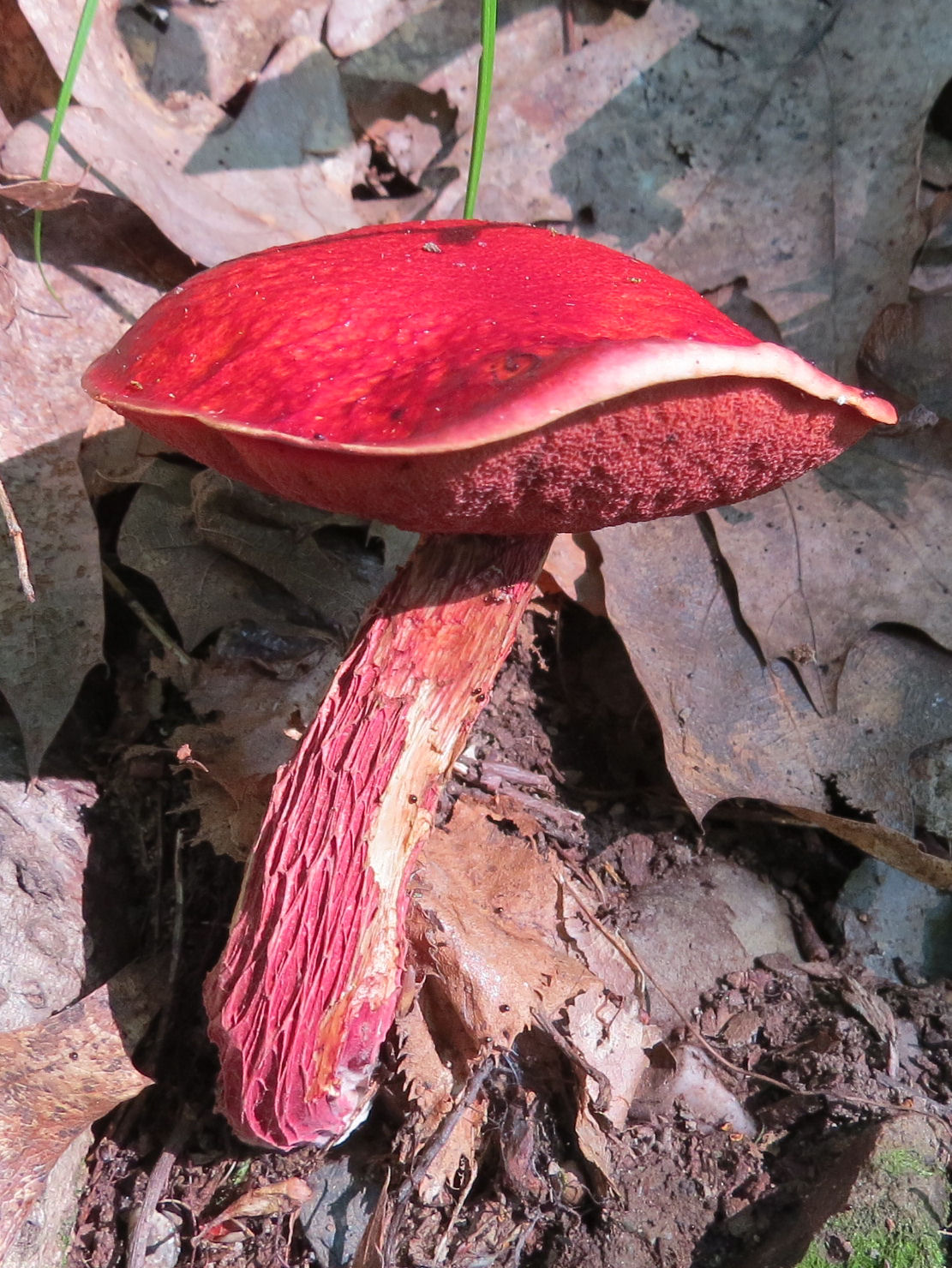 Frost's Bolete
Notes and Changes since last report
It was 85°F, partly cloudy and breezy at 1:30 PM on July 27, 2021.
Butterflies were out in number today, notably tiger swallowtails, but bird activity was low.
New flowers were few, but wild bergamot was still going strong and there was still some common milkweed blooming.
This week's trail report covers the Wappinger Creek Trail side of the trail system.
---
The Trails
It was a surprise to find some common milkweed still blooming behind Gifford House.
Several monarchs found it too.
The path into the Old Hayfield had been recently mowed.
Indeed, only a moment ago.
The wild bergamot was open for business, but strangely unattended.
Regulars eventually drifted in starting with hummingbird clearwing.
Of course silver-spotted skipper showed up.
And great spangled fritillary stopped in.
A red-bellied woodpecker was buried in ripening cherries over the Sedge Meadow Trail.
Goldenrod was getting ready to bloom below.
The cool shade of the boardwalk was welcome by now.
The view of the Sedge Meadow was getting crowded.
Invasive purple loosestrife was the main culpret, but it was beginning to flower and that attracts a few insects including silver-spotted skipper.
Joe-Pye weed would soon be opening its buds.
The back Old Hayfield was busy with butterflies.
Eastern tiger swallowtails were looking very fresh.
Common wood-nymphs were plentiful and active - one finally perched and leaned over to soak up some sun.
New to this field was thimbleweed. It had already flowered and was forming its namesake fruit.
Shade in the back of the field was welcome, but not usually to butterflies.
None the less, a large tiger swallowtail ventured in and gave a great view of its upper side.
Out in the open again, a well worn eastern tailed-blue perched with wings open to receive some sun.
Back on the Sedge Meadow Trail, something darted out, circled, then landed on a leaf in the sun. It took several tries get it in the lens.
It was a northern pearly-eye. They've been hard to find this year.
Banded hairstreaks were down to one last week; none was expected this week, but the "usual spot" in the Old Pasture had one - a female at that. Males' forelegs are reduced and not usually obvious - she was using all six.
The forest of red chanterelles above the Wappinger Creek had expanded a little.
A search in a usual haunt of the northern pearly-eye turned up one.
Again, even with a clear landing on a tree trunk, it took several attempts to get it in the lens.
However, the full creek below was easy to locate.
A screaming red mushroom was hard to miss.
Again, something rose from the trail, circled, and dropped back into a seedling in a sunny patch.
It was an eastern comma.
This one had been around for a while and was apparently the survivor of a bird attack.
As the trail descended towards the floodplain, afternoon sunlight angled into the water of the Wappinger Creek.
Off the side of the trail, enchanter's nightshade was waiting for a passing pant leg. The sticky little fruit are so easy to remove compared to others, it's almost a pleasure to find them on one's socks.
Wood nettle is another matter. It is not as common as stinging nettle, but it is as easily remembered...
The ground seemed to move in front of the last little foot bridge.
It was a good size bull frog that had ventured several leaps away from the edge of the creek.
A little time at the bench at the "Appendix" yielded no banded hairstreaks at this earlier hot spot.
But the burrowing wasp mounds were still active.
On the way out, the light was perfect on a little spotted wintergreen.
Next week: the Cary Pines Trail side of the trail system.
---
Sightings
Birds

2 Red-bellied Woodpecker
1 Downy Woodpecker
1 Eastern Wood-Pewee
1 White-breasted Nuthatch
2 House Wren
1 Veery
1 Wood Thrush
9 American Robin
3 Gray Catbird
1 Cedar Waxwing
1 Louisiana Waterthrush
1 Common Yellowthroat
1 Scarlet Tanager
4 Eastern Towhee
1 Song Sparrow
1 Northern Cardinal
6 American Goldfinch

Plants

1 Downy rattlesnake plantain
1 Goldenrod
1 Purple loosestrife
1 Thimbleweed
1 Wood nettle

Butterflies

10 Eastern Tiger Swallowtail
46 Cabbage White
3 Clouded Sulphur
1 Banded Hairstreak
1 Eastern Tailed-Blue
10 Great Spangled Fritillary
54 Pearl Crescent
1 Eastern Comma
2 Northern Pearly-eye
2 Appalachian Brown
2 Common Ringlet
15 Common Wood-Nymph
6 Monarch
21 Silver-spotted Skipper
18 Northern Broken-Dash
1 Mulberry Wing
19 Dun Skipper

Moths

5 Hummingbird Clearwing
4 Snowberry Clearwing