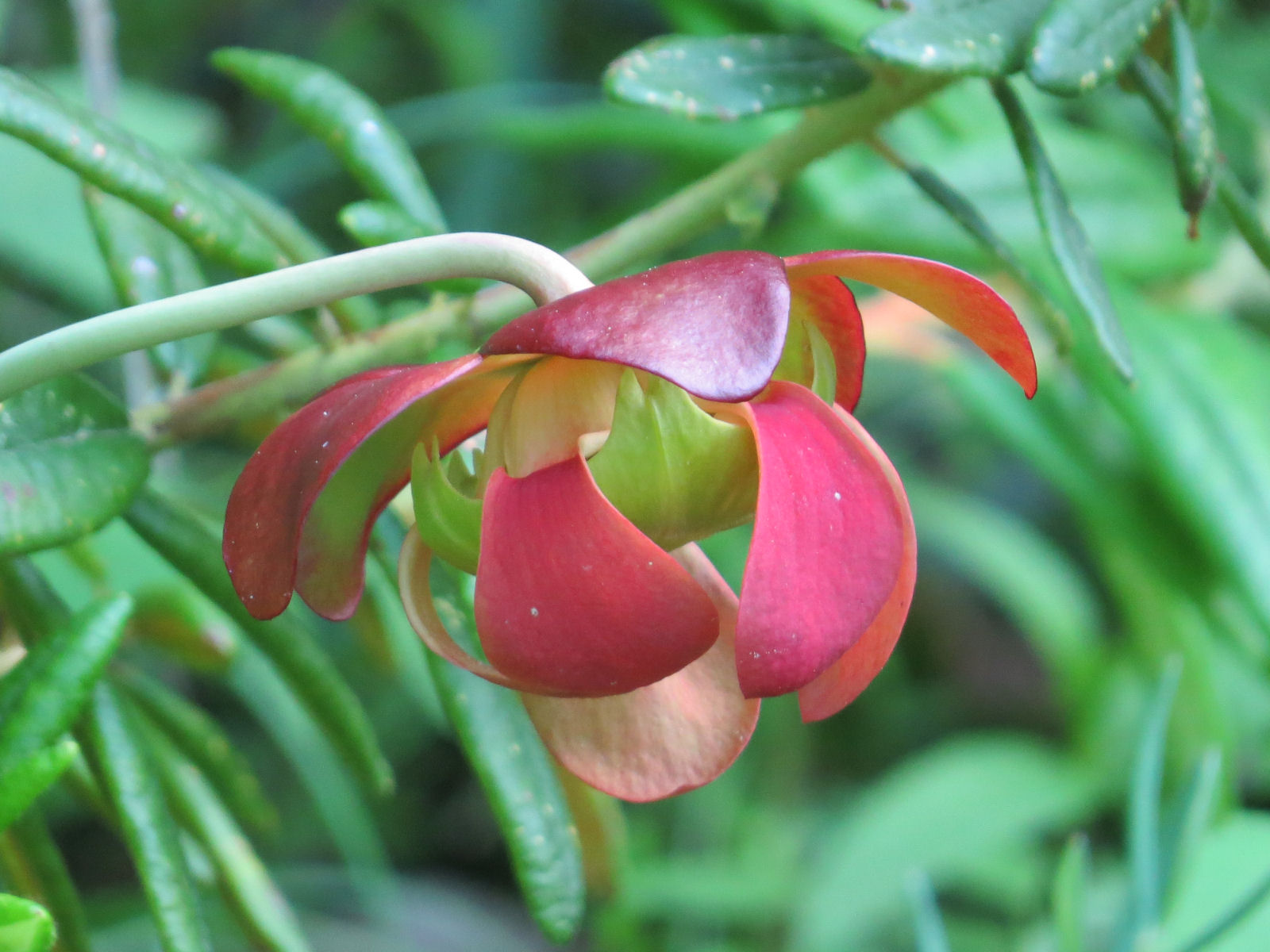 Pitcher Plant
Notes and Changes since last report
It was 85°F, partly cloudy and calm at 2:00 PM on June 10, 2021.
There has been an abrupt change in temperatures from the 40s to 80s.
The Fern Glen's yellow lady's slipper was done blooming.
This week's trail report covers the Cary Pines Trail side of the trail system.
---
The Trails
In the Fern Glen, delicate vancouveria had started blooming above the limestone cobble.
Along the pond, angelica was doing better than last year.
Eurasian yellow iris was blooming. Although it's handsome, its sap can be irritating, its dense rhizome mats can stifle native plants, and small pieces can generate new plants.
The red lily leaf beetle, of similar origin, was back, but not as abundant last year. Even if only encountered last year, it is thought to have arrived in North America during WWII.
Little stands of Bowman's root have popped up a number of spots in the 'Glen.
The petals are described in one guide as scraggley; I wouldn't be so harsh.
In the poor fen, pitcher plant was in full bloom. I don't know how to describe that.
Mixed in with that was sheep laurel.
On dryer ground, Virginia waterleaf was finally blooming.
Every day last week it looked like "any day now..." but now, suddenly, half the blossoms were spent.
Tucked away in a quiet corner, twinflower was actually going on its 2nd week.
Several plants are called snakeroot. Sanicles are among them, but there are several sanicles as well...
True forget-me-not is another pretty Eurasian species that can get out of control.
The visiting fly gives an idea of the size of Indian cucumber root, one of our smaller lilies.
Low afternoon light played across the stone bridge.
Little maidenhair spleenwort was casting big shadows.
Back on the Old Gravel Pit section of the Cary Pines Trail, white avens was up.
The peace of the Cary Pines was interrupted by a raucous call.
And a pileated woodpecker flew into view and began to take a tree apart.
Out of the woods, across the Little Bluestem Meadow, Gifford House stood under growing thunder heads.
The blazing white shrub in front was kousa dogwood .
At my feet, spreading dogbane had started up.
Way across the Gifford lawn, from the top of the tree line came a distinct bird call.
Even at that distance it was clearly the indigo bunting.
Next week: the Wappinger Creek Trail side of the trail system.
---
Sightings
Birds

1 Mourning Dove
1 Downy Woodpecker
1 Pileated Woodpecker
1 Eastern Wood-Pewee
1 Yellow-throated Vireo
1 Warbling Vireo
1 Red-eyed Vireo
2 Blue Jay
2 House Wren
2 Eastern Bluebird
4 Veery
3 American Robin
1 Prairie Warbler
2 Ovenbird
1 Louisiana Waterthrush
1 Scarlet Tanager
2 Chipping Sparrow
1 Northern Cardinal
1 Rose-breasted Grosbeak
2 Red-winged Blackbird
1 American Goldfinch

Butterflies

1 Hobomok Skipper
1 Zabulon Skipper

Plants

1 Angelica
1 Bowman's-root
1 Forget-me-not
1 Indian cucumber root
1 Kousa dogwood
1 Pitcher plant
1 Sheep laurel
1 Spreading dogbane
1 Vancouveria
1 Virginia waterleaf
1 White avens
1 Yellow iris