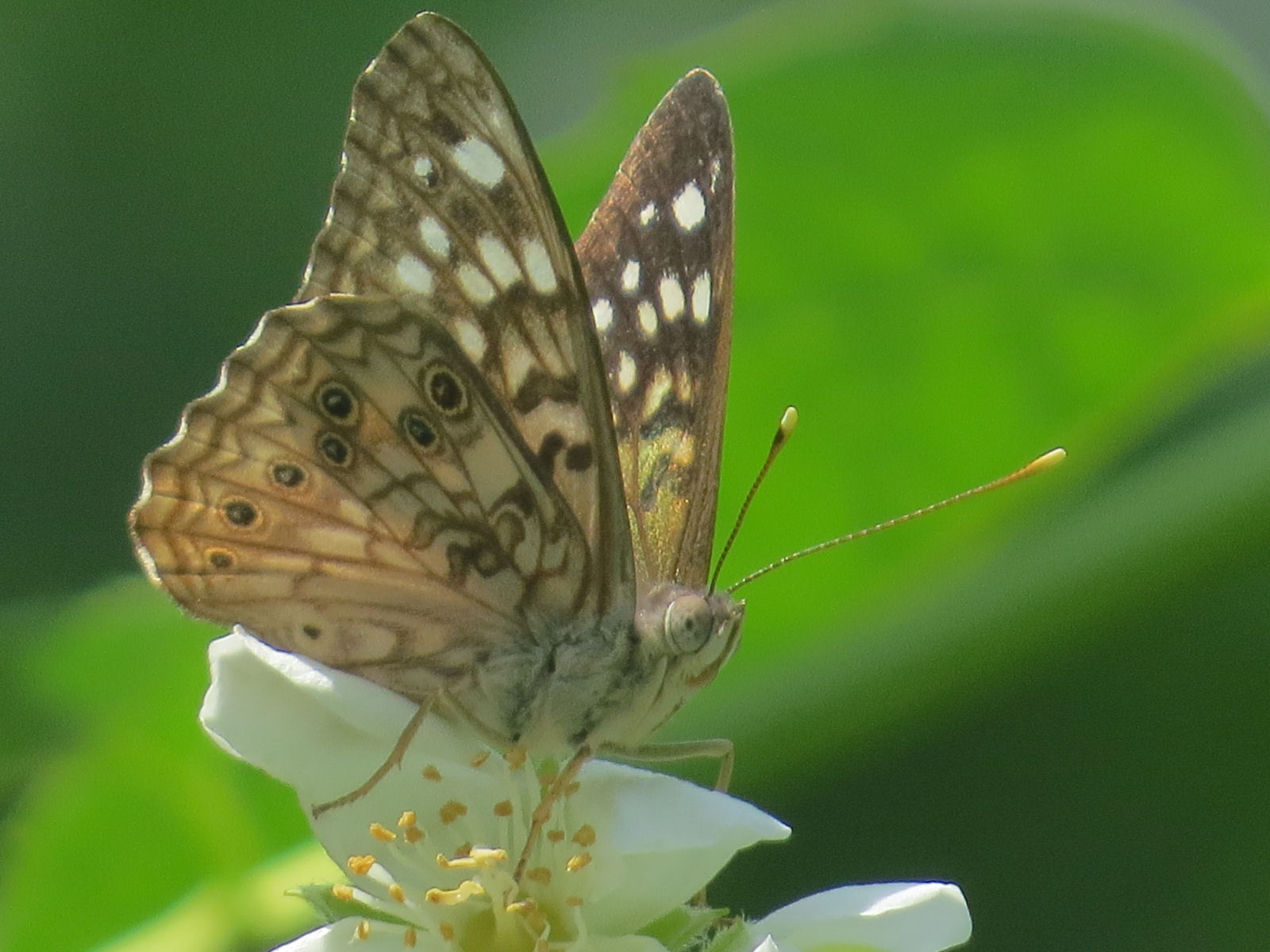 Hackberry Emperor
Notes and Changes since last report
It was 81°F, partly cloudy with light winds on June 15, 2022.
Milkweed was almost ready and dogbanes had just started blooming.
Hackberry emperor was back.
This week's trail report covers the Wappinger Creek Trail side of the trail system.
---
The Trails
It was very summery at the Gifford House trailhead.
Right next to the kiosk, common milkweed was getting ready to bloom.
Small things were skittering along the path. One went on a clover.
A Peck's skipper was just recognizable before it took off.
The field was dotted with rough-fruited cinquefoil.
It seems the seed head of yellow goatsbeard is more frequently seen than the flower.
Indian hemp, one of the dogbanes, was just beginning to open.
A common, low-growing plant is birdfoot trefoil.
Out on a yarrow was a common ringlet.
Around the corner, at the beginning of the Sedge Meadow trail not one, but two hackberry emperors were feeding and patrolling.
Down on the damp side of the Sedge Meadow Trail, privet had started blooming.
The back Old Hayfield had gotted fairly warm by now.
On the otherside at the edge of the cool shade, something landed.
It was a female widow skimmer.
A little farther along, the first European skipper of the season was out and about.
Down on the Wappinger Creek Trail, a Zabulon skipper could still be found.
Just the view alone of the Wappinger Creek was refreshing.
Next week: the Cary Pines Trail the side of the trail system.
---
Sightings
Birds

1 Red-tailed Hawk
2 Red-bellied Woodpecker
2 Eastern Phoebe
4 Red-eyed Vireo
1 Black-capped Chickadee
1 House Wren
1 Eastern Bluebird
3 Veery
2 American Robin
6 Gray Catbird
1 Blue-winged Warbler
1 Pine Warbler
1 Prairie Warbler
2 Black-and-white Warbler
2 Ovenbird
2 Scarlet Tanager
1 Eastern Towhee
2 Field Sparrow
2 Rose-breasted Grosbeak
1 Red-winged Blackbird
2 Baltimore Oriole
5 American Goldfinch

Butterflies

2 Eastern Tiger Swallowtail
4 Cabbage White
2 Great Spangled Fritillary
3 Pearl Crescent
2 Hackberry Emperor
5 Little Wood-Satyr
7 Common Ringlet
2 Silver-spotted Skipper
1 Least Skipper
4 European Skipper
4 Peck's Skipper
1 Little Glassywing
2 Zabulon Skipper

Moths

Plants

1 Privet
1 Birdfoot trefoil
1 Rough-fruited cinquefoil