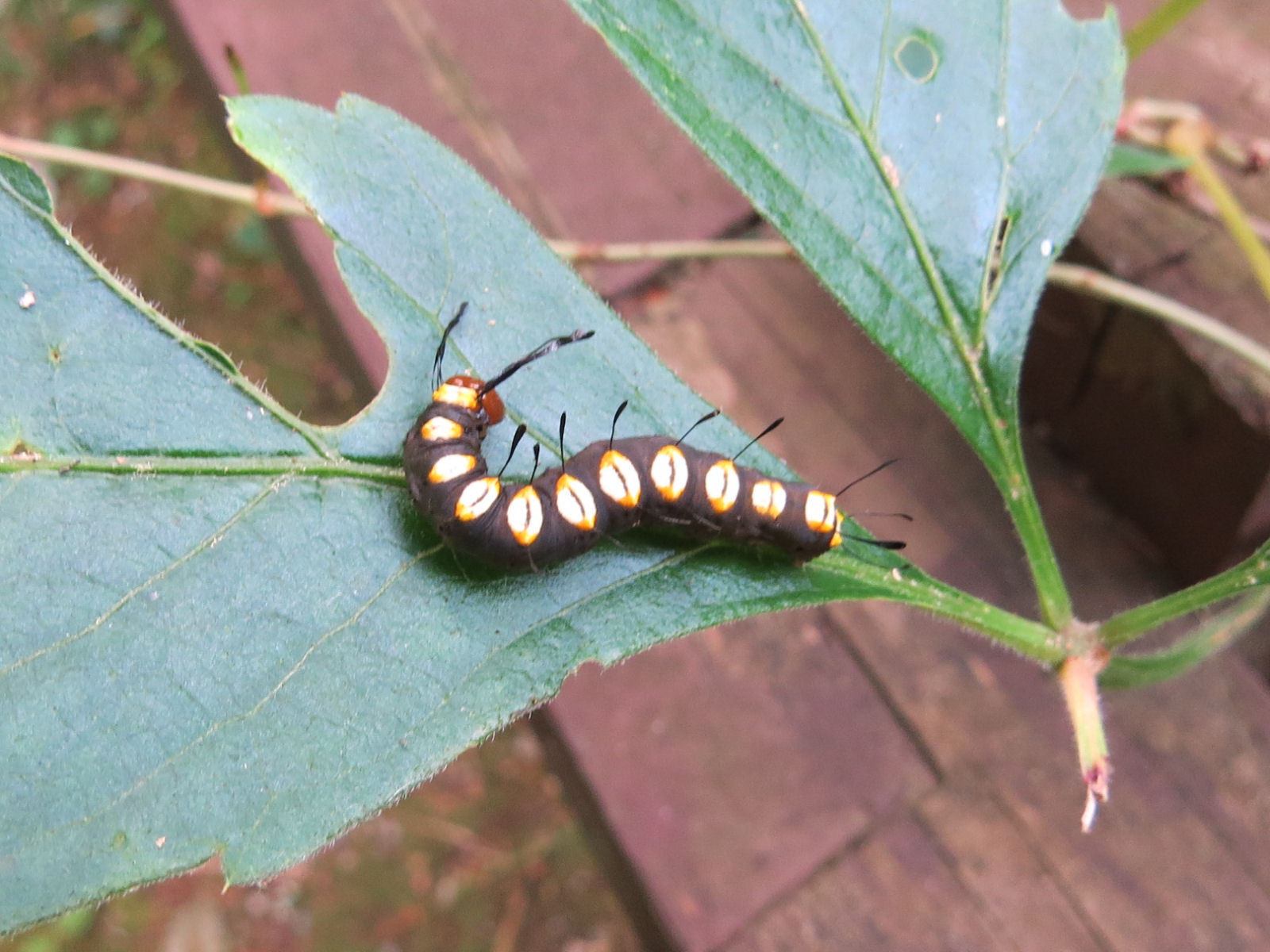 Paddle Caterpillar
Notes and Changes since last report
It was 85°F, clear and breezy on June 29, 2022.
Finally a warm, sunny day on the trails and with it: butterflies.
In particular, banded hairstreaks.
This week's trail report covers the Wappinger Creek Trail side of the trail system.
---
The Trails
Warm sun and dry air made for a comfortable walk starting at the Gifford House trailhead.
The common milkweed by the kiosk was just about in full bloom.
Knee high was Deptford pink, considered by some to be invasive.
Ankle high was wild basil, a native to our area and a nectar source for a number of butterflies.
Little glassywing is one of them. Those glassy spots are not always easy to see, but the white spot below the antenna club usually is.
One doesn't often see the least skipper feeding (here on Indian hemp - a dogbane). It's usually weaving and bobbing through tall grass.
Common wood-nymph, however, was weaving through the tall grass, being difficult to get a good look at.
Then it decided to get a closer look at me.
In the back Old Hayfield, fringed loosestrife was blooming in patches. Note the fringe on the petioles.
Appalachian brown had returned to the Sedge Meadow.
It was moving about but didn't venture far, so providing several different views.
The sunny patch at the end of the Old Pasture promised hairstreaks.
Indeed, there were about 8 banded hairstreaks - our most common.
Then it was into the cooler shade on the bluff over the Wappinger Creek.
Hmmm, it would be worth scanning the big tree trunks for triangles.
Ah, there's one - on the edge.
The first northern pearly-eye of the season.
Farther along the path, another sunny spot held a robber fly.
At the bottom of the incline was another sunny hairstreak spot.
But that wasn't a hairstreak that just dropped in - it was a red-spotted purple.
Another sunny spot closer to the creek had a colony of nettles.
Just right for eastern comma, whose caterpillar feeds on them.
The watershed kiosk is a landmark along the trails.
At its base is a colony of shinleaf.
Almost missed the Canada lily on the approach to the Appendix.
The Fern Glen wasn't on today's route, but how could we not include a paddle caterpillar where ever it was found?
Next week: the Cary Pines Trail the side of the trail system.
---
Sightings
Birds

1 Red-tailed Hawk
1 Ruby-throated Hummingbird
1 Red-bellied Woodpecker
1 Downy Woodpecker
1 Eastern Wood-Pewee
3 Red-eyed Vireo
3 Tree Swallow
1 House Wren
4 Veery
5 American Robin
5 Gray Catbird
1 Prairie Warbler
1 Ovenbird
1 Common Yellowthroat
1 Scarlet Tanager
2 Eastern Towhee
1 Field Sparrow
1 Song Sparrow
1 Indigo Bunting
2 American Goldfinch

Moths

Butterflies

1 Black Swallowtail
3 Cabbage White
30 Banded Hairstreak
21 Great Spangled Fritillary
5 Meadow Fritillary
1 Eastern Comma
4 Red-spotted Purple
1 Northern Pearly-eye
1 Appalachian Brown
6 Little Wood-Satyr
6 Common Wood-Nymph
10 Silver-spotted Skipper
3 Least Skipper
3 European Skipper
11 Little Glassywing

Plants

1 Canada lily
1 Deptford pink
1 Fringed loosestrife
1 Shinleaf
1 Stewartia
1 Wild basil