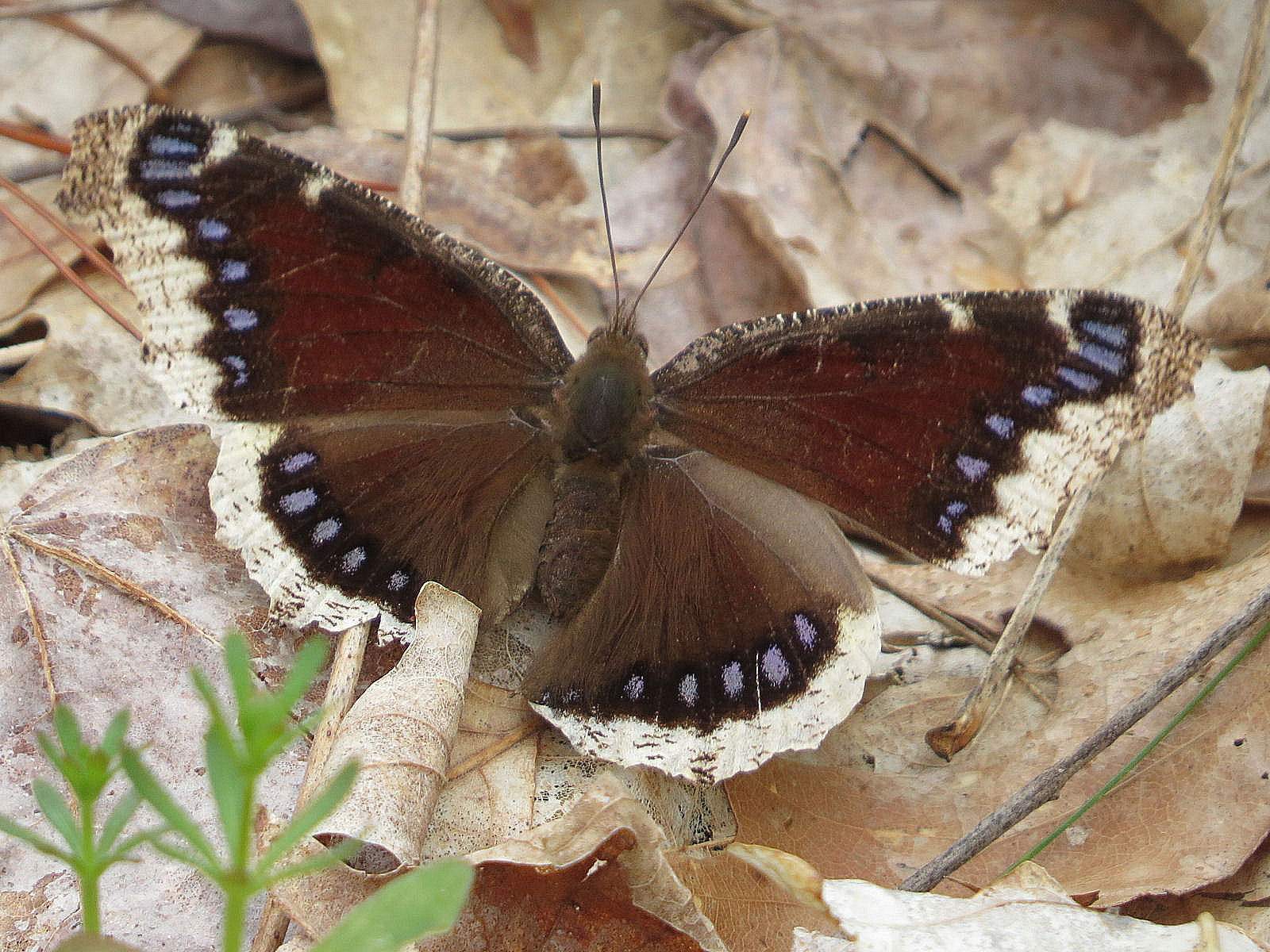 Mourning Cloak
Notes and Changes since last report
It was 59°F, mostly cloudy and calm on May 3, 2022.
I had the pleasure of company and their extra eyes today.
Grass had been greening, and leaves had been spreading.
This week's trail report covers the Wappinger Creek Trail side of the trail system.
---
The Trails
Gifford House is always good for birding. At the corner of the pavilion's pathway white tail feathers flashed.
It was my first eastern kingbird of the season.
Across the driveway, a dot punctuated the top of a tree.
Of course it was a tree swallow on its favorite perch.
We started into the wet grass at the trailhead.
Invasive honeysuckles along the edge were developing flower buds.
Farther along, prolific burningbush was keeping up.
A loud call kept coming from the corner of the field.
An eastern towhee was the source.
As the Sedge Meadow Trail forked off, garlic mustard had started to bloom.
Close to the ground, wild strawberry was opening.
Leaves were just beginning to show over the boardwalk above the Sedge Meadow.
Off to the side was a tiny waterfall with a tiny sound.
The Sedge Meadow didn't look much different from last time.
Tussock sedge was maybe a little greener.
But the flowers were all but gone.
A little farther out, cinnamon fern was just becoming visible.
The densely wooly fiddleheads are easy to spot.
Everywhere, Japanese barberry was beginning to bloom.
Extra eyes spotted a hawk's nest. It's occupant spotted us and indignantly left. We apologized and left, too.
At the end of the Old Pasture, something dark darted into the leaves .
It took some effort to locate it - a Juvinal's duskywing.
Over the edge, the Wappinger Creek was running full after a day of light rain.
Down the hill, rue anemone was going strong.
The back side was occasionally as interesting as the front.
Extra eyes caught movement over a side trail.
Again, it took a while to locate the critter - a mourning cloak.
Bloodroot had pretty much finished blooming, leaving the distinctive leaves to carry on through the season.
A similar strategy was playing out with trout lily.
Right along side the Wappinger Creek proved to be quite loud.
In the lowest stretch of the floodplain, cut-leaved toothwort was really doing well.
That took us up to the Appendix to conclude this walk.
Next week: the Cary Pines Trail the side of the trail system.
---
Sightings
Birds

1 Turkey Vulture
1 Downy Woodpecker
1 Eastern Kingbird
3 Blue Jay
1 American Crow
3 Tree Swallow
1 Ruby-crowned Kinglet
3 American Robin
3 Gray Catbird
1 Prairie Warbler
7 Eastern Towhee
1 Field Sparrow
2 Song Sparrow
1 Northern Cardinal
1 Red-winged Blackbird
1 Brown-headed Cowbird
2 Baltimore Oriole
3 American Goldfinch

Butterflies

1 Cabbage White
1 Mourning Cloak
1 Juvenal's Duskywing

Plants

1 Garlic mustard
1 Japanese barberry
1 Wild strawberry