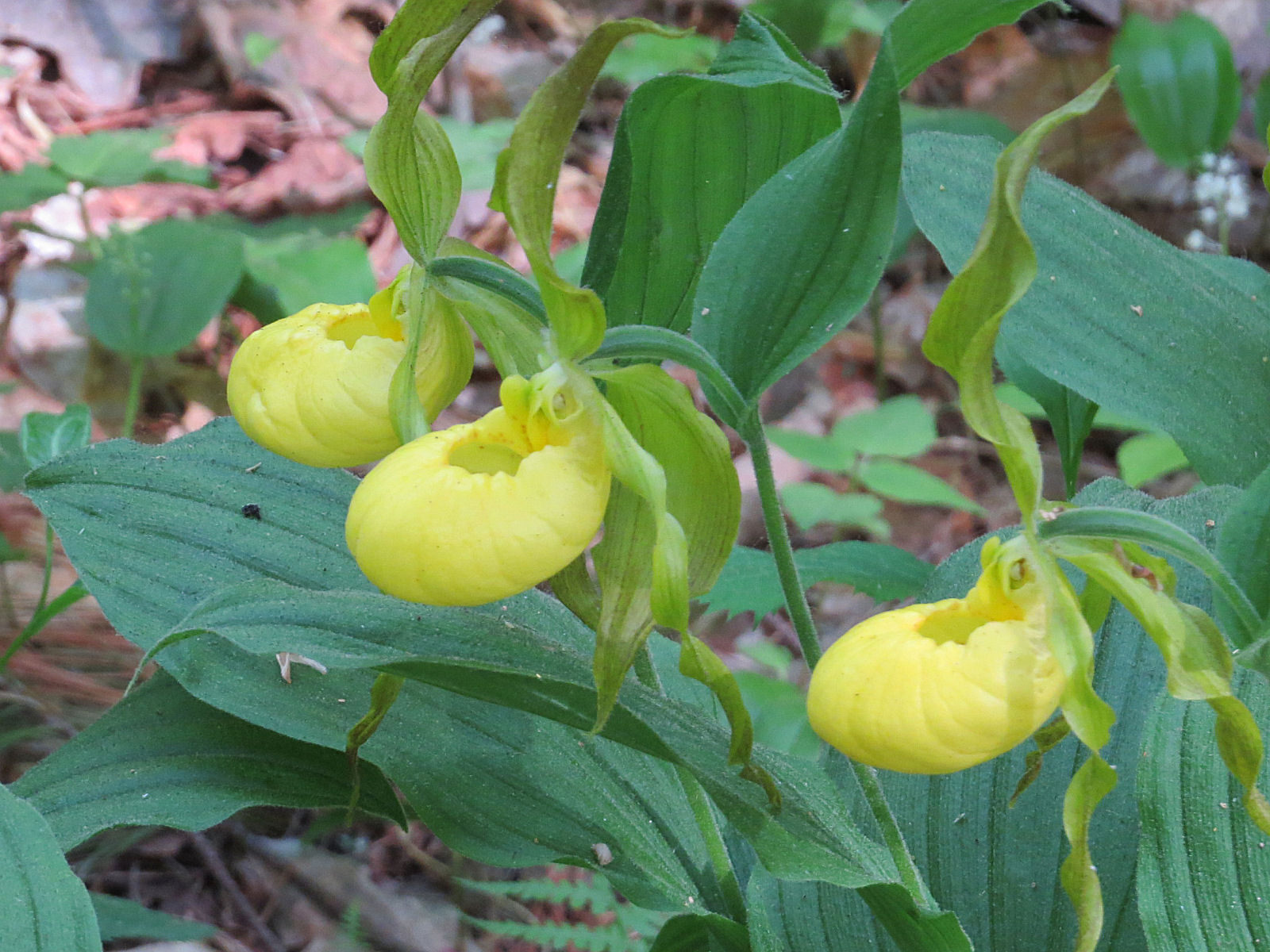 Yellow Lady's slipper
Notes and Changes since last report
It was 80°F, clear with light winds at 2:00 PM on May 25, 2021.
This week's trail report covers the Cary Pines Trail side of the trail system.
Little wood-satyr and Hobomok skipper were back, and one silver-spotted skipper went by.
Pink and Yellow lady's slipper were still blooming in the Fern Glen.
---
The Trails
The Cary Pines Trail was pretty quiet until the top of the Fern Glen where a couple Zabulon skippers were chasing each other.
Hobomok skippers were at the other side of hill; their yellow patch below is less extensive.
The Zabulon turned to catch some sun. From above, it is not so easy to tell the two apart...
Something dark darted by... a female Zabulon? No, Juvinal's dusky-wing .
Dragonflies have been out in increasing numbers. A twelve-spotted skimmer perched in the sun a moment.
Penstemon or beardtongue was blooming on the dryer side of the hill.
Down along the pond, false Solomon's seal was finally blooming.
Wild geranium had started the week before.
The green of carrion flower blends in well with surrounding foliage.
Its viney stalk stands out a little more obviously.
Alternate-leaved dogwood does not last long.
Out in the poor fen, Labrador tea was looking good.
The strange, nodding flower of pitcher plant would be open in another day.
A native honeysuckle, limber honeysuckle was blooming farther along the boardwalk.
In the shrub swamp area, tiny flowered water speedwell was easy to miss.
Included in our Phenology Trail, pink lady's slipper had been blooming since last week.
Wild sarsaprilla resembles an ash seedling.
But it bears a small flower ball below.
Way in the back of the 'Glen, yellow lady's slipper was having a good year.
Near the deck, wild stonecrop was an interesting ground cover.
It was hard to find a bloom on the swamp azalea; it's had better years.
Invasive dame's rocket was blooming everywhere.
Our native wild blue phlox has five petals and doesn't grow as tall.
At the front of the pond, strange sweetflag was doing what it calls blooming.
Back on the Cary Pines Trail, in the Old Gravel Pit section, hay-scented fern was teasing the eye.
Next week: the Wappinger Creek Trail side of the trail system.
---
Sightings
Birds

1 Turkey Vulture
1 Red-tailed Hawk
4 Chimney Swift
1 Red-bellied Woodpecker
1 Northern Flicker
3 Eastern Wood-Pewee
1 Warbling Vireo
1 Red-eyed Vireo
1 Black-capped Chickadee
1 White-breasted Nuthatch
1 House Wren
1 Eastern Bluebird
3 Veery
1 Wood Thrush
4 American Robin
1 Northern Cardinal
2 Red-winged Blackbird
2 Baltimore Oriole
1 American Goldfinch

Butterflies

2 Hobomok Skipper
2 Zabulon Skipper

Plants

1 Beauty bush
1 Carrion flower
1 Dame's rocket
1 False Solomon's-seal
1 Labrador tea
1 Limber honeysuckle
1 Penstemon
1 Rhododendron
1 Swamp azalea
1 Sweetflag
1 Water speedwell
1 Wild sarsaparilla