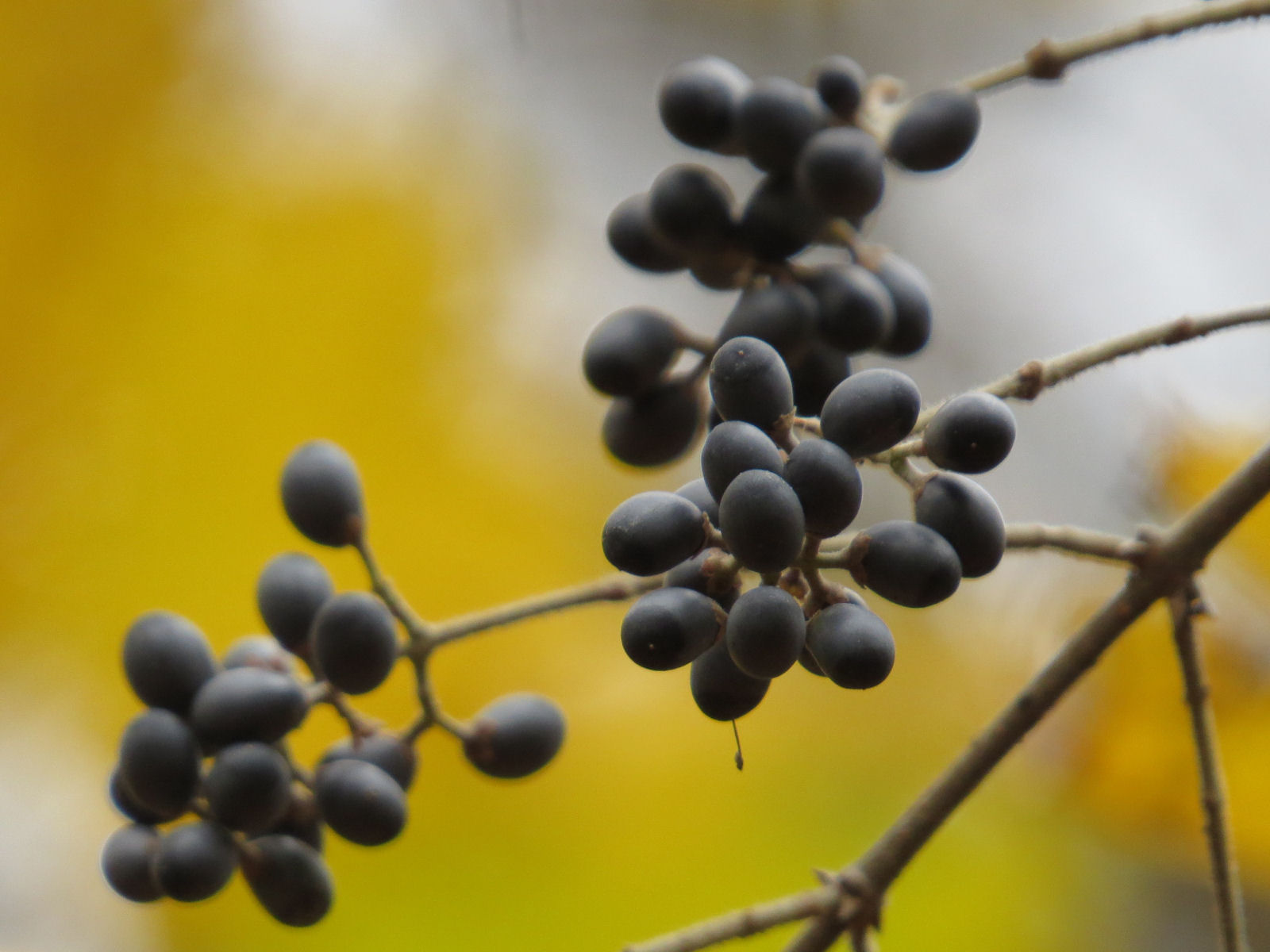 Privet
Notes and Changes since last report
It was 53°F, cloudy and windy at the tail end of a Nor'easter at 12:30 PM on October 27, 2021.
Note that the grounds close Nov. 1 for the winter.
This is the last trail report of the season.
This week's trail report covers the Wappinger Creek Trail side of the trail system.
---
The Trails
On the way to trail marker 10, black berry clusters didn't look familiar at first.
But checking the leaves helped recall the garden escapee, privet.
All too familiar, but very pretty, was Japanese barberry.
Across from the bench, witch's butter had continued its slow decline.
The "biscuit" mushrooms looked a bit more orange today, but it doesn't really show in the photo.
Across the Creek, the orange foliage wasn't bad. A little afternoon sun would really set this off.
Color was improving by the stone bridge in the Fern Glen, too.
The leaves of hobblebush had brightend up a bit.
Even more interesting is the bud - it looks like little hands in prayer... that the deer don't get it.
Spicebush was easy to pick out now.
Suddenly its distinctive leaves were everywhere.
Across the road, American hazel had taken some color.
It was too late for nuts; only the empty husks remained.
But the male catkins were already waiting for spring.
The neighboring azalea had some dusky reds developing.
At the tip of a branch, a bud again was prepared to get through the coming winter.
The fruit was an unassuming brown capsule.
Closer to the bridge now, a maple was looking more the way one would expect this time of year.
In the pond, water striders were still active.
At the back, sweet pepperbush was bright.
Getting there was half the fun, one might say regarding the still green veins.
A beacon of yellow blazed across the creek.
Back on this side, leatherwood was still working on it.
It might have been about half way through its color change.
On the other hand, striped maple looked complete.
Just about all the leaves were of uniform pale yellow.
The Wappinger Creek was running full after two nights and a day of rain.
But it was a steady, moderate rain. The banks appeared undisturbed, unlike after the last hurricane.
On the way out, some mushrooms had so far survived growing in the middle of the trail to the Old Gravel Pit.
The other end of the trail found the clouds thinning over Gifford House across the Little Bluestem Meadow.
After all the rain and wind, there'd been only a few sticks in the trails... until the path from the pines to the creek.
After clearing that, it was down the Scots Pine Allée and away.
Next week: the grounds will be closed until April.
---
Sightings
Birds

1 Downy Woodpecker
1 Black-capped Chickadee
1 White-breasted Nuthatch
1 Golden-crowned Kinglet