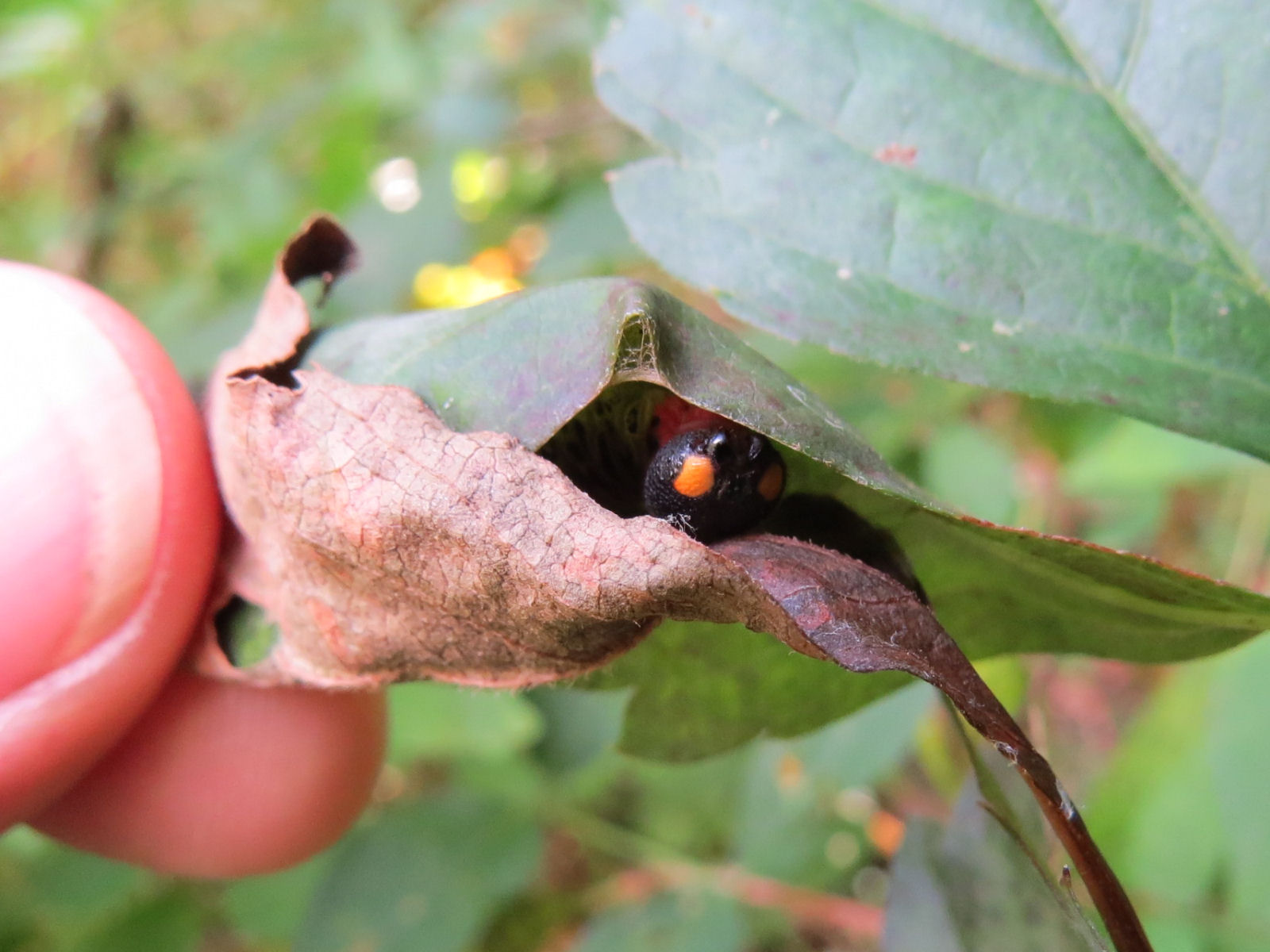 Silver-spotted Skipper Caterpillar
Notes and Changes since last report
It was 62°F, partly cloudy, and windy at 1:00 PM on September 29, 2021.
As last week, birds and butterflies were down, but mushrooms were around.
Mosquitos were not too bad today.
This week's trail report covers the Cary Pines Trail side of the trail system.
---
The Trails
The afternoon sun on the Wappinger Creek at trail marker 10 seemed much lower than the time of day justified.
On the rise above, witch's butter had expanded since last week.
Nearby, some mushrooms resembled English muffins.
Last week's weary Old Man of the Woods was hardly recognizable now.
By the ridge above the gorge, coral fungus was just getting started.
Off the side, a tall, tan mushroom looked familiar.
Another set of mushrooms might have resembled pancakes a little earlier.
Velvety texture and color made a lone mushroom stand out.
The gills were a nice touch too.
A patch of sunlight lit up a small fern at the base of a big tree.
One frond of hay-scented fern seemed to rise to embrace the last sun of the day.
The Fern Glen Pond was clear to the bottom.
A frog in the grass knew exactly which way to the pond.
Ostrich fern was leaking between the rocks and heading for the water, too.
Along the side of the pond, fake eye-spots of a silver-spotted skipper caterpillar peered out of its winter "hibernaculum".
Off the edge of the fen's boardwalk stood a poison sumac.
Its leaves were beginning to take on some color.
Around the corner, winterberry was getting bright.
Birds seem to favor other fruits, leaving these berries through the winter as a last choice.
Striped alder sawfly larvae were on witch hazel. They resemble caterpillars, but the typical curl of the abdomen is one clue that they are sawflies.
Just at the exit of the path through the Old Gravel Pit stood a pair of almost pure white mushrooms.
And across the Little Bluestem Meadow, Gifford House was dwarfed by its surrounding oaks and maples.
Next week: the Wappinger Creek Trail the side of the trail system.
---
Sightings
Birds

1 Downy Woodpecker
3 Eastern Phoebe
1 Blue Jay
1 Golden-crowned Kinglet

Butterflies

Insects