Observations and photos by Jimi Eisenstein.
09-12-2023
Many little critters and creatures can be found hidden among the plants. Some of them might even look like parts of plants themselves! Consider this insect, the northern walkingstick (Diapheromera femorata). It looks just like a twig with legs, and the legs in turn look like smaller twigs. If you look closely, you can even see specks on the walkingstick, mimicking the lenticles found on the bark of certain trees.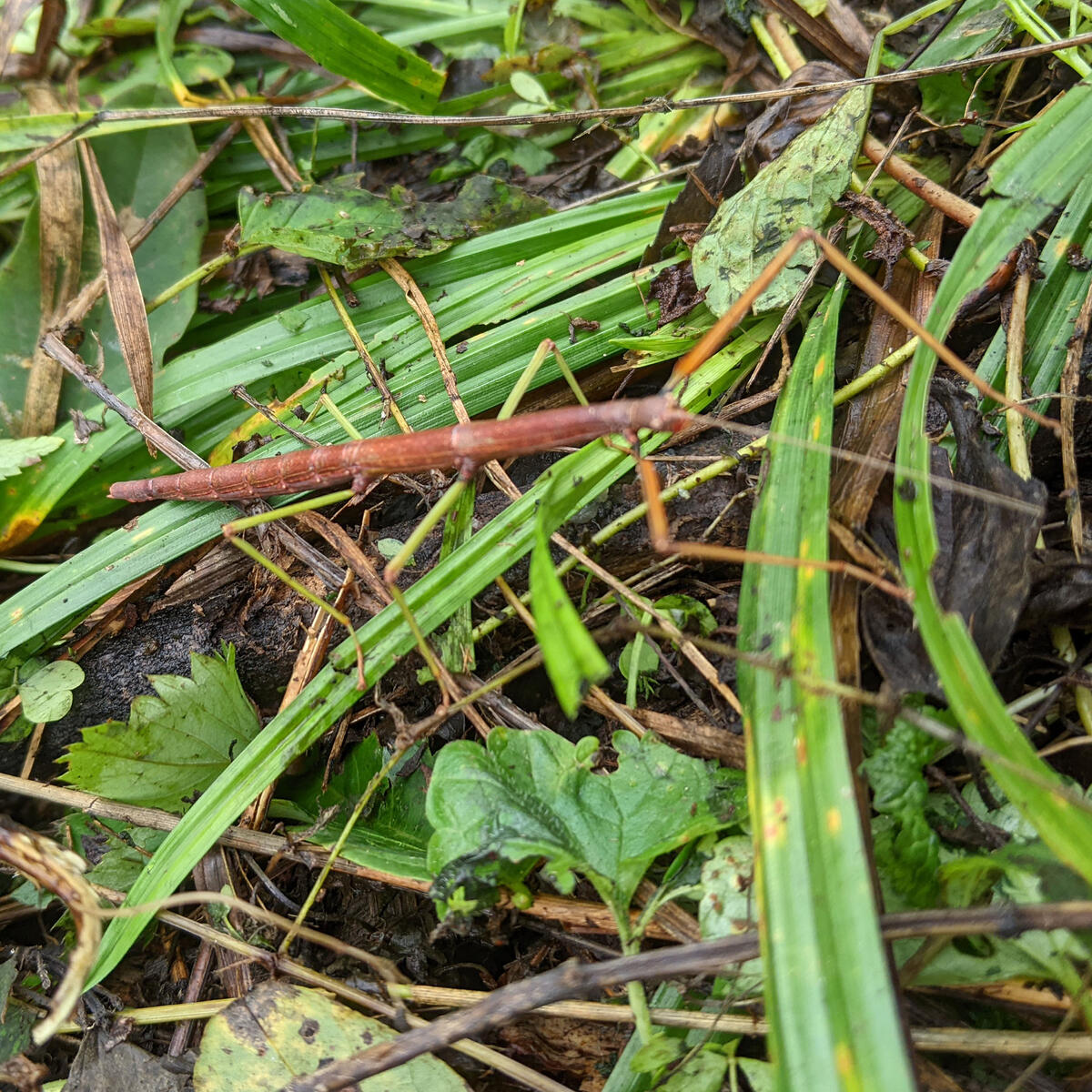 Another almost alien-looking creature is the Chinese Mantis (Tenodera sinensis). While this may look an awful lot like the native Carolina mantis, this one is actually introduced from eastasia, as the name suggests. These are a bit bigger than the native praying mantises. Another surefire way to tell the difference is to look at their wings. On the Chinese mantis, the wings extend past the end of its abdomen, in contrast with the Carolina mantis, whose wings do not reach the end of its abdomen. The spiny forelegs on these insects mean they won't go down without a fight, even when faced with a snake!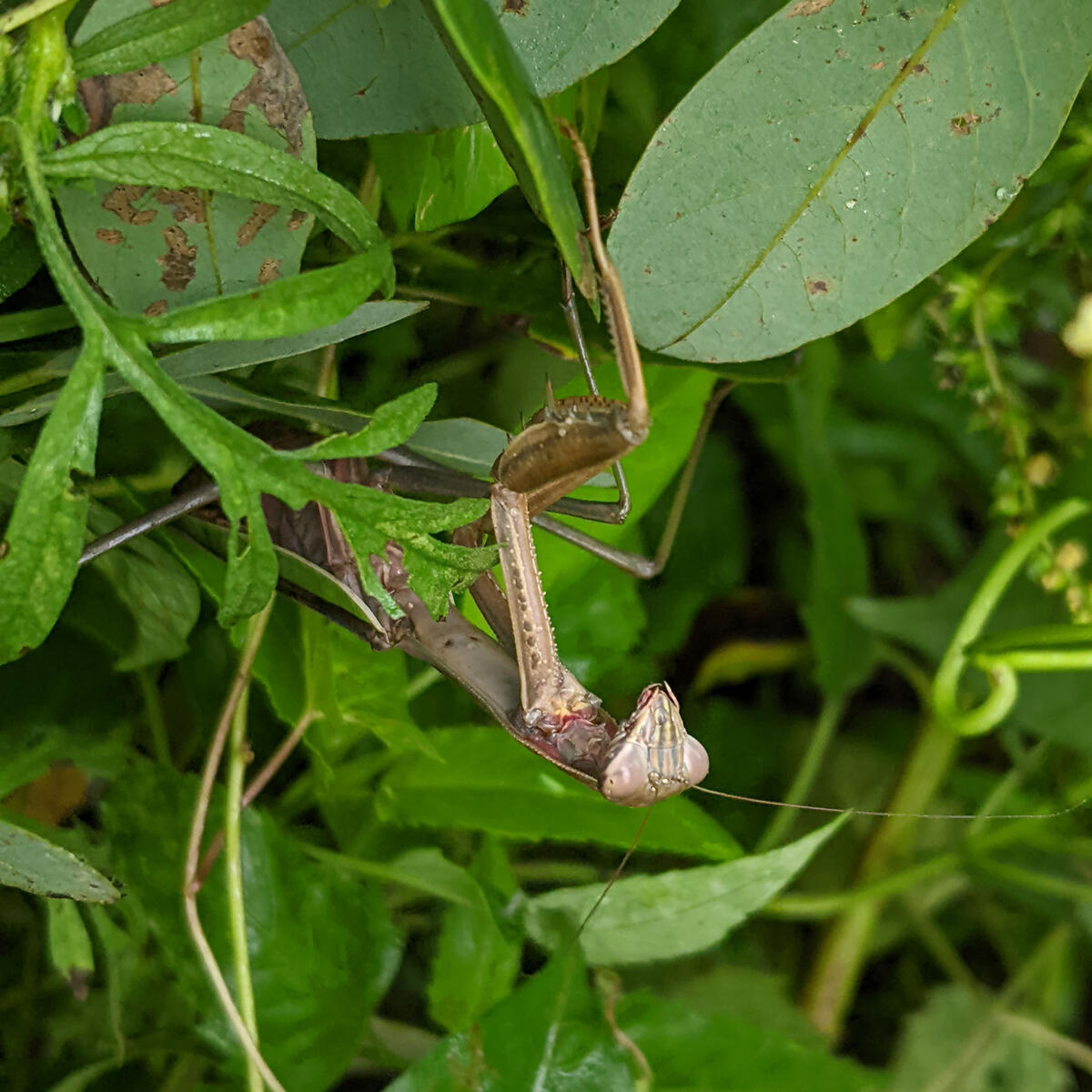 Speaking of snakes, here is a common garter snake (Thamnophis sirtalis)! These harmless little slinkers are easy to identify, with their long yellow and black stripes extending all the way from head to tail. They are carnivores, but only prey on small things like grasshoppers and worms. The Chinese Mantis may be too large and formidable of a foe to be a normal meal for the humble garter snake.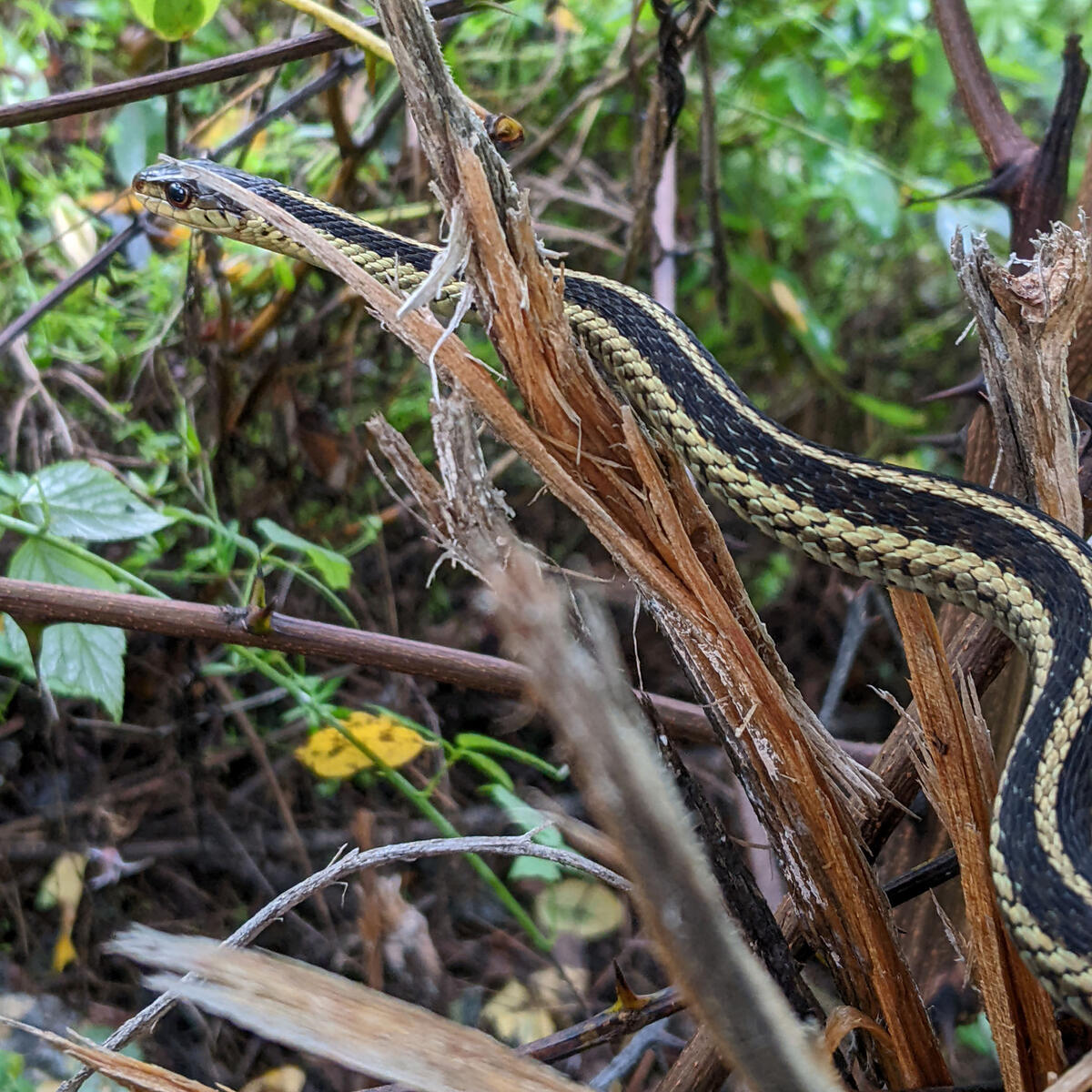 08-29-2023
There are some really pretty flowers blooming in the Fern Glen right now. Yellows, oranges, and purples all in one spot! The bumblebees are busily buzzing around drinking nectar from the flowers, and pollinating! Featured in these photos are the flowers of the cutleaf coneflower (Rudbeckia laciniata), Great Blue Lobelia (Lobelia siphilitica), and common Jewelweed (Impatiens capensis).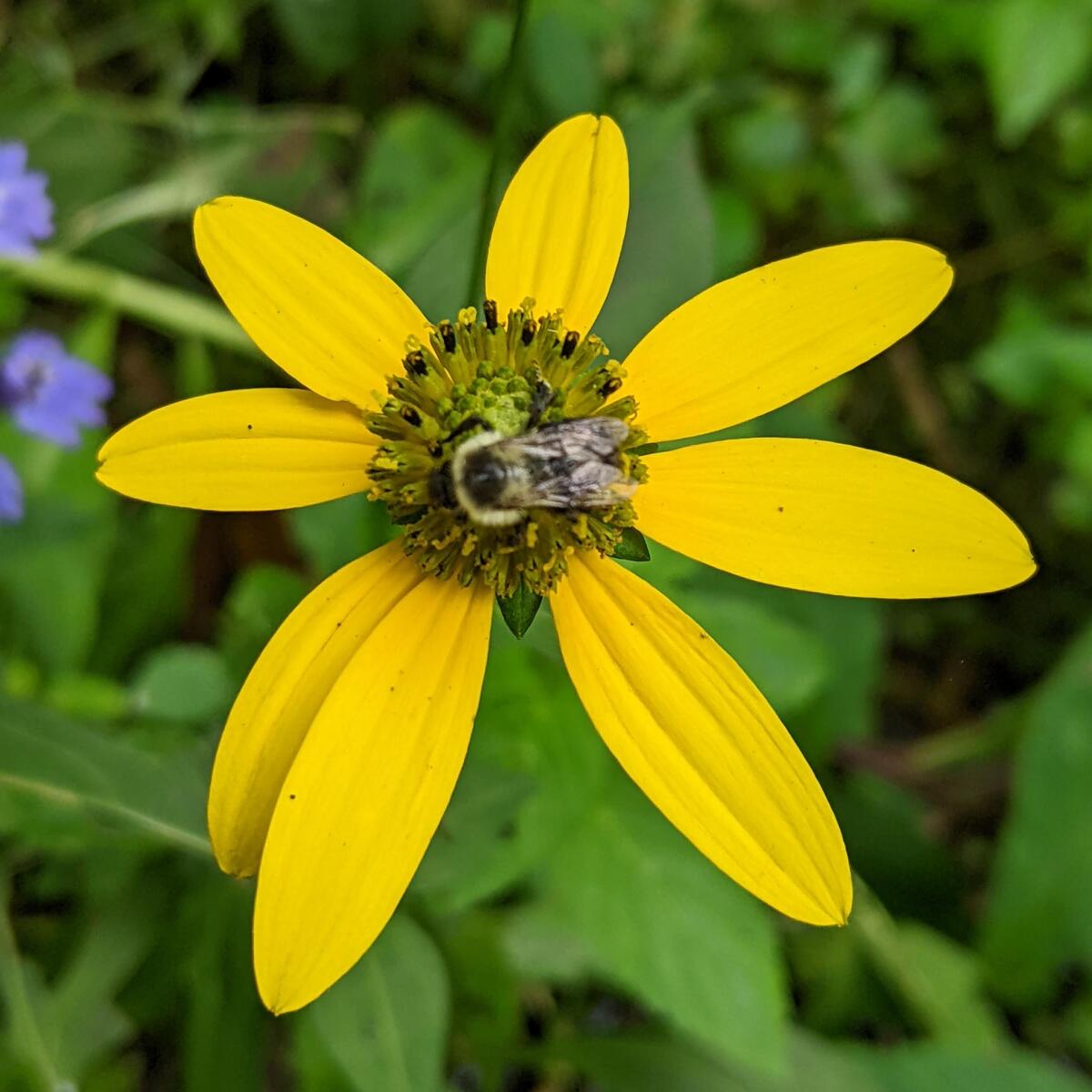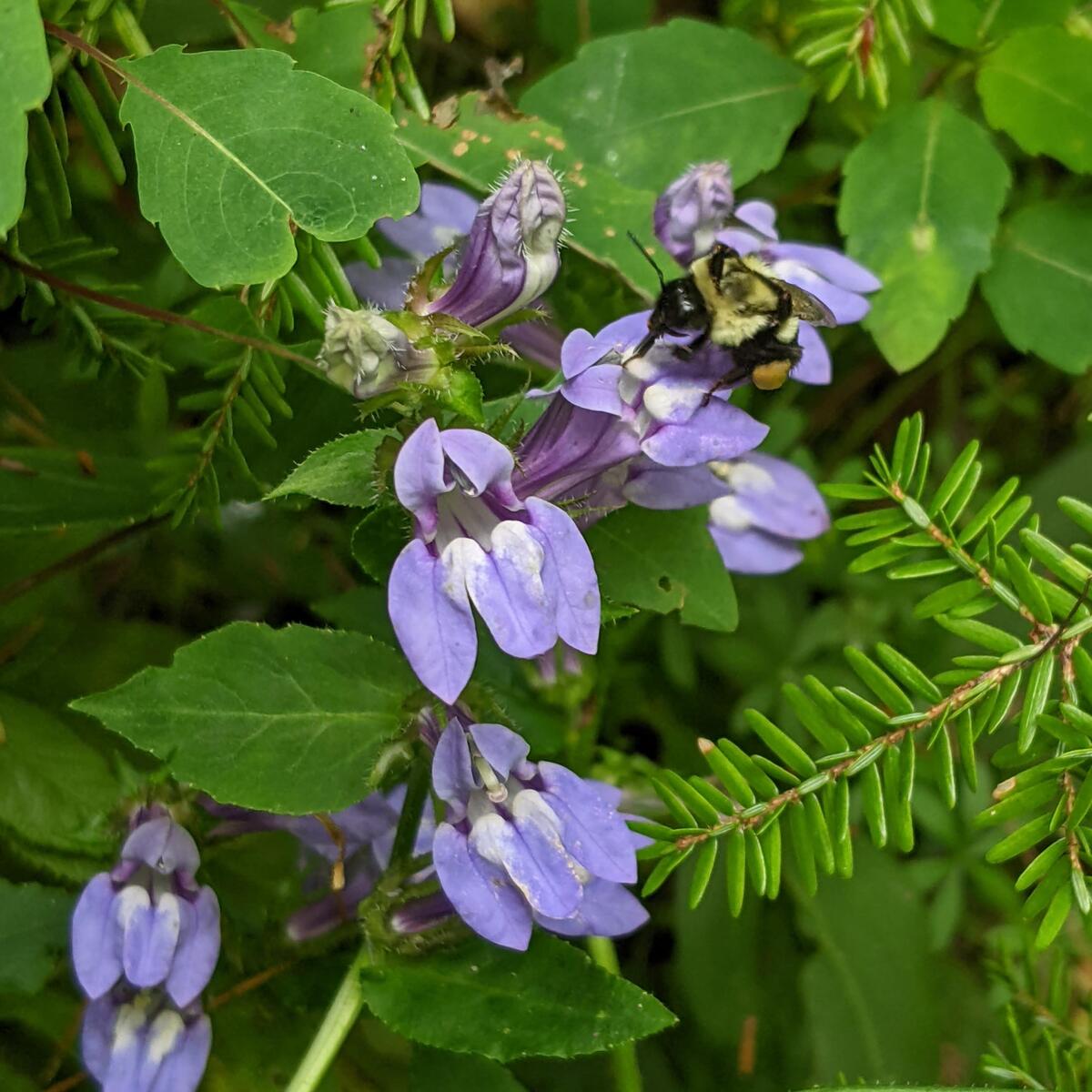 Some of the jewelweed plants have what look like little growths in the stems or leaf veins. These are called galls, created by insects to nest.

08-23-2023
That is quite a large grub curled up there! It is actually the larval stage of the Elm Sawfly (Cimbex americana), the largest sawfly in the area. At this time of year, the sawfly larvae drop from the trees and begin making their cocoons on the ground. This one, which was found on the ground, was likely searching for a cozy pupation spot.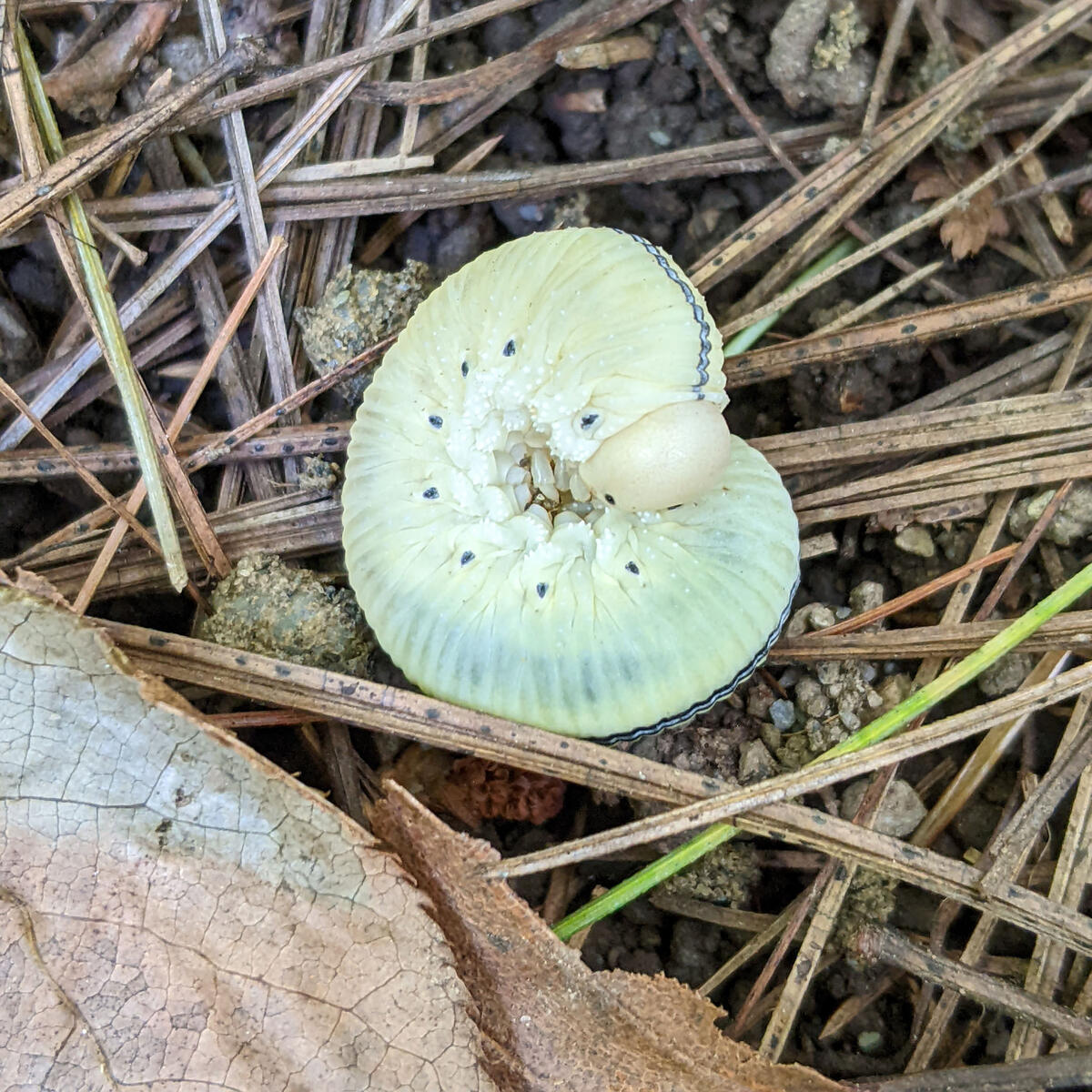 Eek, what's that? Is that a copperhead snake? Or a cottonmouth? Actually, rest assured, it is nought but a non-venemous look-alike: the common watersnake (Nerodia sipedon). They are almost always found in or near water of some sort, but do like to come out to sunbathe. This one was hanging out by the path in a swampy area of the Fern Glen!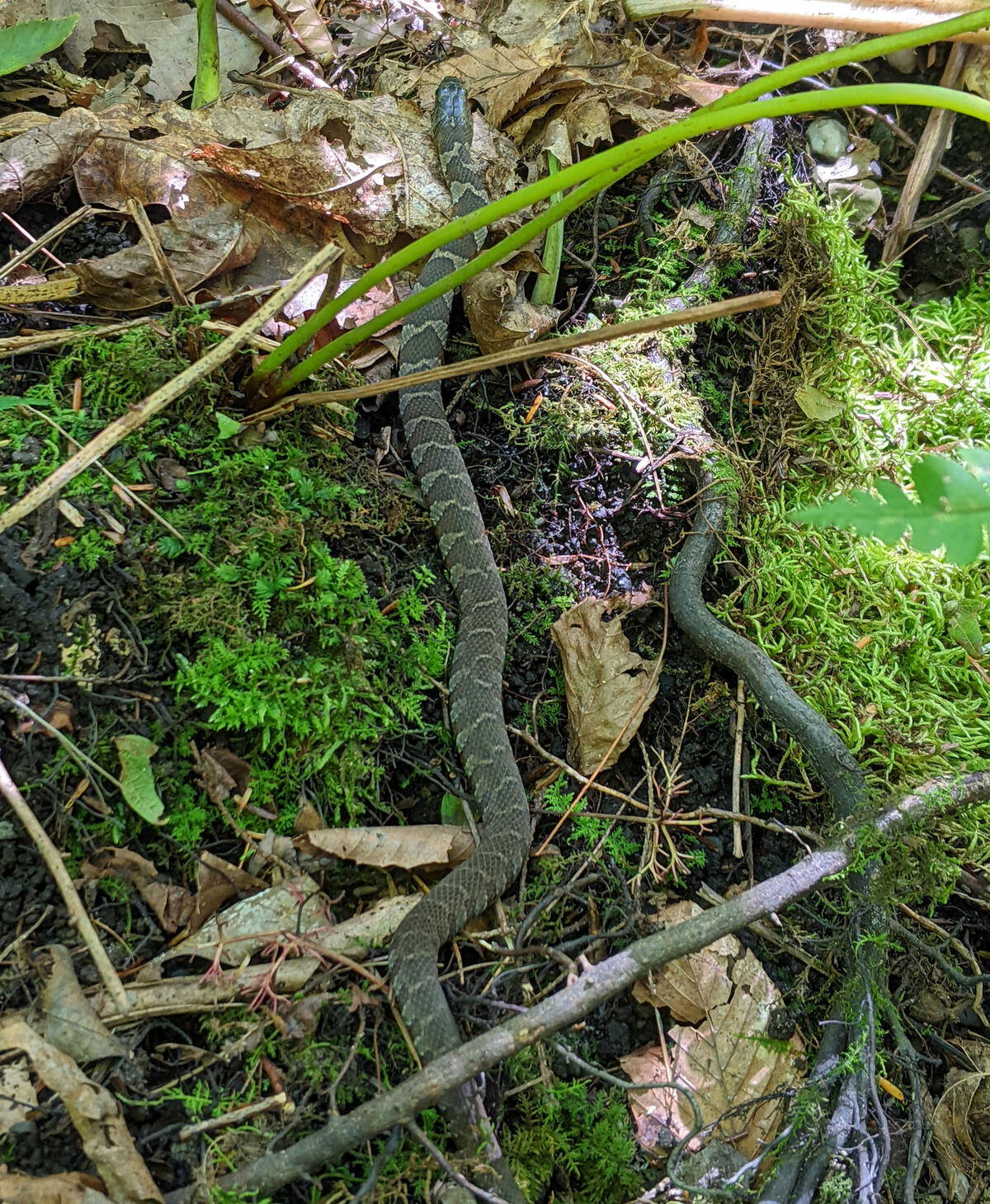 08-16-2023
There are lots of pretty sights after the rain. Flowers are blooming, and fungi are fruiting! The cutleaf coneflower (Rudbeckia laciniata) is a native woodland plant in the aster family, whose flower has brilliant yellow petals and an intricate spiraling cone in the center. Botanically speaking, the "flower" you see is actually a cluster of flowers, each bump in the cone having its own stamens, pistil, and ovules.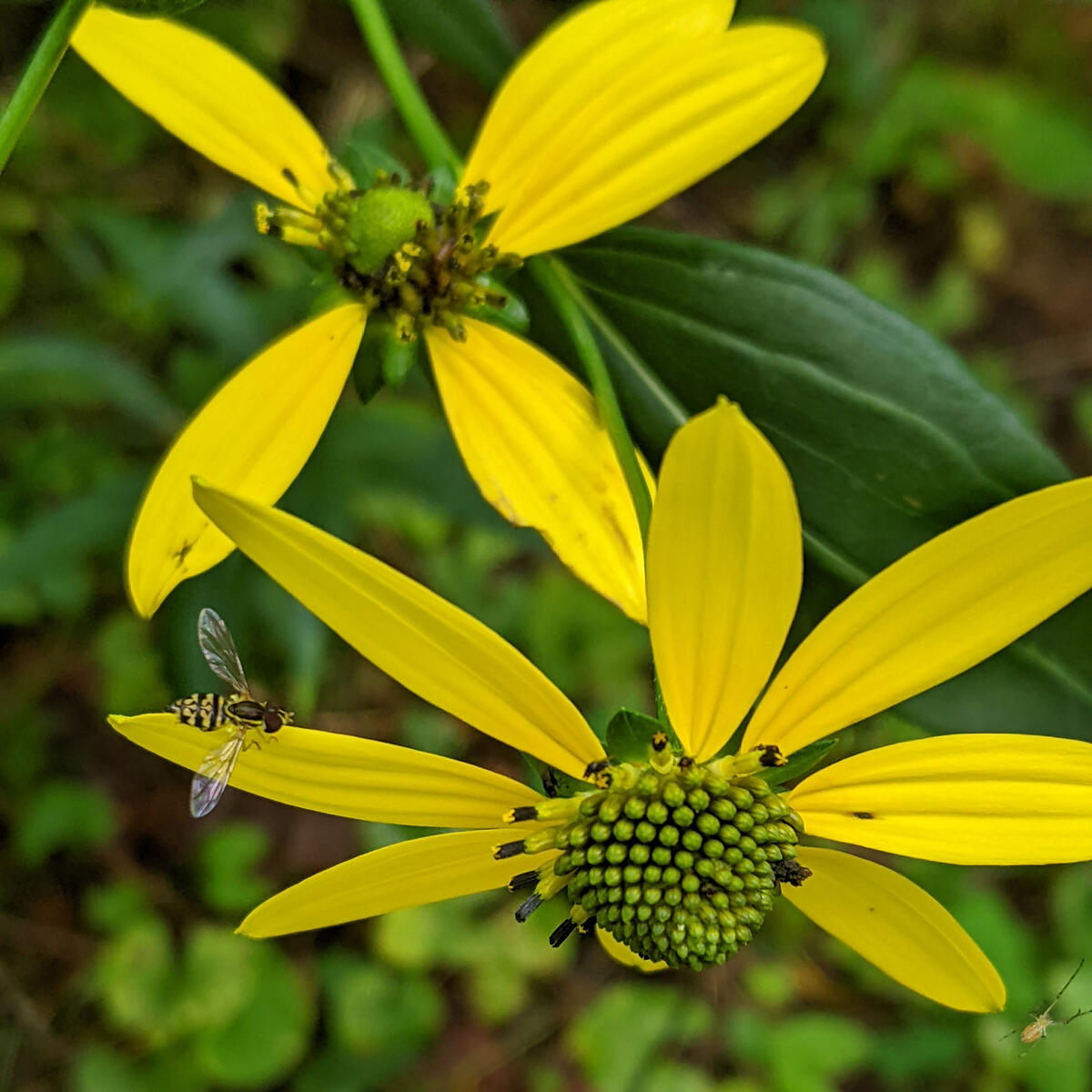 Also blooming is the Great Blue Lobelia (Lobelia siphilitica), which produces a long column of brilliant blue flowers. They are only just starting to come out, so one might see the fullness of the flowering column in the next week or so!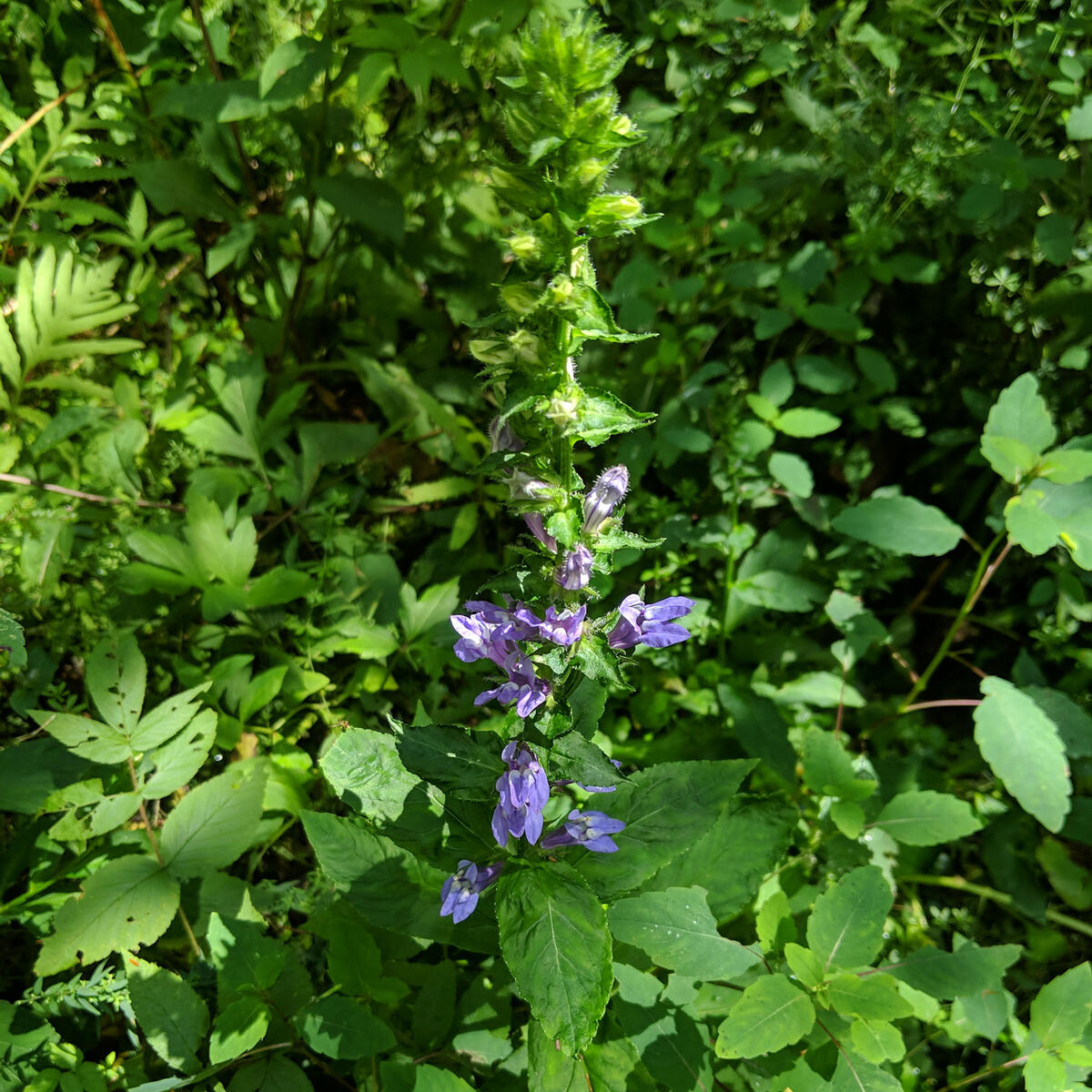 After the heavy rain, the fungi like to fruit. This stick is covered in a shelf fungus (Stereum sp.), which is quite common around these parts.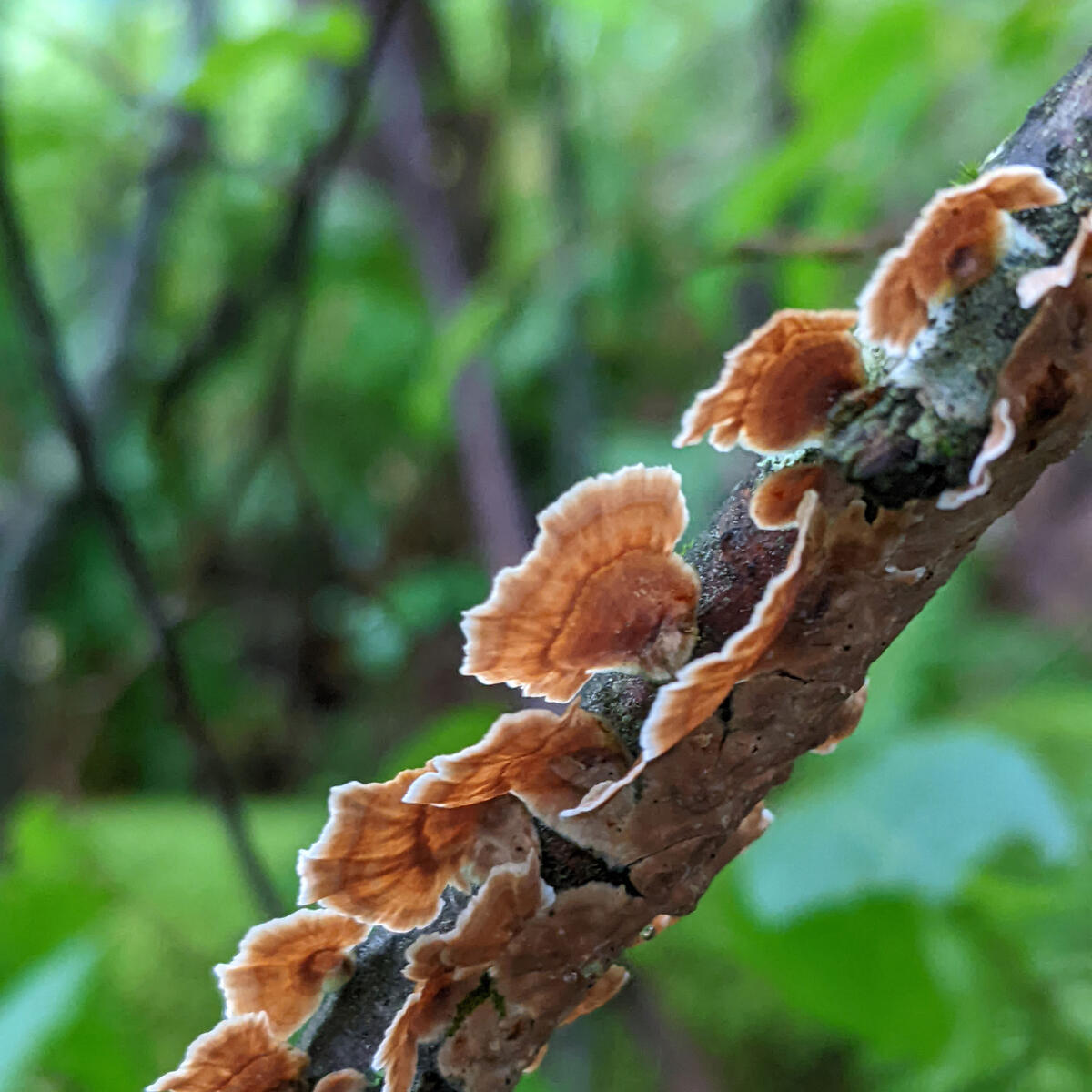 Some of the leaves on the ground have also been inoculated with a species of slime mold (Physarum sp.), which spreads its spores with miniscule fruiting bodies that are large in number.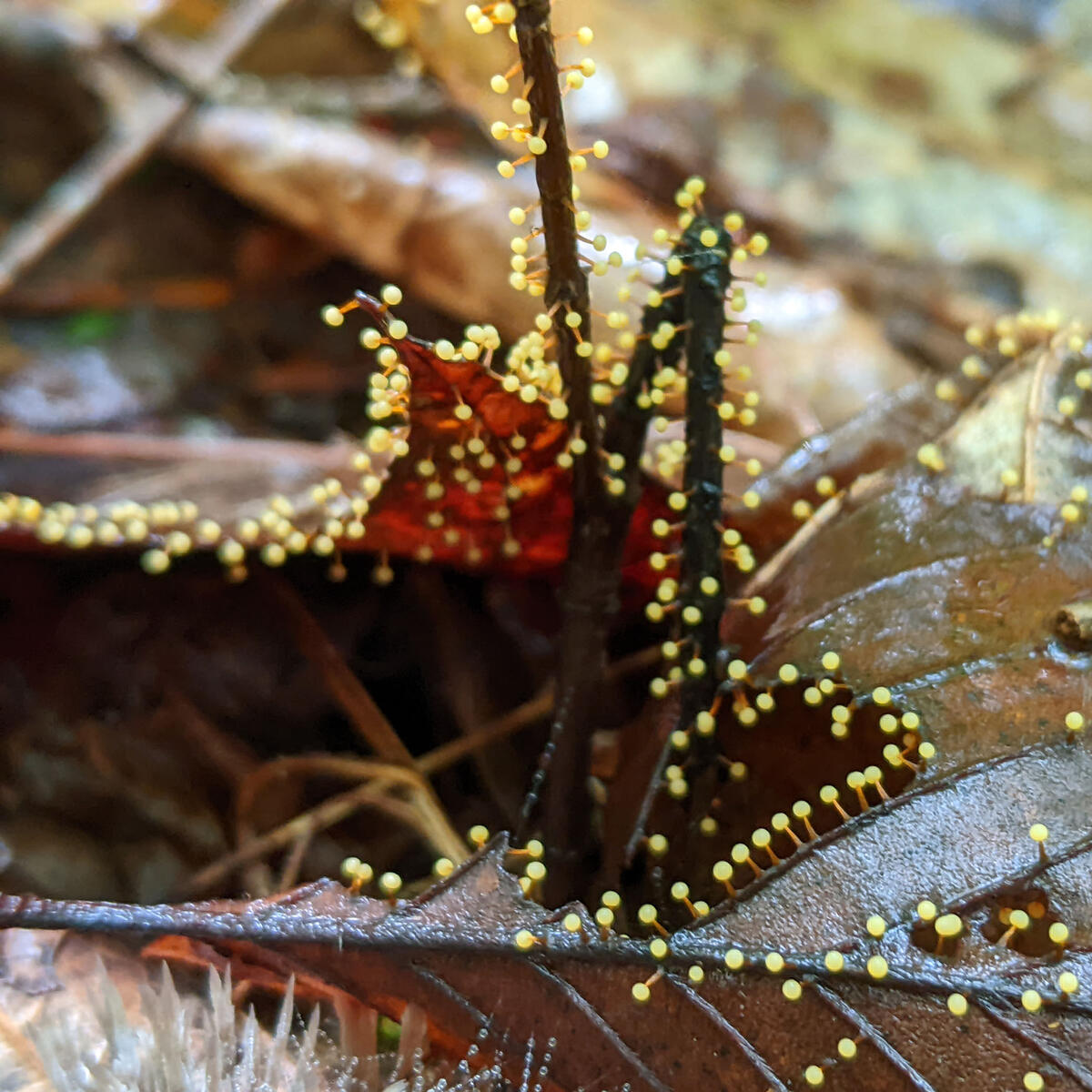 08-04-2023
There are so many frogs in the Fern Glen's pond! And some of them are quite big. Sitting on a log is the American Bullfrog (Lithobates catesbeianus), the largest frog native to this area, whose croak is long and deep.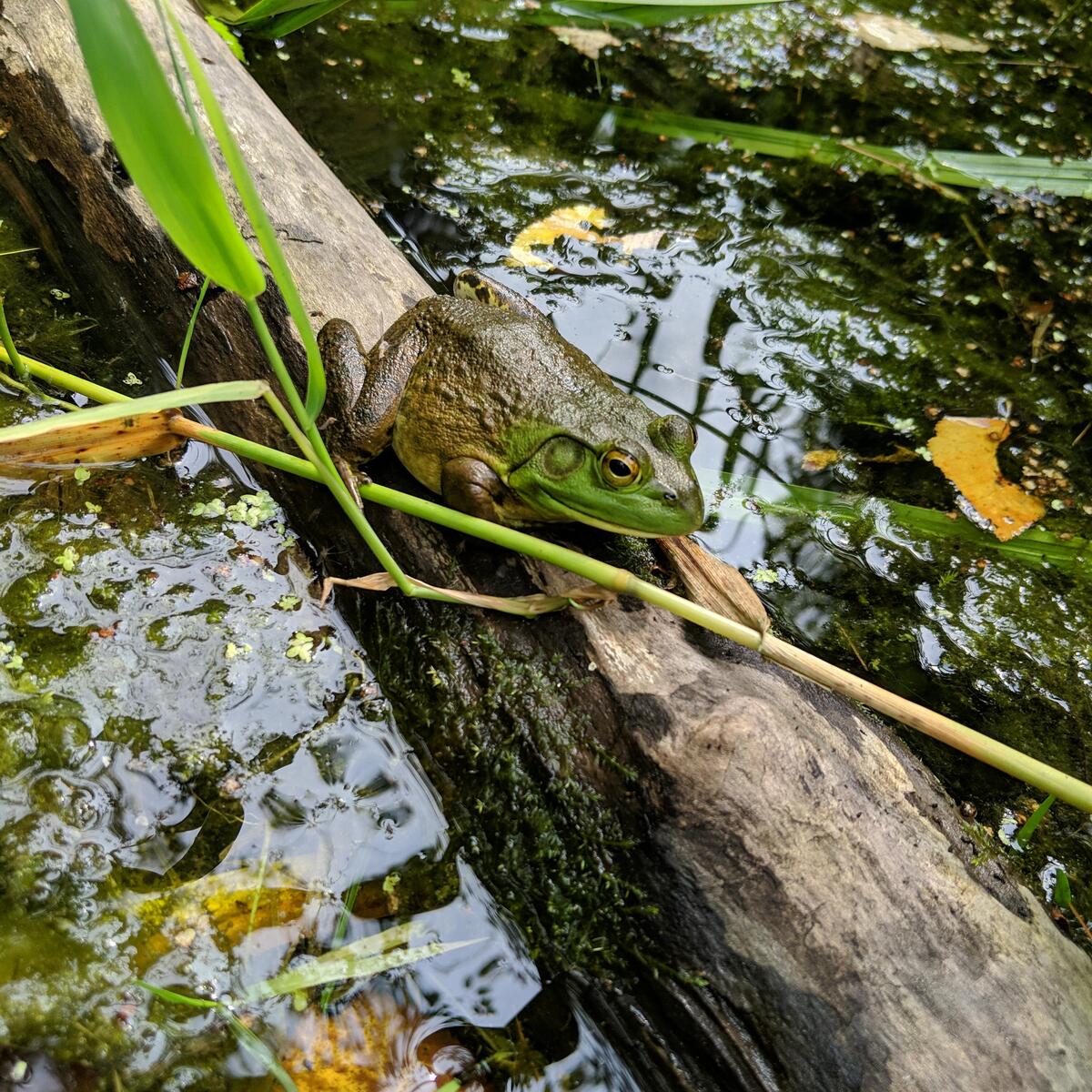 Listen: American Bullfrog song
Sitting in the water is the Green Frog (Lithobates clamitans), which is smaller with a shorter, higher pitched croak. How do I know the difference between them? If you look carefully, the green frog has distinct, embossed ridges along the sides of its back, where the bullfrog does not.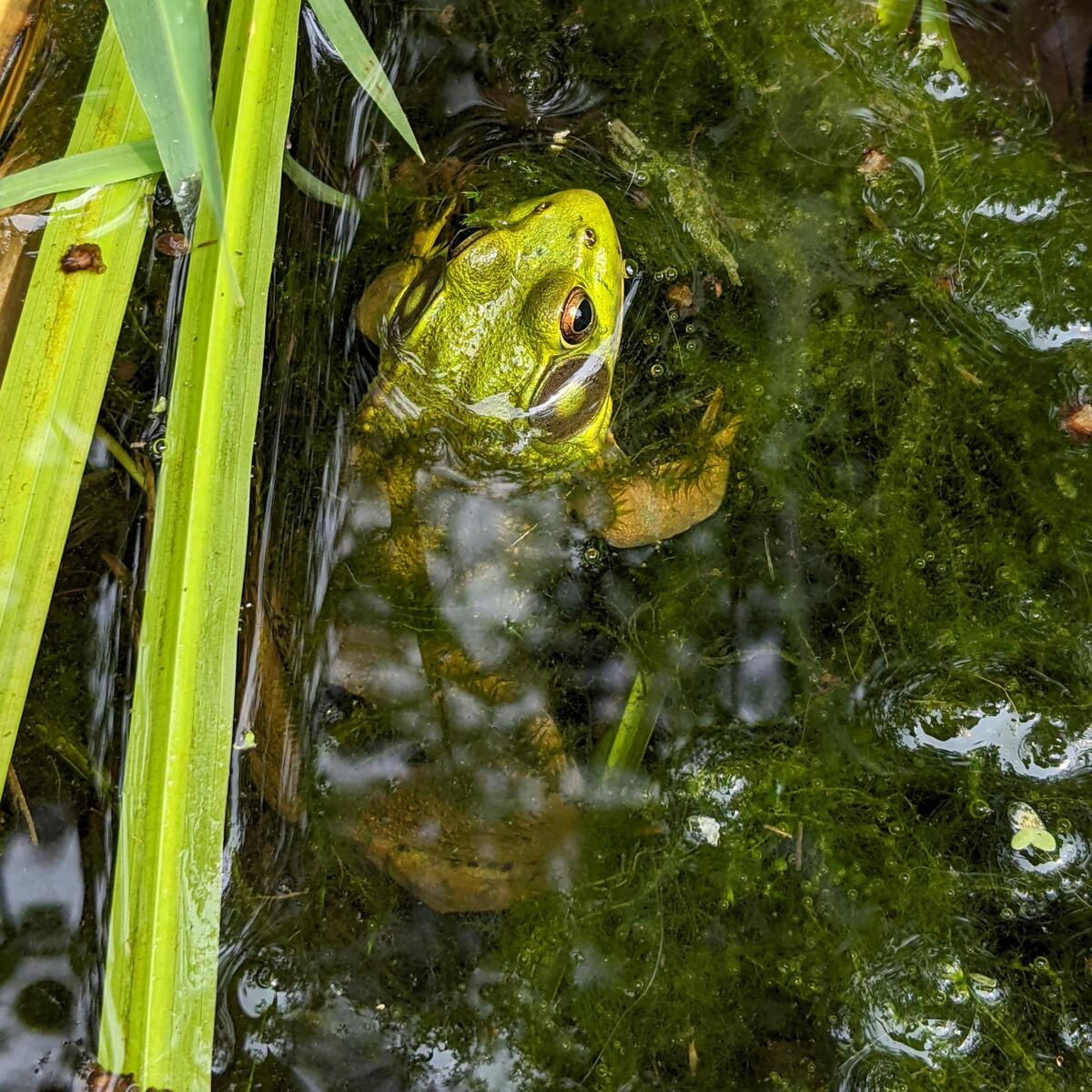 Listen: Green Frog song 
08-01-2023 
Gray tree frogs (Hyla versicolor) have great camouflage, and can blend very well into a woody background like tree bark, or in this case, a fence post. I was lucky to have spotted this little guy, who almost looks like a knot in the wood!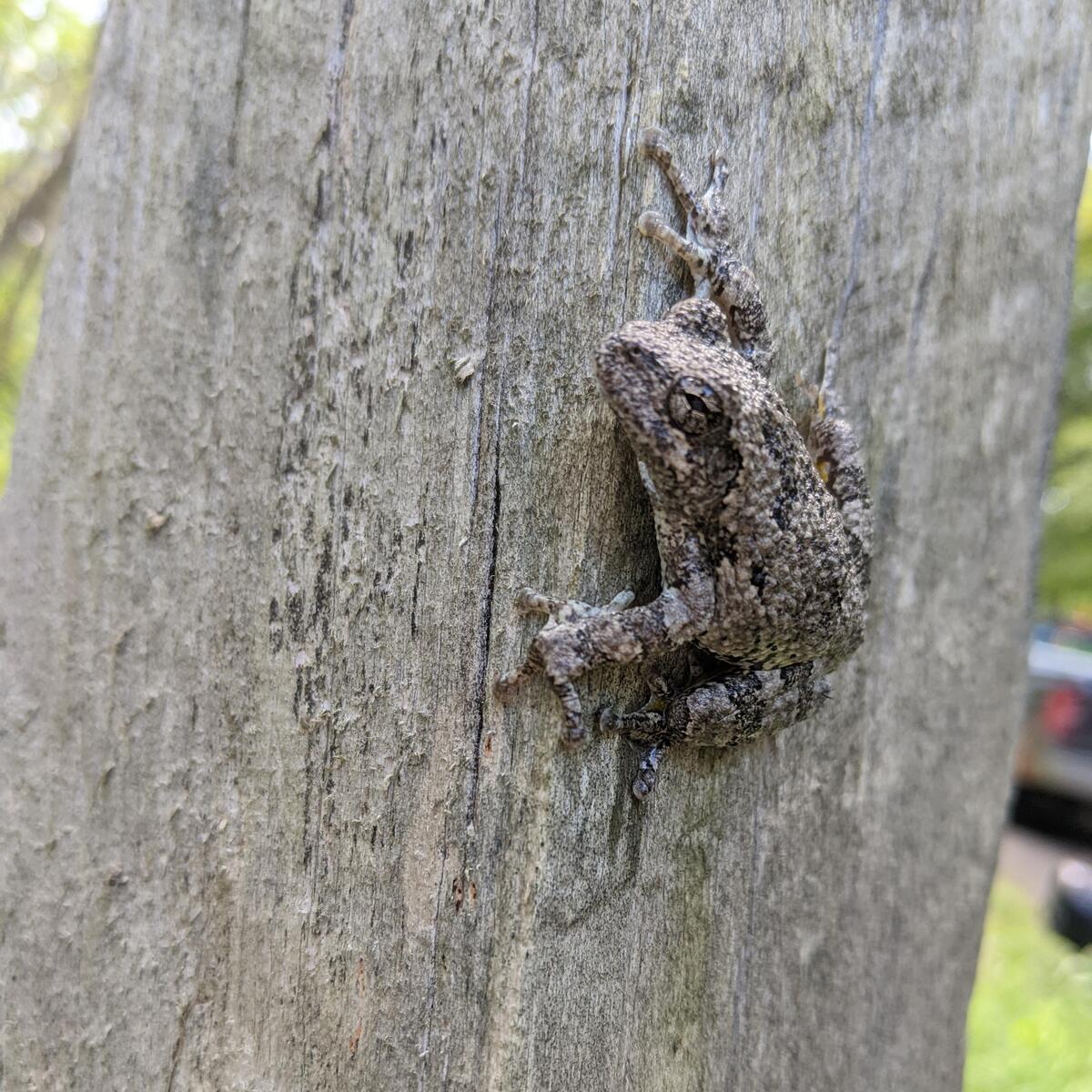 Listen: Gray tree frog
07-31-2023
Feast your nose! The white flower clusters of the Sweet Pepperbush (Clethra alnifolia) gives off a sweet, strong aroma. You may notice it just walking by, as this pleasant scent can be perceptible from several feet away. This native swampy shrub lives in the Fern Glen, and is one of the few shade-dwelling shrubs that blooms in the summer.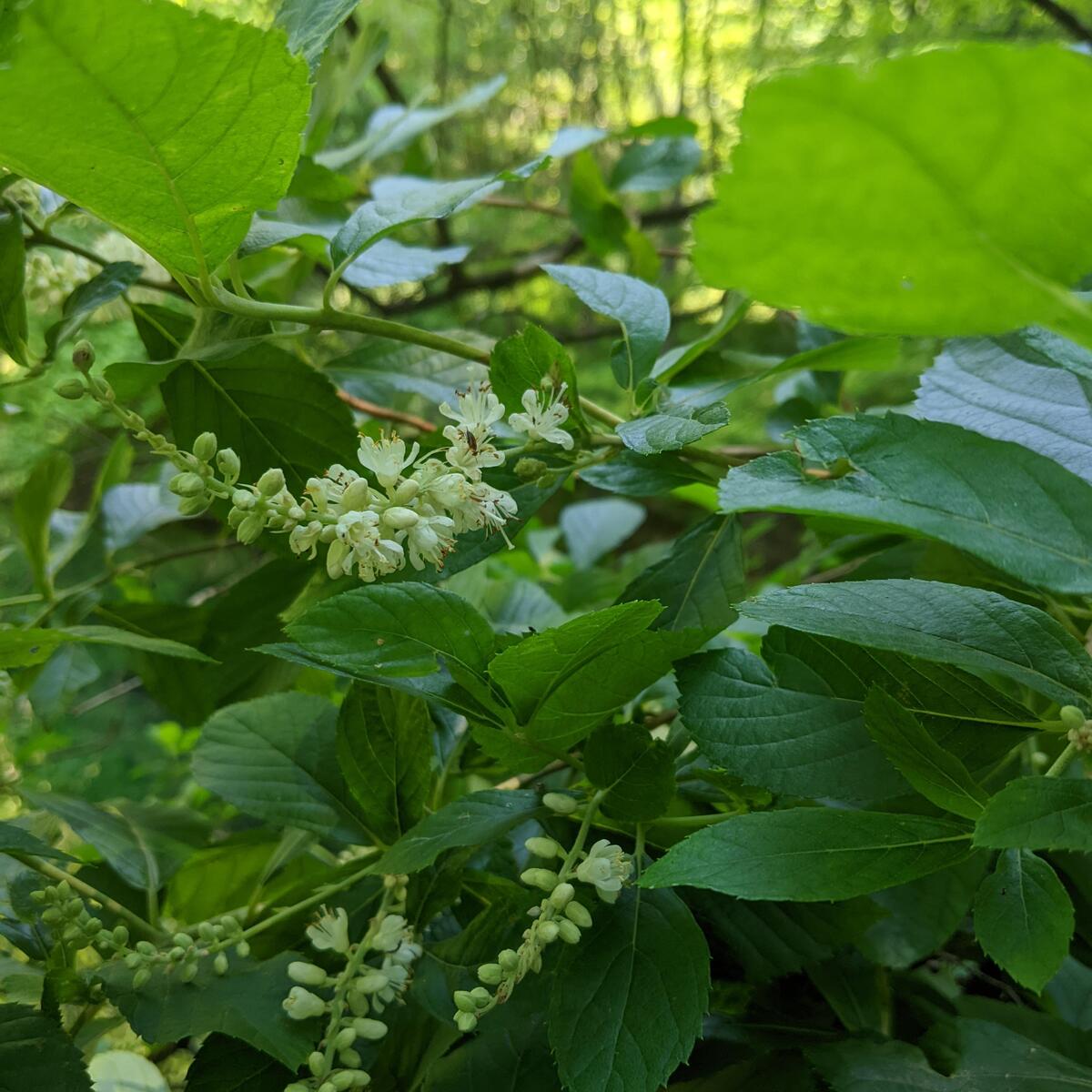 Almost in full bloom, but not quite there is the native Joe Pye Weed (Eutrochium purpureum), and St. John's Wort (Hypericum punctatum). Tune in next week for an update!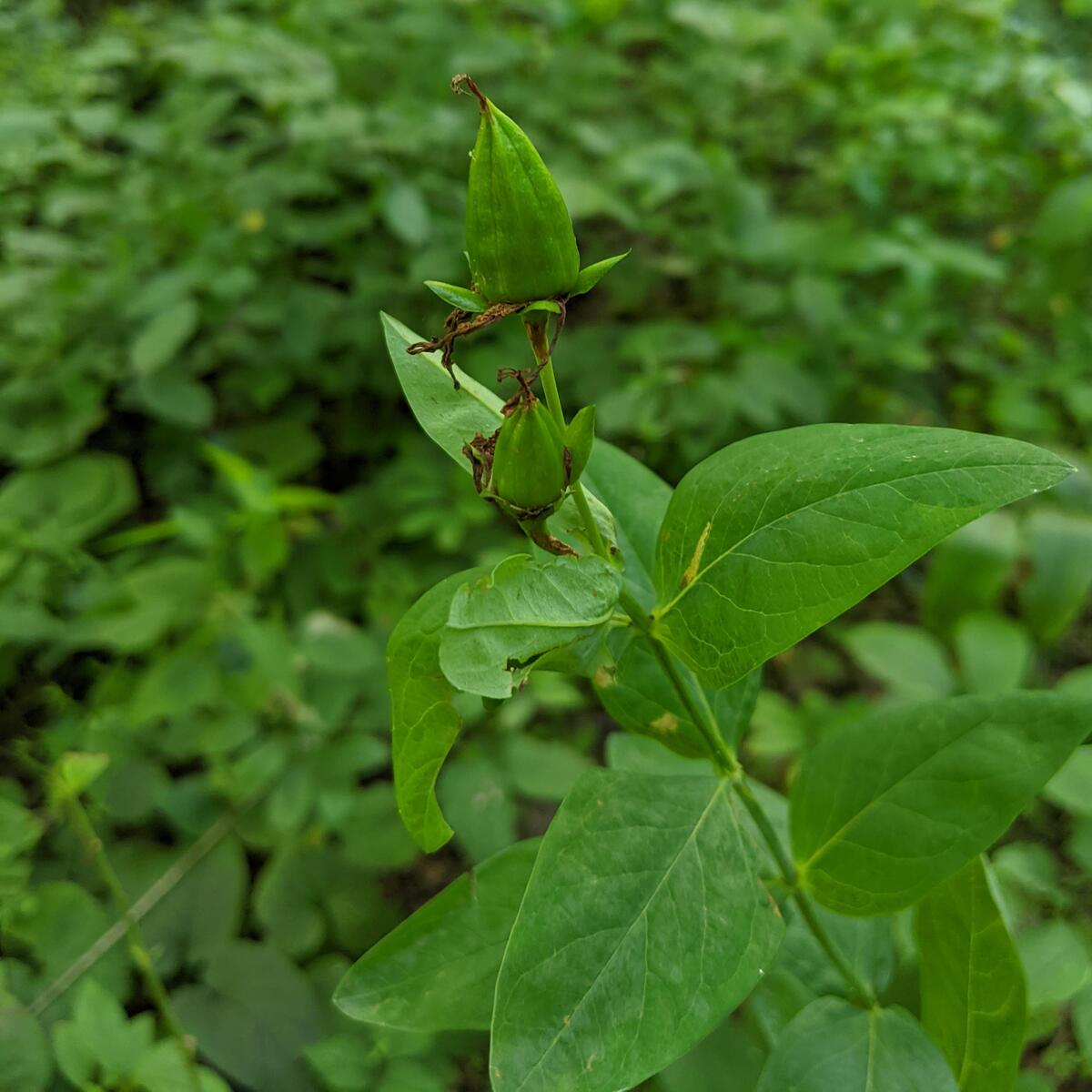 07-27-2023
Monarch butterflies are around! While they are not nearly as numerous as they once were, they are still hanging in there. This one is sipping nectar from a swamp milkweed plant.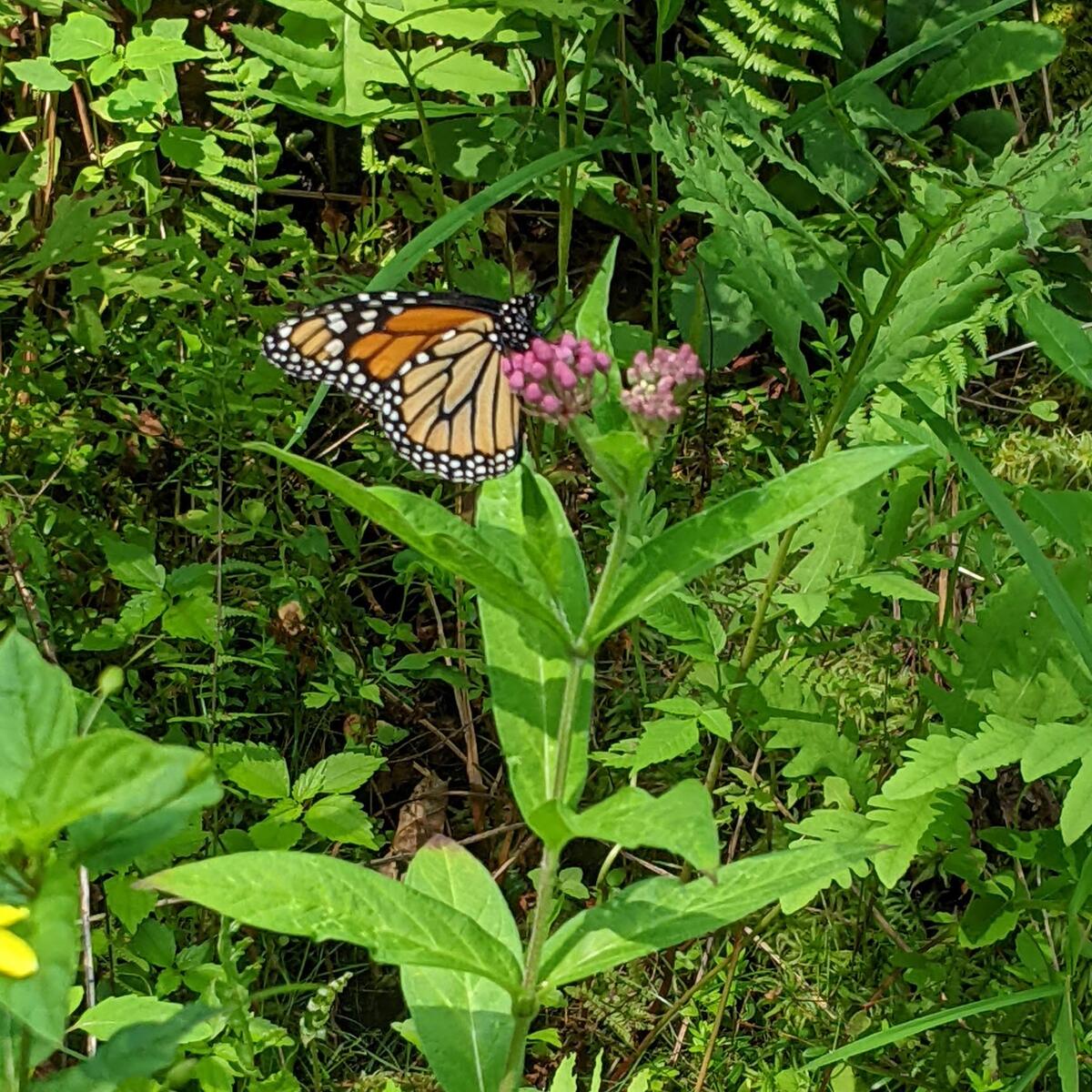 07-25-2023
If you are a milkweed fan, you may have noticed that the common milkweed you find in meadows has finished flowering for the year. But it isn't over yet for these slender insect allies! In the Fern Glen, Swamp Milkweed (Asclepias incarnata) are in the peak of their blooms. These marsh-loving plants bloom a bit later than their meadow-dwelling cousins. Their flowers are also more deeply colored, appearing more magenta than pink. And butterflies enjoy them all the same!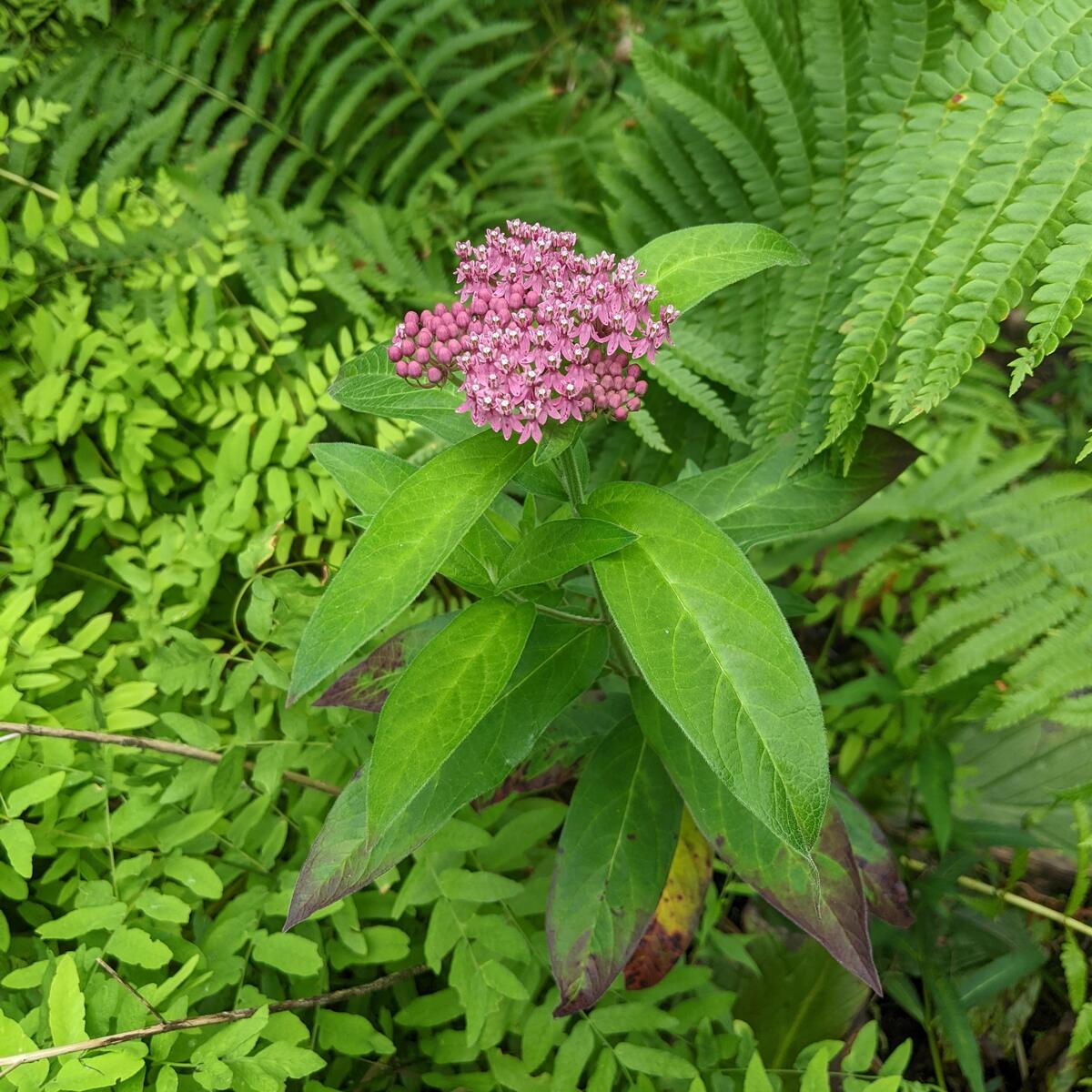 07-24-2023
A butterfly that you can see this time of year is the Great Spangled Fritillary (Speyeria cybele). Found throughout the northern US and southern Canada, it is characterized by its orange color, and black lines and dots along the outside of its wings. This one is enjoying the sweet, fragrant nectar of the wild Bergamot, which is in full bloom right now.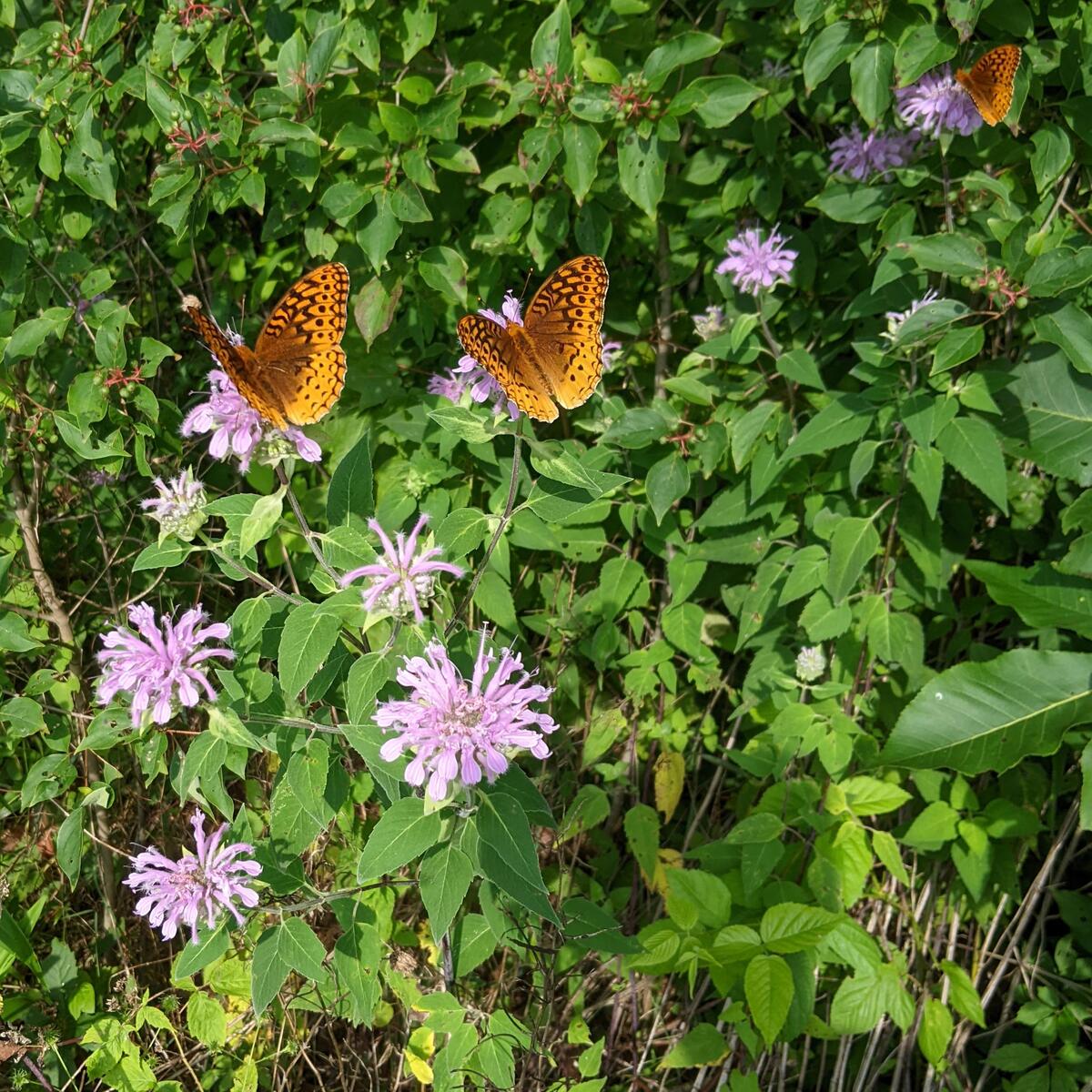 Wild Bergamot (Monarda fistulosa), also known as wild bee balm, is coloring the meadows with its frilly flowers of deep pink. These minty, fragrant flowers are a delightful meal to insects, including native bees, butterflies, and even hummingbirds. The leaves and flowers are also edible to humans, with a strong spicy and complex flavor. Its most common use is in making tea.
Also in bloom is a shady woodland plant known as striped wintergreen (Chimaphila maculata). It is quite a small plant, but its flower has an interesting shape. It faces downward, and its ten stamens are short and wide, and its pistil in the center is a bright green.
Hanging by a strand of silk from a hickory tree by the Sedge Meadow Trail is a larva of the Hickory Tussock Moth (Lophocampa caryae). This pretty, black and white caterpillar is native to this region. While it does munch on our native trees, it has enough natural predators to keep it in check. Do avoid touching it! The hairs on the caterpillar are barbed, and can cause itching and irritation when in contact with skin.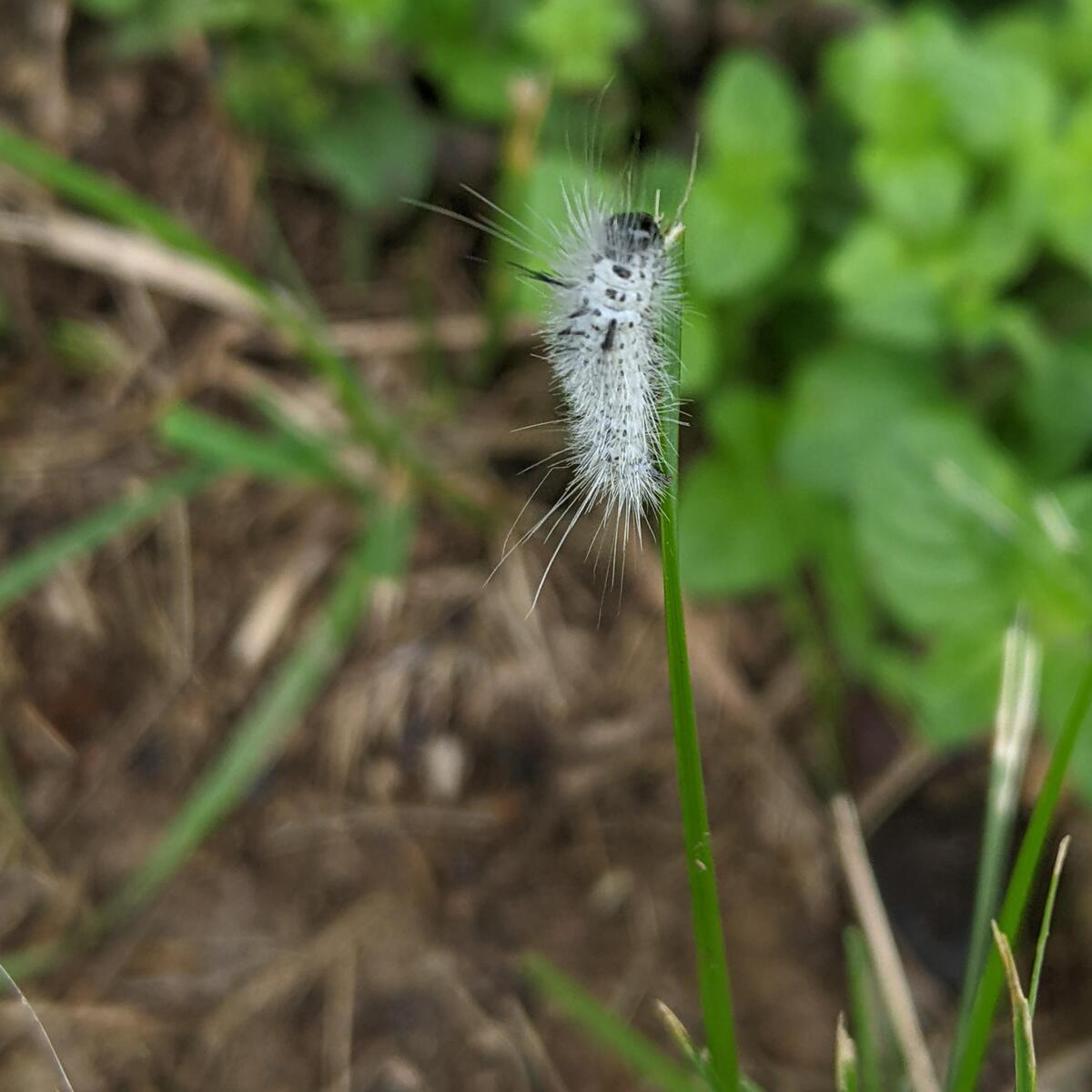 07-07-2023
What the heck is that brown lump beneath this oak leaf? That is known as a gall, which houses insect eggs and larvae, usually of wasps of one kind or another. The interesting thing is, these galls are not built by wasps per se, they are a plant's reaction to the wasp. The growth is made of the very oak tree that it grows on!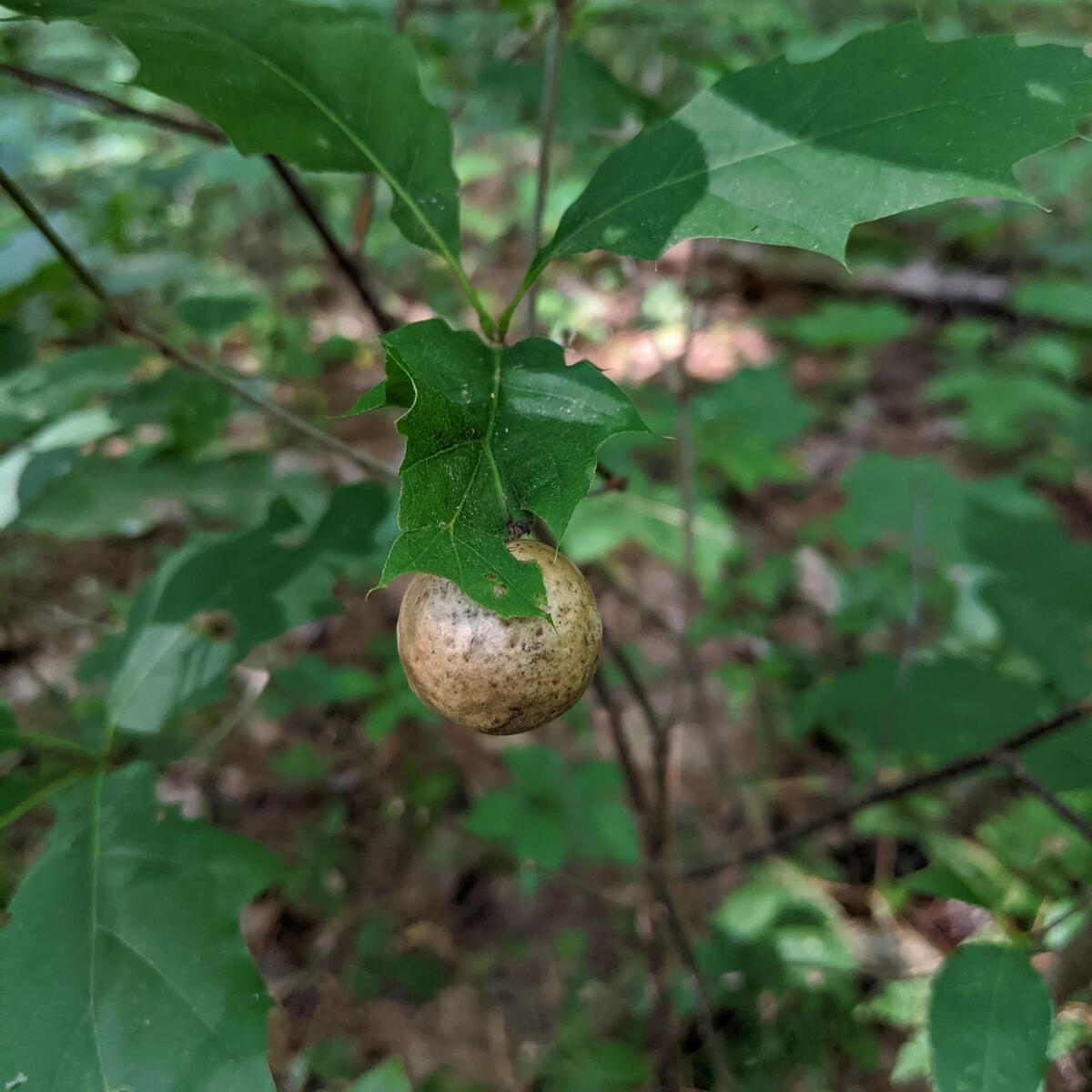 Check out these bright orange flowers. They are small but plentiful on the common Jewelweed plant (Impatiens capensis), which can be found in most areas with shade and wet soils. In the late summer, they will produce seed pods which pop with a single touch.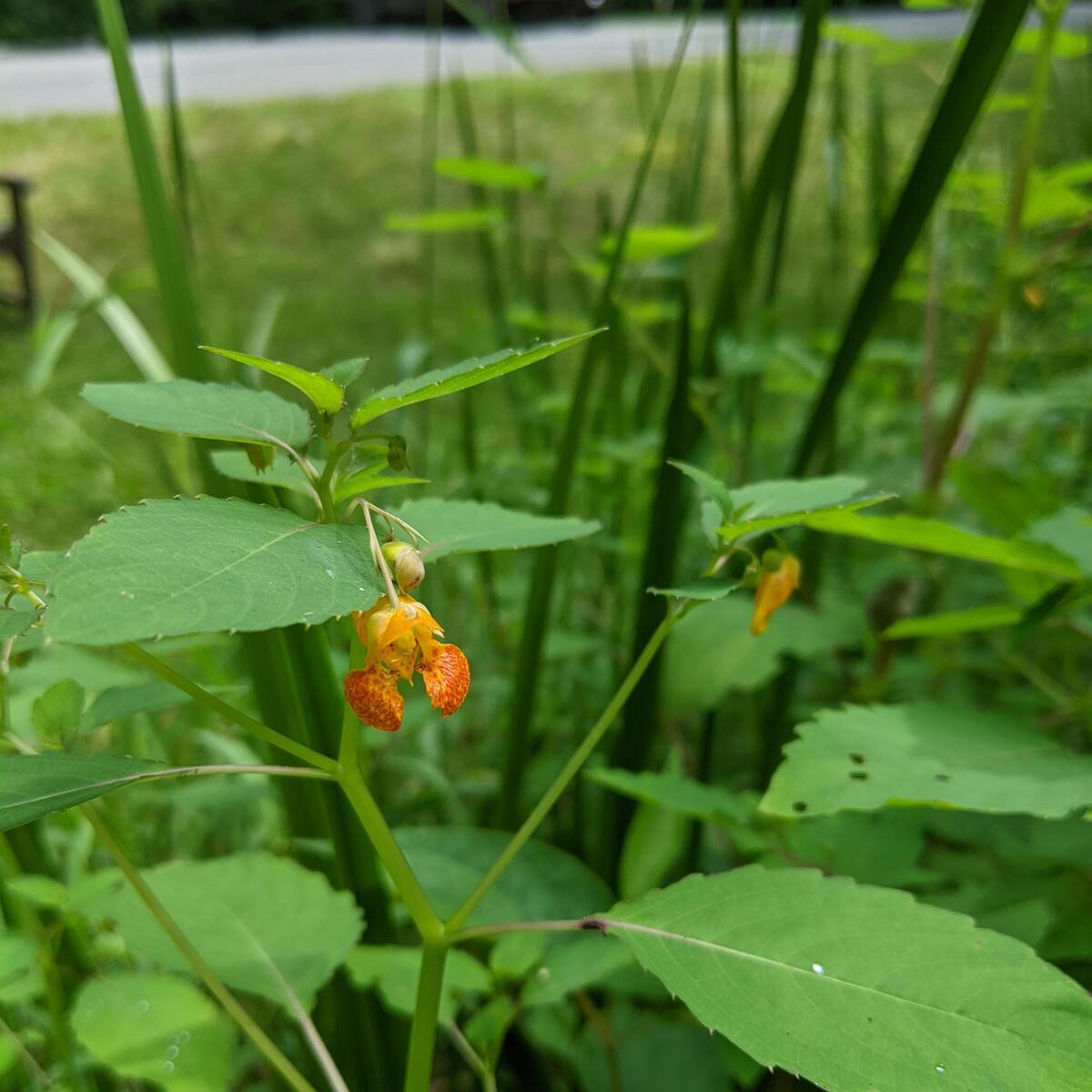 Enchanter's Nightshade (Circaea canadensis) is in bloom now. The flowers are small, but pretty!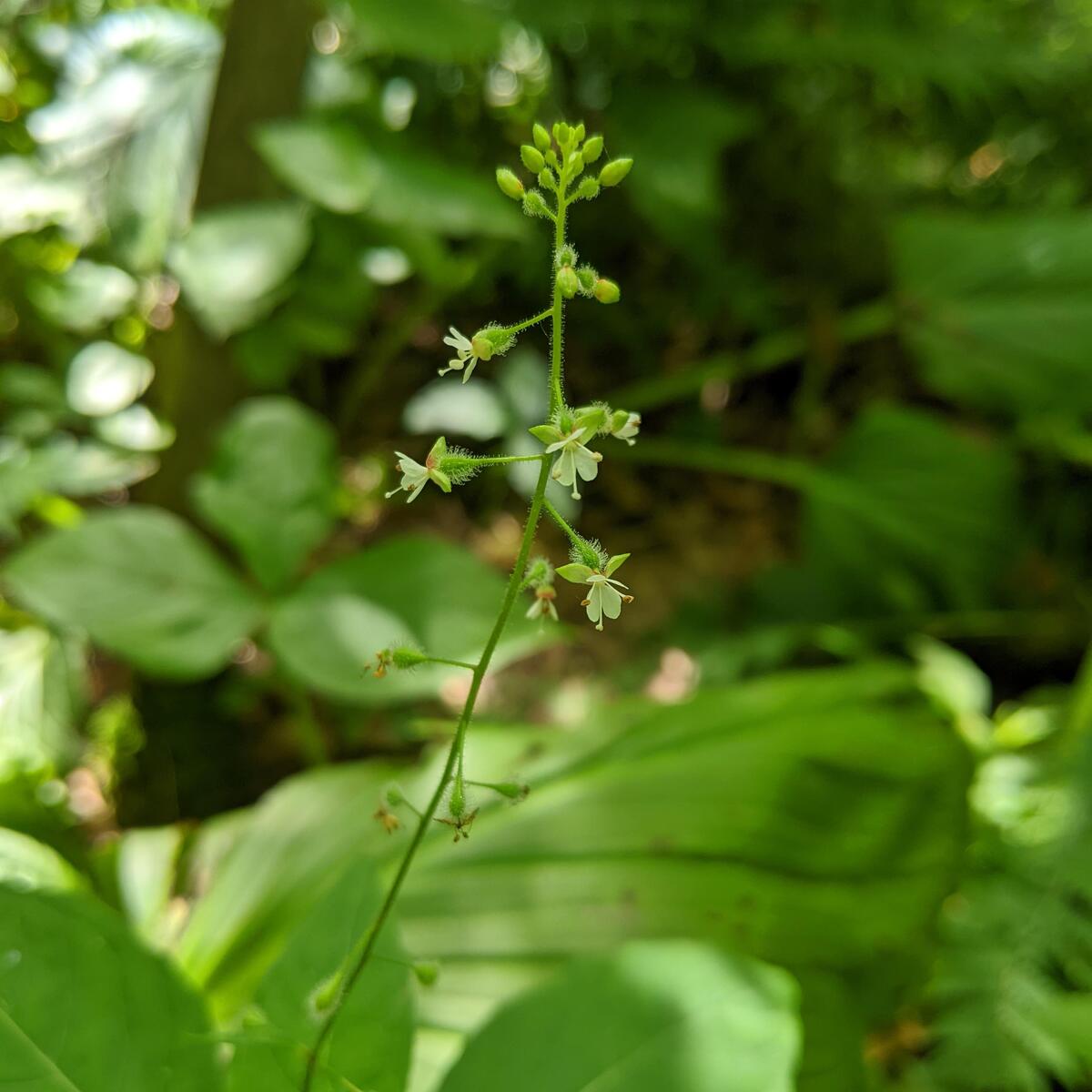 Notice this Solomon's Plume, Maianthemum racemosum, also known as False Solomon's Seal. Some of its berries are missing, but none were found on the ground beneath it. That probably means some birds have been munching on them! Solomon's Plume is known to attract the small brown Veery bird.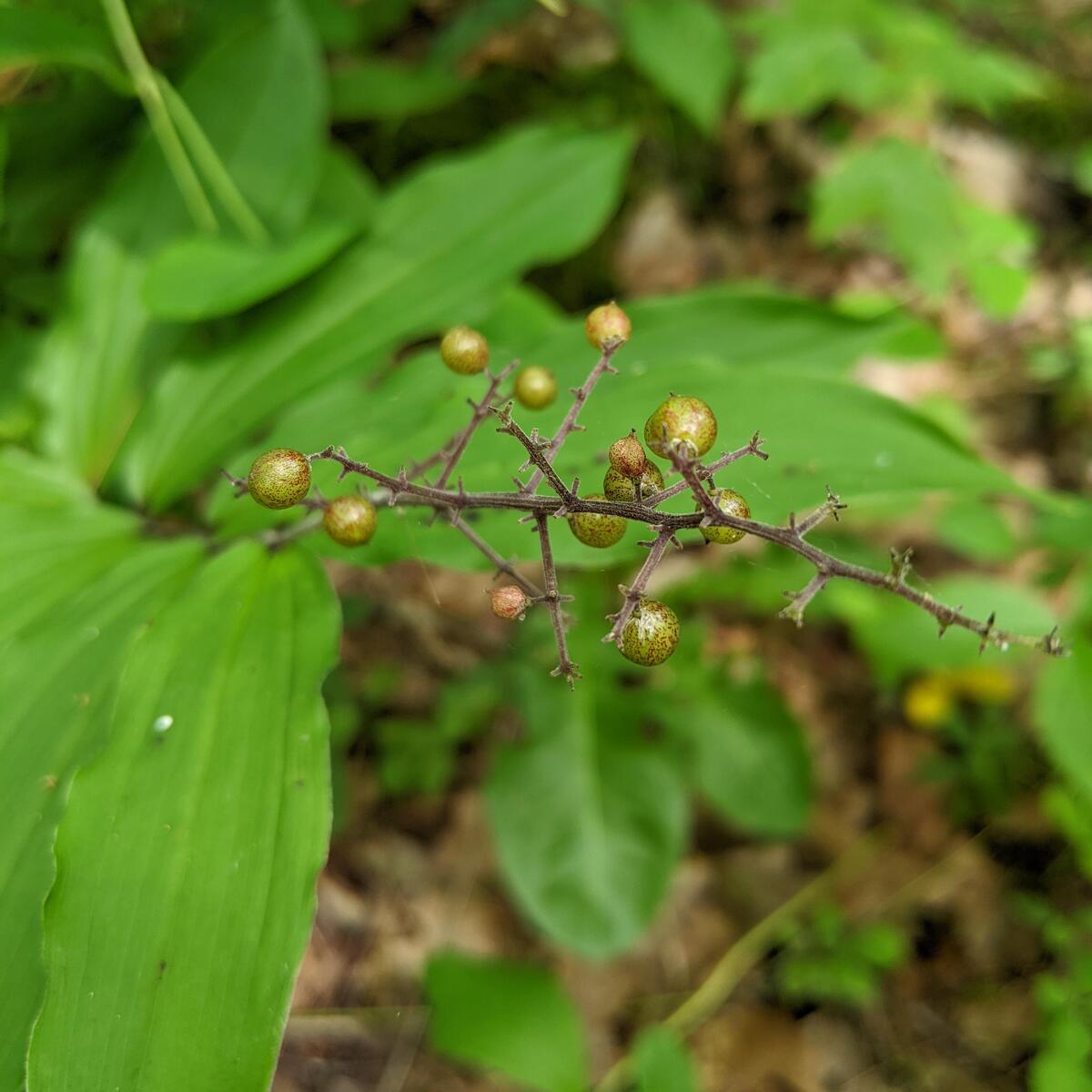 07-03-2023
Turtle crossing! Careful when driving on the roads on or near the Cary Institute. This painted turtle was found crossing Canoe Hill Road.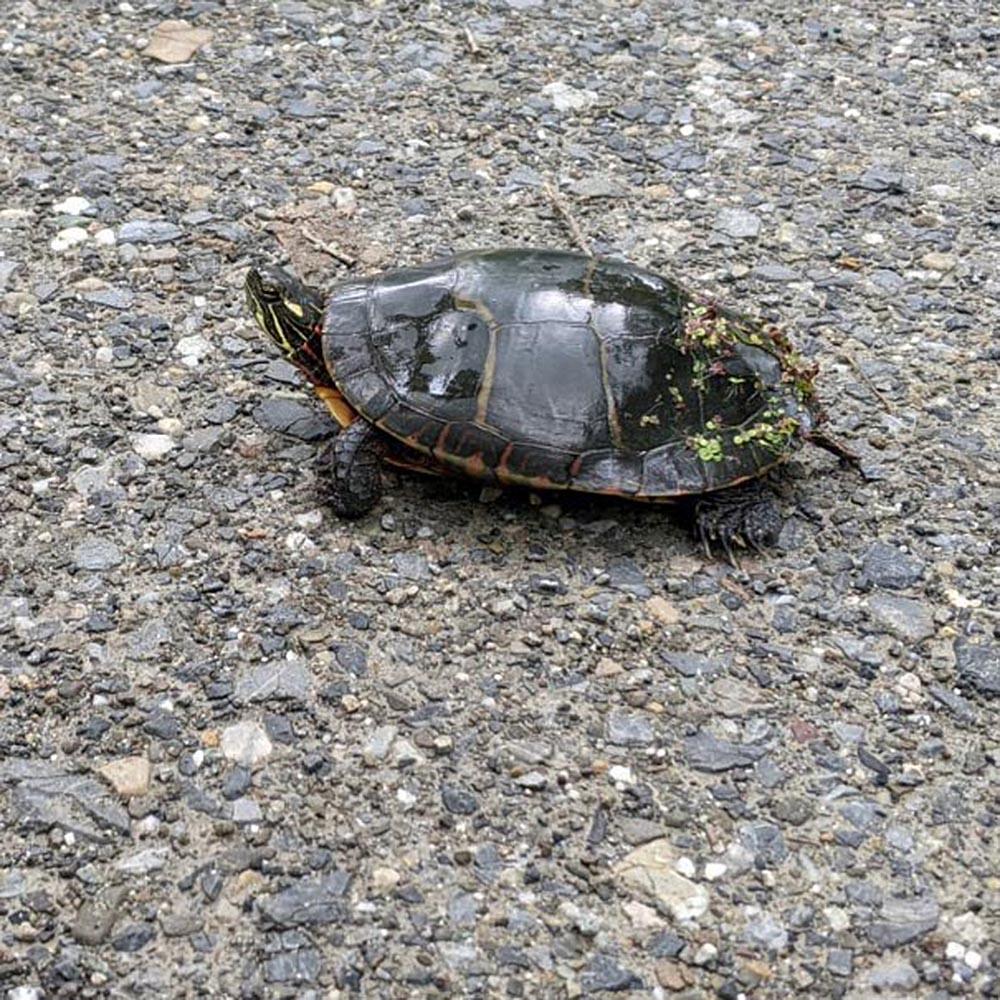 The rare Shinleaf Pyrola (Pyrola elliptica) is in bloom in the fern glen near the creek, featuring a handful of beautiful white flowers on each plant. Notice below the cluster of stamens, the long style hangs down out of the flower.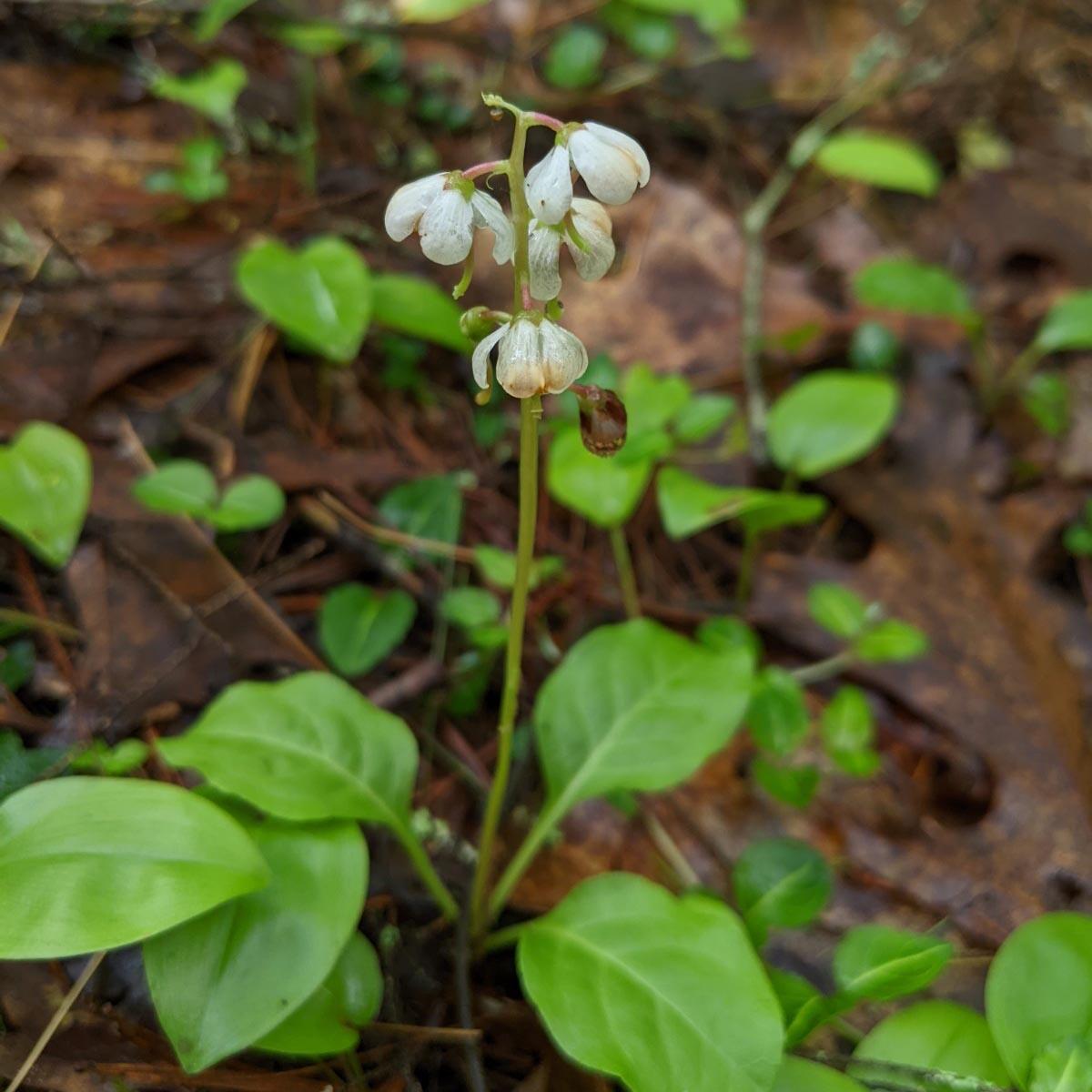 The glaucus honeysuckle (Lonicera dioica) is a native vine honeysuckle that produces many pretty red flowers. Though it is past the season when they bloom, they are currently fruiting. The cluster of brilliant red berries are nestled in between the two opposite leaves. (just for looking at, don't eat.)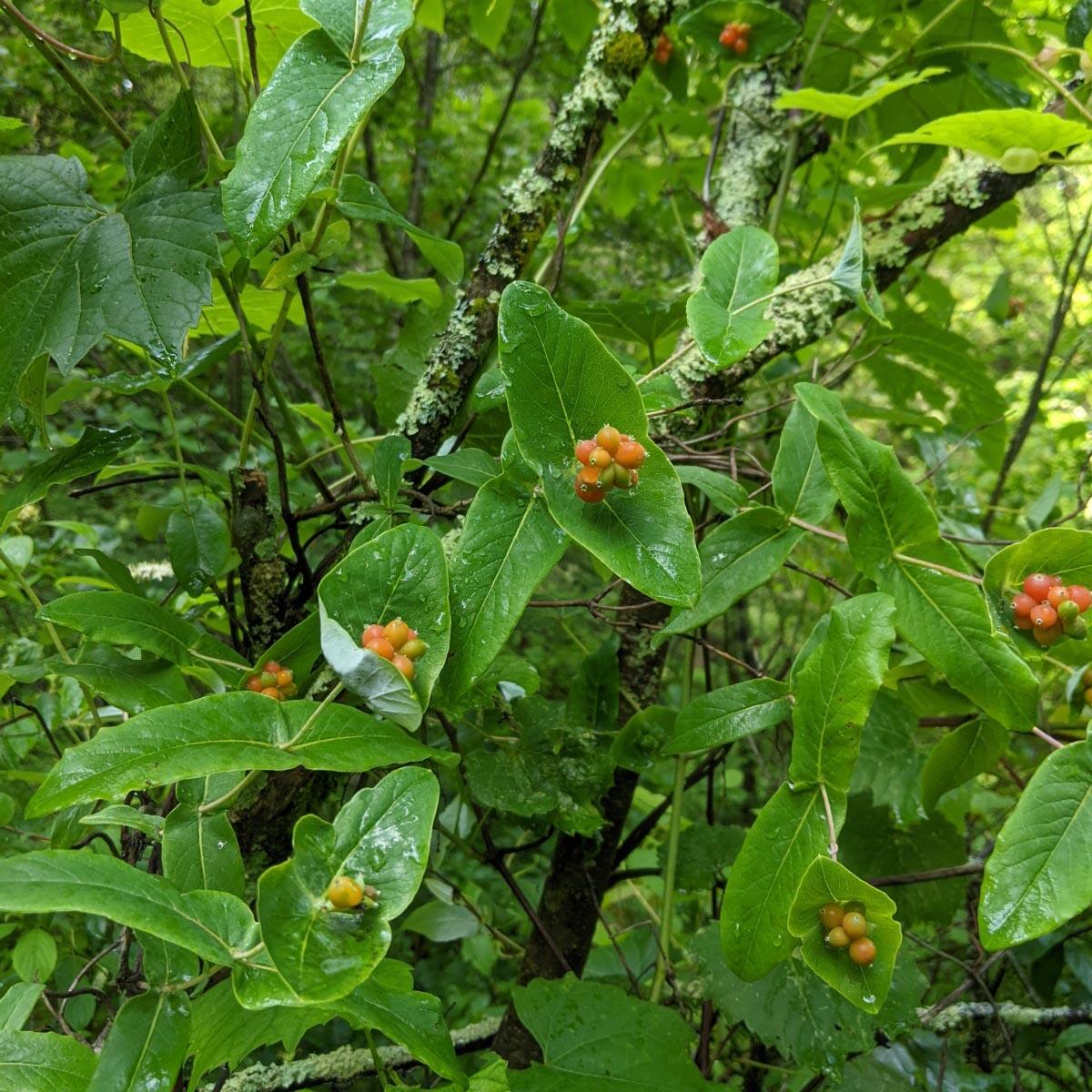 06-30-2023
Milkweed, Asclepias tuberosa, is now in full bloom! This is a hotspot for native bees and butterflies, including the famous monarch butterfly. So keep your eyes peeled when you see these clustered pink flowers.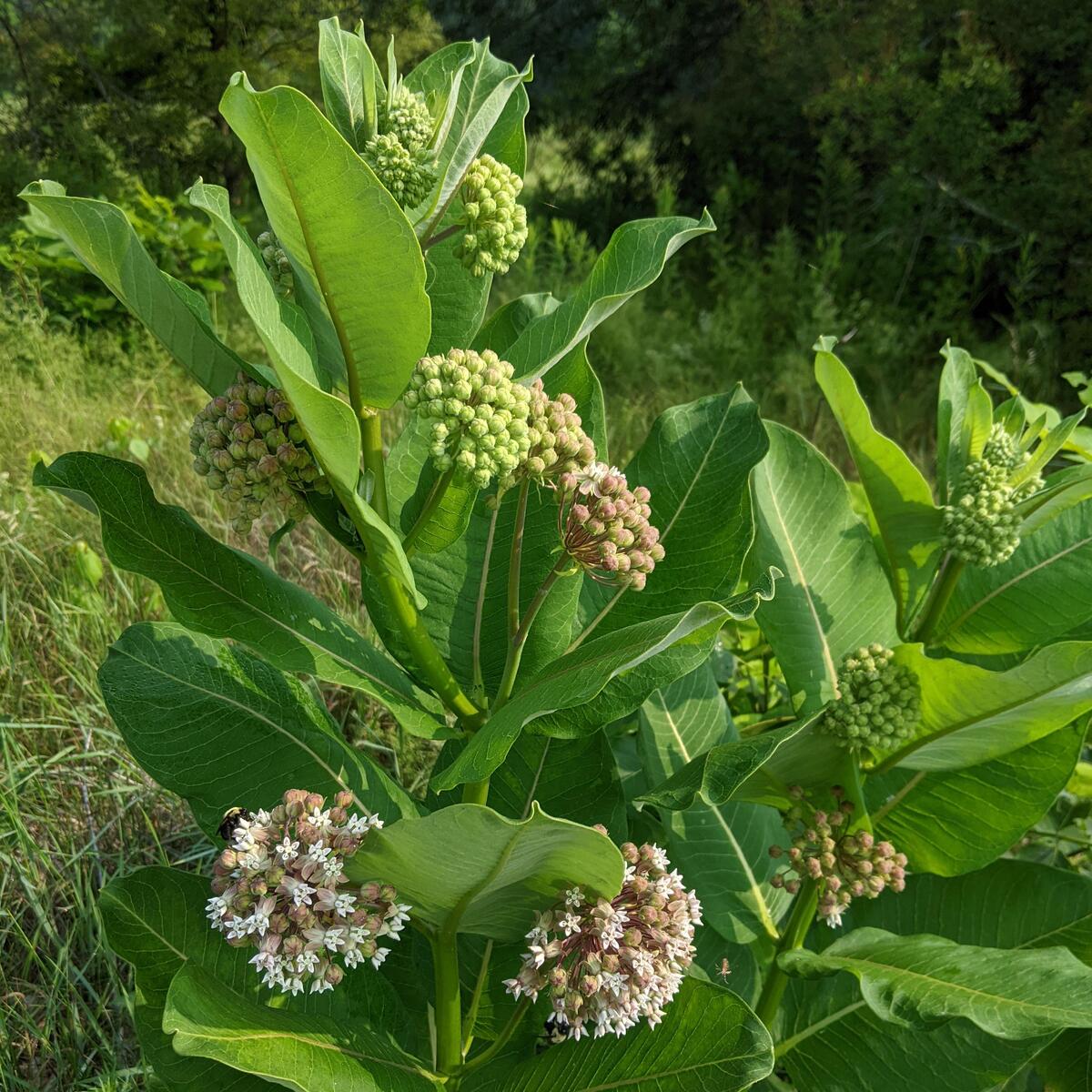 06-27-2023
Some plants in the Fern Glen are about to pop! There are highbush blueberries (Vaccinium corymbosum) whose fruits are quickly developing, and will soon begin to ripen.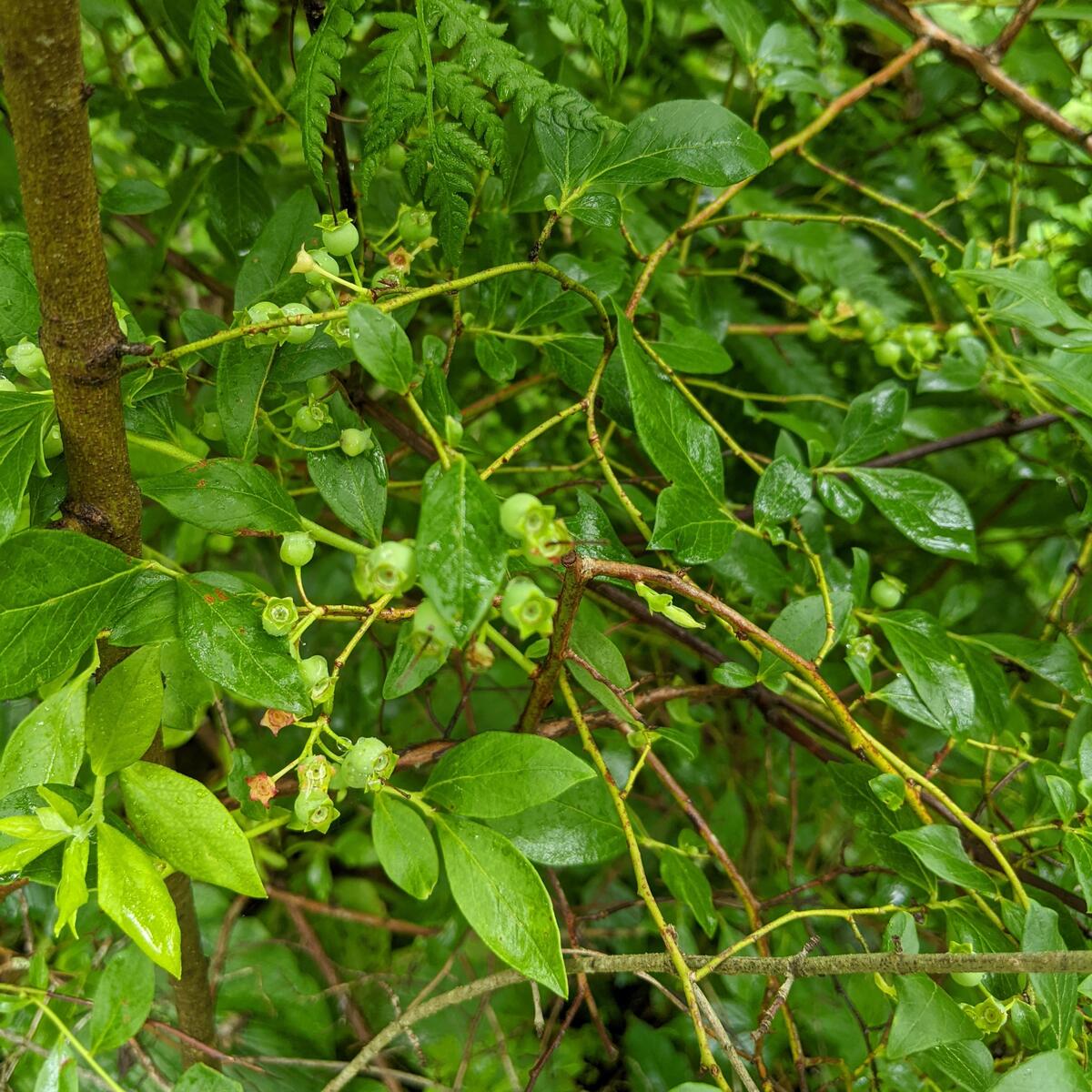 The red trillium (Trillium erectum) flowers are beginning to emerge, and are on the verge of being in full bloom.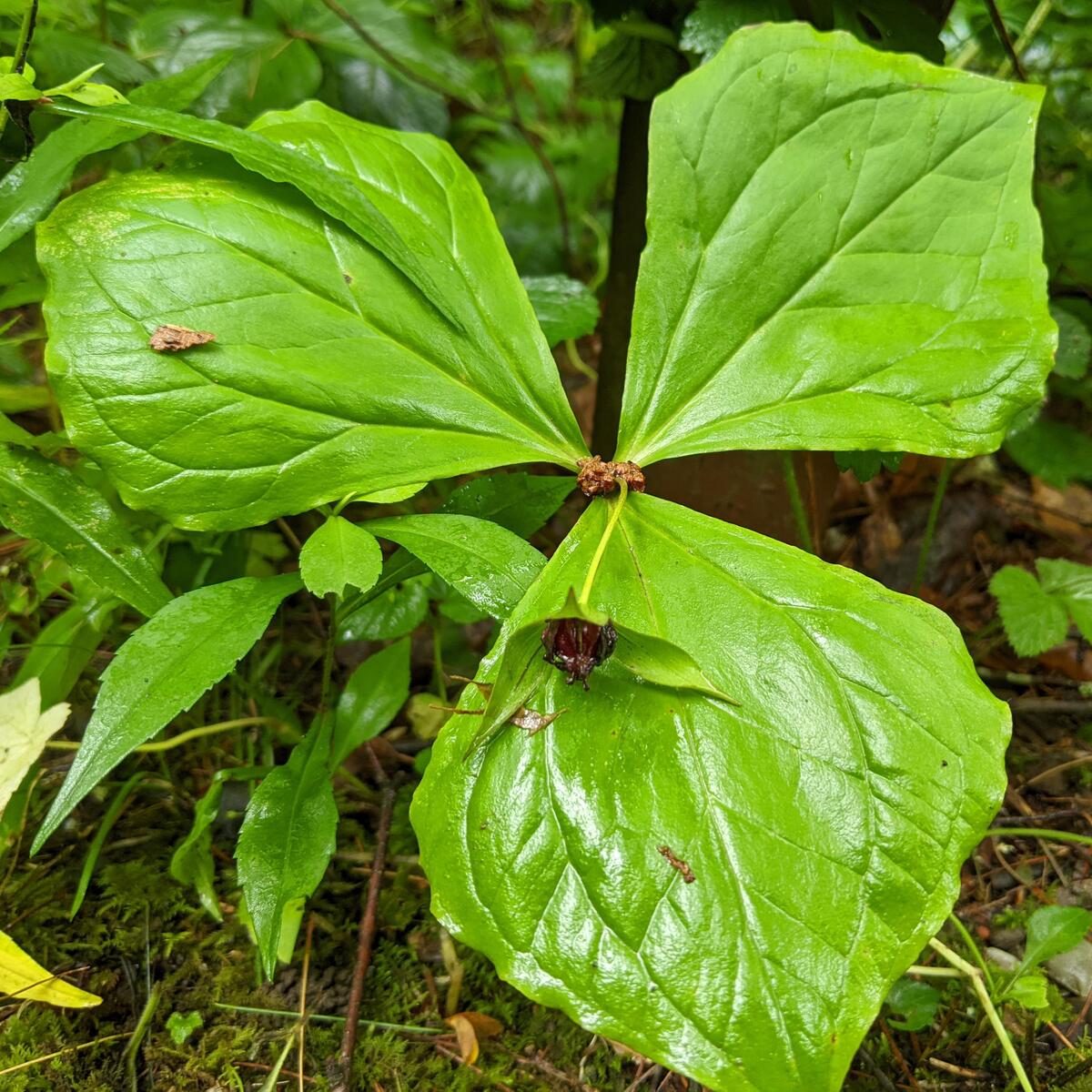 The Mayapples (Podophyllum peltatum), once in bloom in the mid-spring, are now in their fruiting stage. The tiny "apples" they produce have several seeds in them, and are actually the only part of the plant that isn't poisonous. The fruits are rather bland though, so better to save them for the wildlife. You might even catch a turtle munching on one if you are lucky!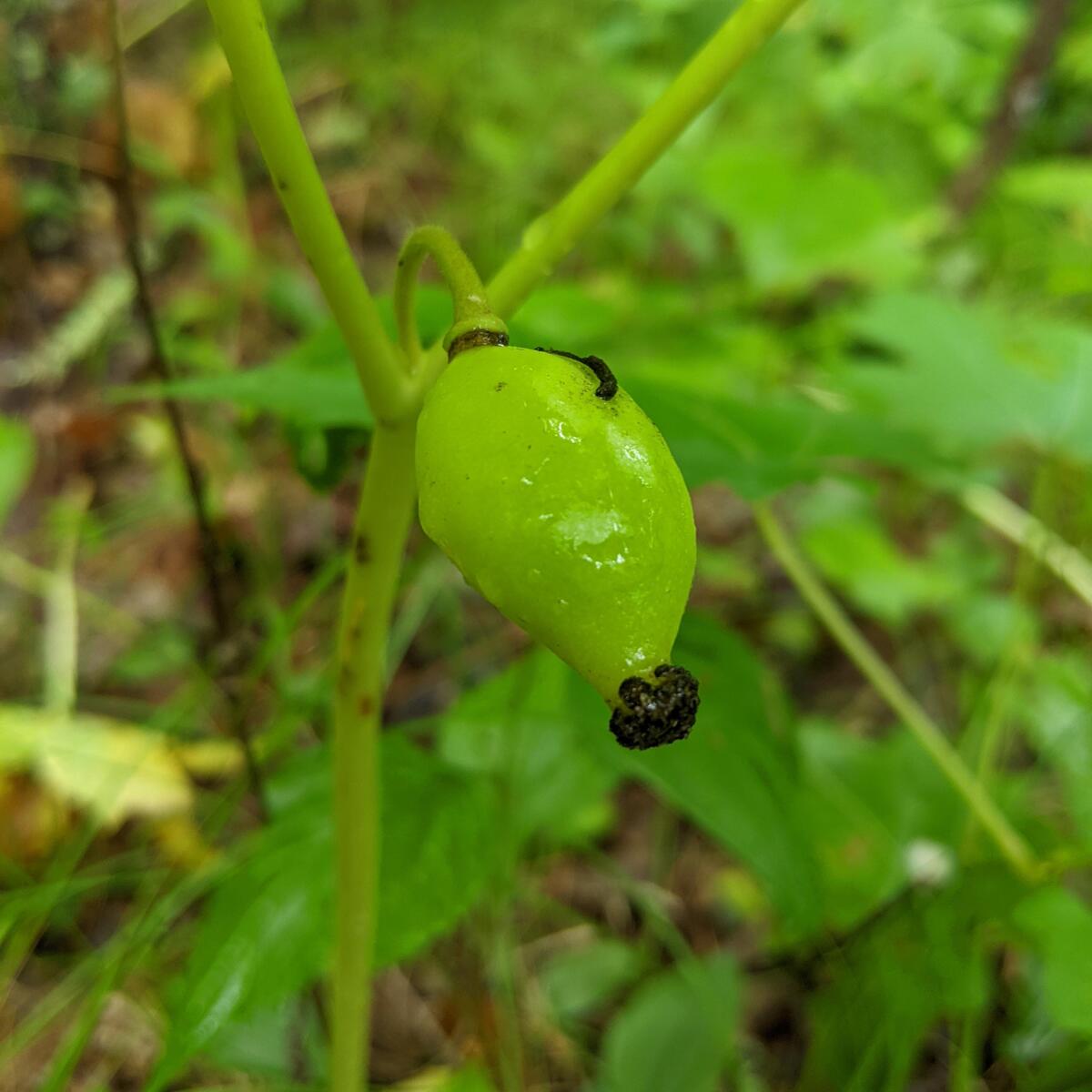 06-21-2023
Some of the plants that bloomed this past spring are now fruiting! In the Fern Glen, check out the oddly-shaped fruit of the Twinleaf (Jeffersonia diphylla), and the brilliant red Baneberries (Actaea rubra)! Do not eat these, though. While birds will occasionally snack on the red baneberries, they are highly toxic to humans. So let's let them be a feast only for the eyes!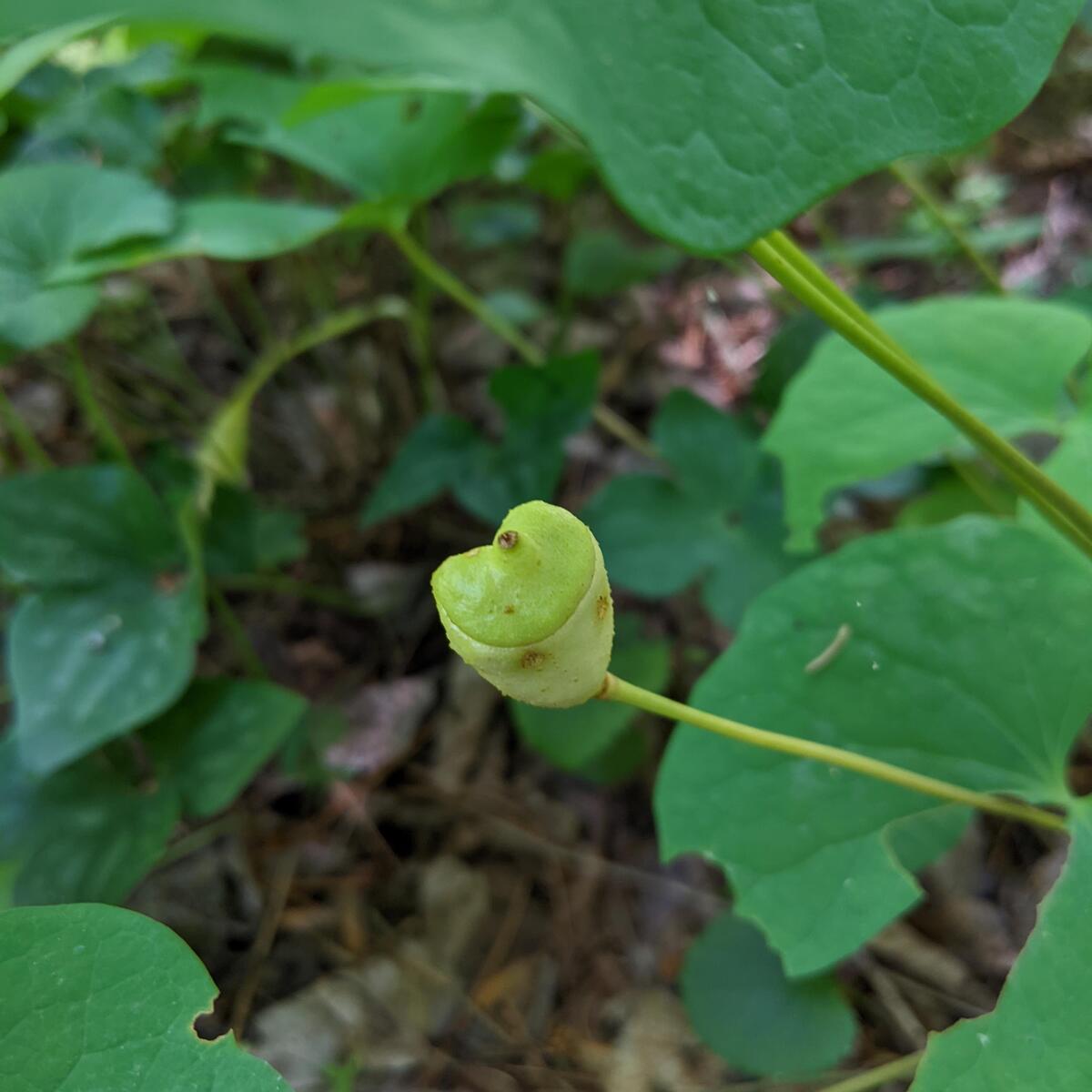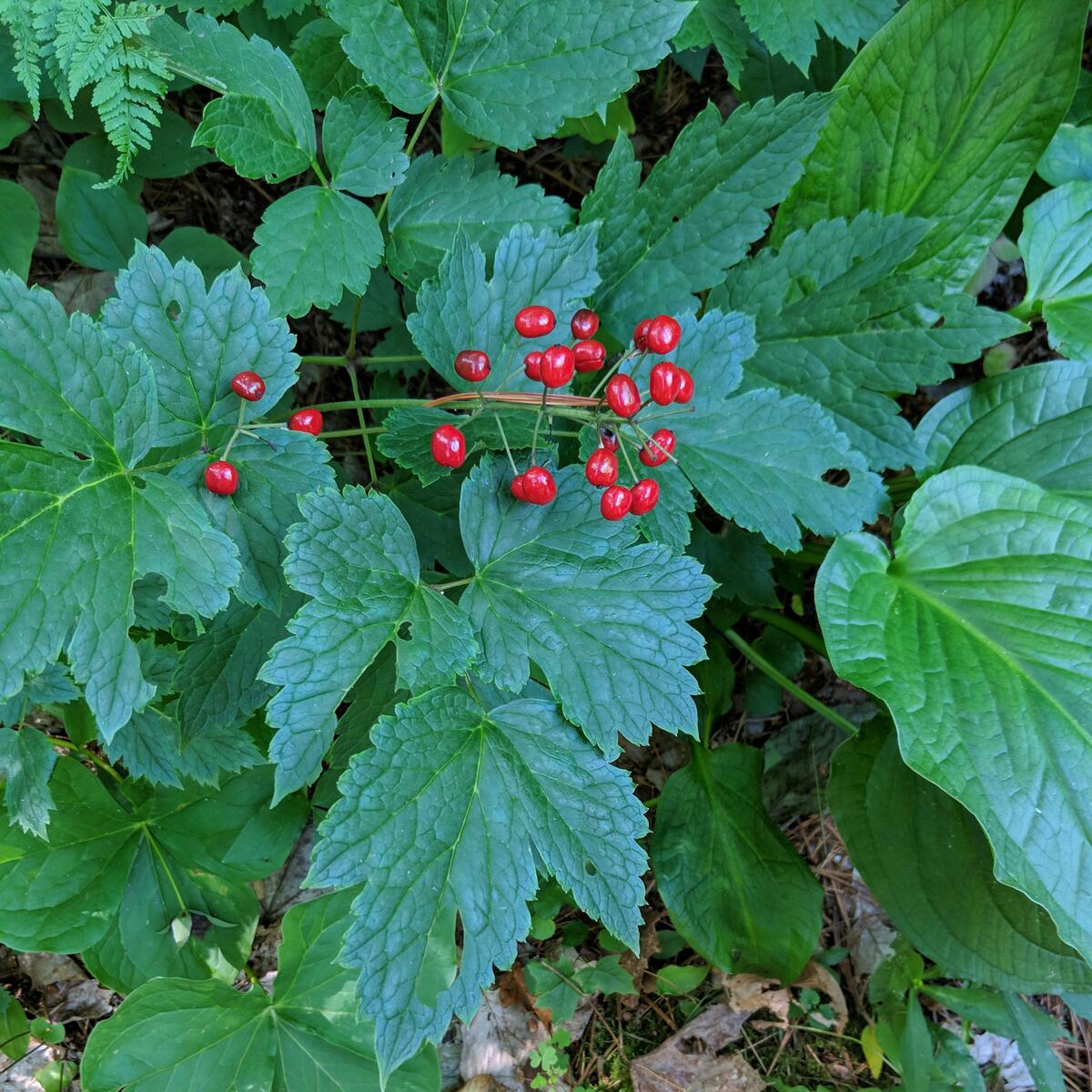 Did you know that the twin leaves that the Twinleaf plant is named after is only one leaf? That's right, the two "leaves" you are seeing are actually two lobes of the same leaf.