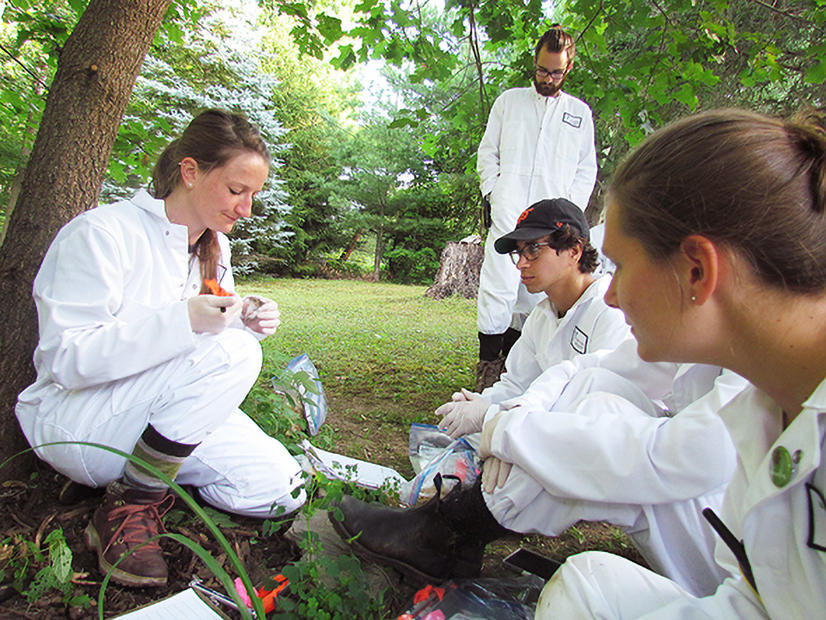 Two New York state senators released a report last week aimed at combating the spread of Lyme and tick-borne diseases. The report, which follows a public hearing in August, contains a number of recommendations. A Hudson Valley scientist who studies Lyme disease commended the report, but has some suggestions for improving it.
Republican state Senators Kemp Hannon and Sue Serino released "Ticking Time Bomb: An Update on the Lyme and Tick-Borne Disease Epidemic in New York State." Serino chairs the Task Force on Lyme and Tick-Borne Disease.
"People say it's not about the money; it really is about the money in this situation because the money pays for the research," Serino says.
Serino says last year's budget included $400,000 to combat Lyme and tick-borne diseases, and she wants much more allocated in the next one. She and Hannon are calling for a statewide action plan along with funding research needed to reduce the tick population. That's welcome news to Dr. Rick Ostfeld, disease ecologist with the Millbrook-based Cary Institute of Ecosystem Studies.
"I think that the Senate task force and committee is being very enlightened in deciding that the state of New York has a role to play in fostering a better understanding of Lyme disease and other tick-borne diseases and to try to foster more action at the state level," says Ostfeld. "Obviously it has to be done in partnership with the federal level, especially the CDC but we all know that there are increasing threats to remove, cut funding for scientific research, and so, at some point, the state needs to step in and play a more active role. So I think that's an appropriate direction in which to move."
Ostfeld, who also is a member of Serino's Lyme Advisory Board and delivered testimony at the Senate hearing, would like to see more emphasis on tick prevention.
"Clearly we're dealing with diagnostic measures and treatments that are not entirely effective. They can stand a great deal of improvement, and I think there's an appropriate focus on that," Ostfeld says. "But imagine if we could actually do such a good job as controlling tick populations in the places where people get exposed to tick-borne diseases that we had somewhat less urgent a need for diagnosis and treatment. And so I think that there has been relatively little funding for environmentally safe and effective tick control which would actually prevent exposure to these tick-borne illnesses in the first place and that that would be extremely beneficial for New Yorkers and those living elsewhere where tick-borne disease is a problem."
In fact, the Cary Institute and Bard College are in the midst of a large-scale, five-year studyaimed at reducing tick populations and Lyme disease in Dutchess County neighborhoods. Part of the study is testing an environmentally-friendly spray to kill ticks.
Serino is from Dutchess County. The report, using Centers for Disease Control and Prevention figures, shows that from 2000-2015, Dutchess County had more than 11,000 Lyme disease cases. Columbia County had the second highest number, with just more than 6,800. Orange County was third, with 6,300. One of the report's recommendations is to further a bill Hannon has sponsored and Serino co-sponsored to arm patients with information.
"It's like a notification form, to inform patients what to do when they get a negative test because a negative test definitely does not mean you don't have Lyme disease," says Serino. "So this empowers them to advocate for themselves, which is very important."
Again, Ostfeld.
"I think we need to be careful about both false negatives, which were emphasized during the hearing that helped contribute to the report, but also false positives."
Serino says another recommendation is to reinstate one of New York's commissions.
"We want to have the Cost Containment Commission come up, start up again, to reinstitute it," Serino says. "And they can check the cost of the insurance and consider what the coverage would be for the long-term treatment of the symptoms because people are so, so sick."
The report also calls for increased testing in children who present symptoms.
Meanwhile, on October 20, the New York state Department of Health confirmed a case of Powasssan virus in Dutchess County. It was the county's first case of the rare, sometimes fatal tick-borne disease this year.