(Millbrook, NY) The Steven & Alexandra Cohen Foundation has awarded a $5 million dollar leadership grant to the Cary Institute of Ecosystem Studies to support a scientific study, being done in partnership with Bard College, that seeks to reduce Lyme disease in neighborhoods. Research will be carried out in collaboration with the US Centers for Disease Control and Prevention, the New York State Department of Health, and the Dutchess County Department of Behavioral and Community Health. If successful, the project will revolutionize Lyme disease prevention.
"So many people suffer from Lyme disease, but there is not enough being done to fund research to find a cure and reduce risk in our communities," said Alex Cohen, President of the Steven & Alexandra Cohen Foundation. "I have experienced the debilitating side effects of Lyme first-hand, and we are proud to support organizations like the Cary Institute that are investing in research on prevention strategies that will stop this awful disease from infecting more people."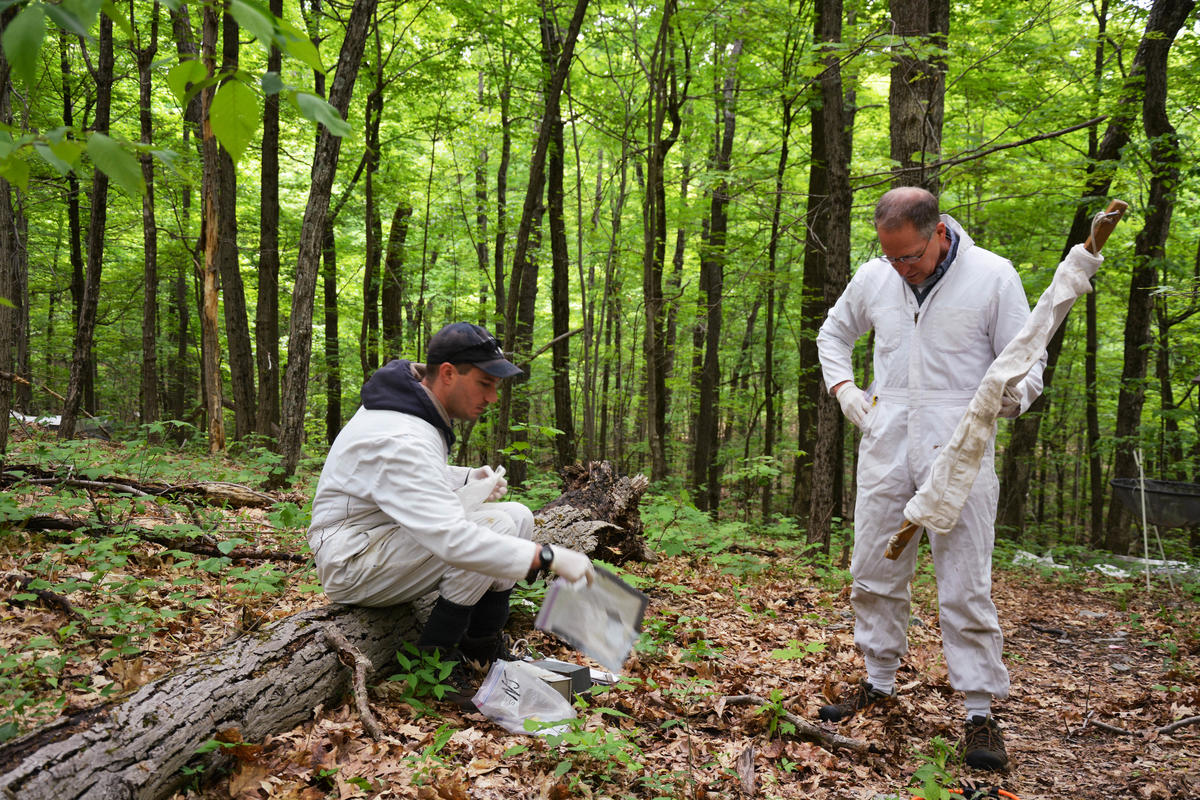 Cary Institute disease ecologist Dr. Richard Ostfeld and Bard College biologist Dr. Felicia Keesing will direct the scientifically rigorous five-year study. It will take place in Dutchess County, New York, which is home to one of the nation's highest Lyme disease infection rates. Residents of twenty-four neighborhoods will be recruited from Lyme disease hotspots identified by the researchers and their partners at the Dutchess County Department of Health. Each neighborhood will consist of 6-10 square blocks and roughly 100 properties. Interventions will target feeding and questing ticks using two commercially available products.
"For decades we've been working to unravel the complex ecology of Lyme disease and other tick-borne illnesses," Ostfeld explains. "Applying our science to public health protection is a professional goal, but it's also personal. Pulling ticks off my kids and having friends and neighbors suffer from tick-borne diseases is a powerful motivator. Thanks to the Steven & Alexandra Cohen Foundation's grant, we finally have the resources needed to turn our scientific knowledge into preventative actions that have the potential to make neighborhoods safer."
"Dutchess County residents have been hard-hit by tick-borne illness," said Senator Sue Serino, who leads the New York State Senate Taskforce on Lyme and Tick-borne Diseases. "We are incredibly fortunate to have a premier center for Lyme disease research in our backyard. This project will bring needed attention to a complex and growing public health crisis, and it holds the promise of revealing prevention strategies that can be deployed wherever tick-borne illness is a threat. I cannot overstate the importance of this initiative and thank the Steven & Alexandra Cohen Foundation for their support, and the Cary Institute and Bard College for their scientific leadership."
More than 300,000 people are diagnosed with Lyme disease annually in the United States. Since the tick-borne illness was discovered in the 1970s, it has steadily increased in range and intensity. Lyme disease diagnosis and treatment remain complicated, and there is currently no vaccine available. In the Northeast, the blacklegged ticks that carry Lyme can also transmit babesiosis, anaplasmosis, and Borrelia miyamotoi. Co-infections are not uncommon. Protecting public health hinges on minimizing encounters with infected ticks.
While there are pesticides that kill ticks, analyses by the US Centers for Disease Control and Prevention have found that their piecemeal application in yards does not lower Lyme disease risk. Evidence suggests that the best strategy lies in an intervention that targets ticks, and the mice that spread Lyme disease, at the neighborhood level. This will be the first study using this approach. Interventions being deployed will be both economically feasible and environmentally sensitive. 
Congressman Chris Gibson represents New York State's 19th District. He authored the Tick-borne Disease Research Transparency and Accountability Act, the first standalone bill addressing Lyme disease to ever pass the House. "The scale of this study is significant. Lessons learned will help inform tick-borne disease management in Hudson Valley communities and beyond. As the incidence of Lyme disease continues to rise, and new tick-borne diseases emerge, we are in need of scalable, science-driven solutions."
The gift from the Steven & Alexandra Cohen Foundation accounts for more than half of the total $8.8 million that the Cary Institute is seeking for The Tick Project.
"For more than 25 years, Richard Ostfeld and Felicia Keesing have been unraveling the ecological conditions that influence Lyme disease risk," said Joshua Ginsberg, President of the Cary Institute. "This generous gift from the Steven & Alexandra Cohen Foundation will allow us to leverage their research into preventative action. Now, we are calling on donors to help us reach our fundraising goal and join us in the fight against tick-borne diseases."
For more information about The Tick Project, including its experimental design, the project's timeline, and how you can help make a tax-deductible gift, visit: www.tickproject.org
---
About The Cary Institute of Ecosystem Studies
The Cary Institute of Ecosystem Studies is an independent, nonprofit environmental research organization located on 2,000-acres in New York's Hudson Valley. A world-premier center for ecosystem science, areas of expertise include disease ecology, forest and freshwater health, climate change, urban ecology, and invasive species. Since 1983, our scientists have produced the unbiased research needed to inform effective management and policy decisions. Our science program is complemented by education and outreach initiatives.
About Bard College
Bard College is a private liberal arts college in Annandale, NY.  Long renowned for its academic programs and public events in the arts and literature, including the annual Bard Music Festival, Bard is increasingly recognized as a leader in innovative scientific research and training.
About the Steven & Alexandra Cohen Foundation
The Steven & Alexandra Cohen Foundation is committed to inspiring philanthropy and community service - with special interest in children's health, education, veterans, and the arts - by creating awareness, offering guidance, and leading by example to show the world what giving can do. The Foundation's Lyme Initiative is investing to cure Lyme, which infects over 300,000 Americans each year and leaves 10-20% with persistent, life-altering symptoms. Through funding leading researchers and innovators, the Foundation will improve our ability to prevent, diagnose, and treat all stages of Lyme disease.