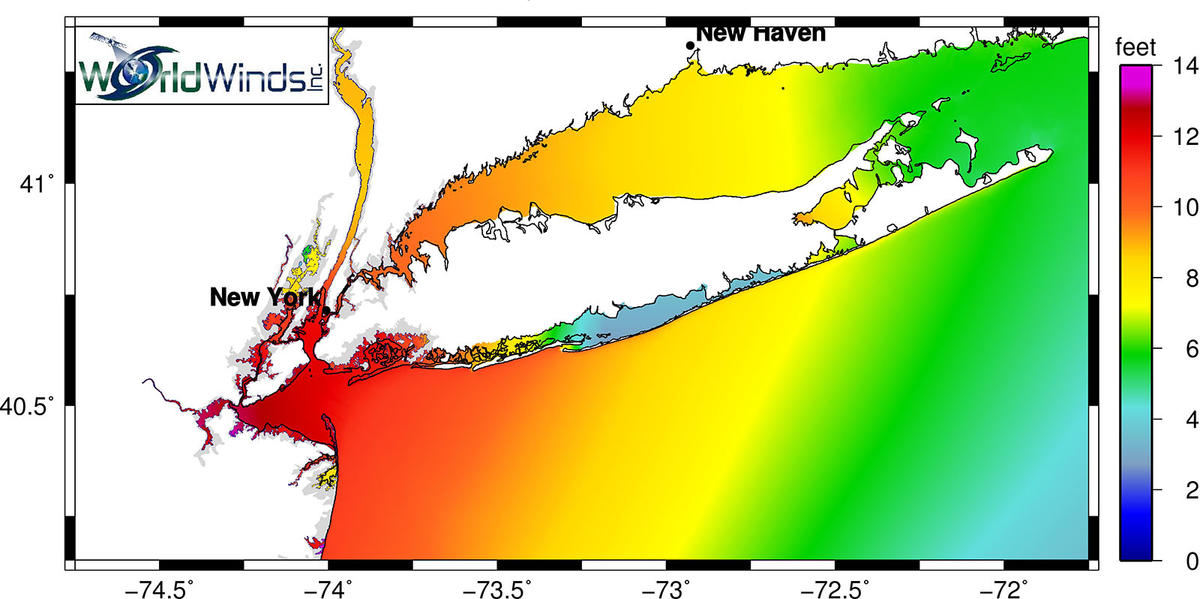 Hudson River Conditions During Hurricane Sandy Data
You can also explore this dataset on TUVA, an interactive graphing platform.
Background
Hurricane Sandy formed in the Caribbean and intensified as it traveled across Jamaica and Cuba.  Hurricane Sandy hit landfall on the eastern coast of the United States near Atlantic City, New Jersey on October 28th, 2012.
Hurricane Sandy brought tropical storm and gale force winds to the Mid-Atlantic and New England regions of the United States.  Record storm surge flooded areas along New Jersey, New York, Connecticut, Rhode Island and Massachusetts.  Over $50 billion dollars worth of property damage occurred in these areas.  
For estuarine rivers like the Hudson that enter the ocean, one of the major risks associated with an incoming hurricane is storm surge moving up the river from the ocean. New York Harbor, where the Hudson River meets the Atlantic Ocean, was flooded by storm surge. This bulge of salt water traveled up the Hudson River with the tide.
Using data from the Hudson River Environmental Conditions Observation System (HRECOS) you can track the storm and its effect on the river. HRECOS uses automated sensors to record real-time data on Hudson River conditions (temperature, dissolved oxygen, etc) and weather (rainfall, wind speed, etc.), although you will find that not all of the HRECOS sensors survived Hurricane Sandy's wrath. 
Additional Resources
You can compare this to our related dataset on Hurricane Irene to examine how hurricanes can affect the river differently through oceanic storm surge or watershed runoff.
We also have a related lesson on Hurricane Floyd, which you may wish to complete before using this dataset.
Data Sampling & Compilation
Data Sources: 
 "Hudson River Environmental Conditions Observing System." 2012. Various stations. Accessed August 18th, 2017. http://www.hrecos.org/
"NOAA Tides and Currents." 2012. Battery Park Station. Accessed August 18th, 2017. https://tidesandcurrents.noaa.gov/stationhome.html?id=8518750
Prepared by: Carmen Glenn (New Rochelle HS) & Tom Tokarski (Woodlands HS)