A student contribution to the REU blog.
Members of Generation Z, like all ecologists, feel an obligation to care for the planet and enact change. We have grown up with constant access to information, and when it comes to the planet, most news tends to be discouraging. As we watch the impacts of climate change unfold around us, many young ecologists feel the urgent need to understand the world's ecosystems and implement management actions to save them. 
One week this May, while I was home in Maine, I went for a run wearing shorts on Monday, and on Friday, I ran wearing ski goggles to keep the snow out of my eyes. Unprecedented temperature fluctuations are a product of climate change. 
Much fundamental ecology research stems from a tangible problem that needs to be fixed. The problem I investigated this summer centered around effects of rising temperatures on small aquatic systems.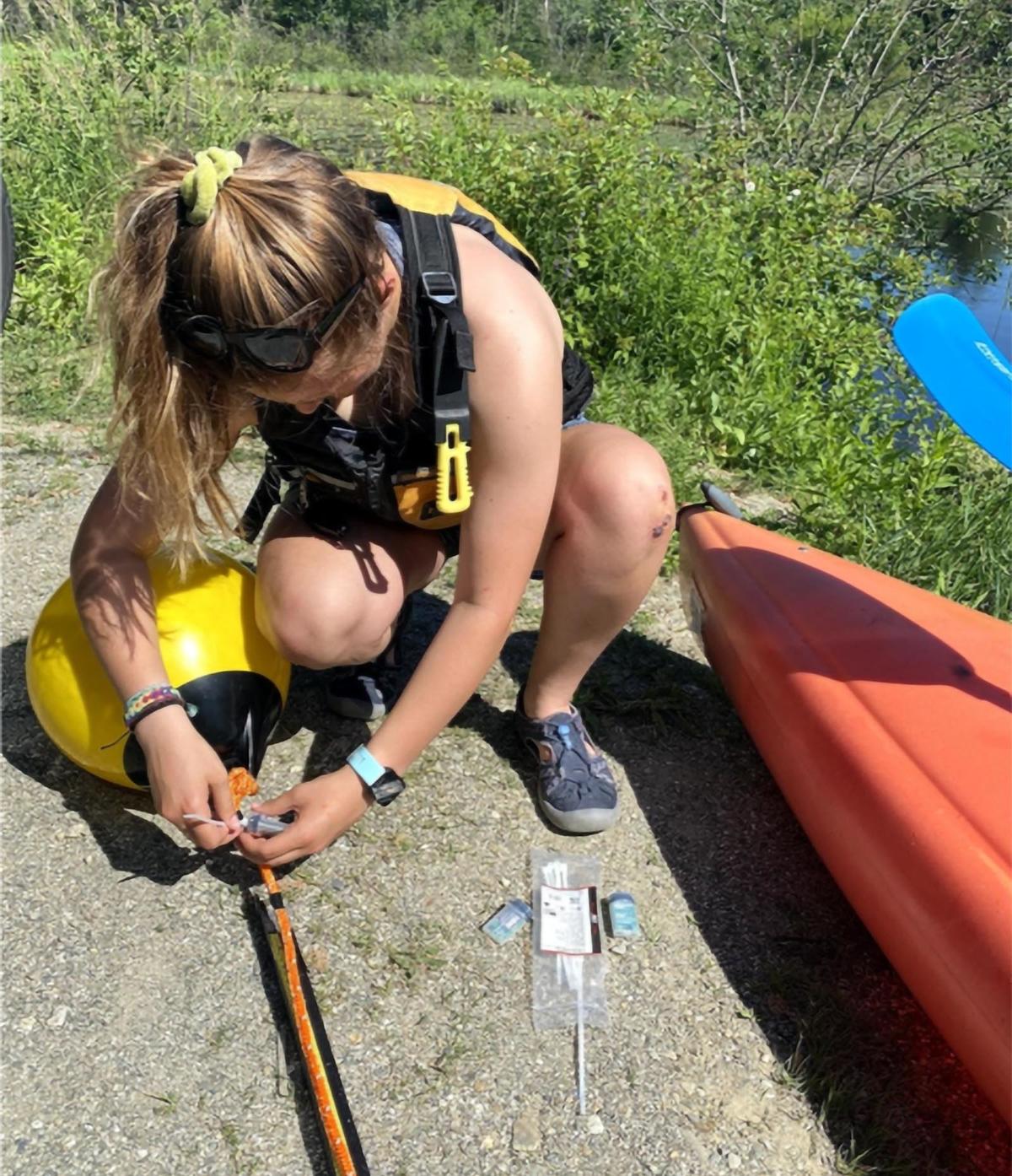 This summer, I used data from five ponds in New York, North Dakota, and Maine to understand fluctuations in water temperature at different depths, from top to bottom. These data included the temperature of pond sediments which helped to determine whether sediment behaves differently from the water above it in response to air temperature.  If so, sediments could serve as a reliable haven for aquatic organisms, like invertebrates, seeking a cooler and more consistent habitat.
I was able to do local field work on a pond down the road from my house, Curran Pond in Maine. I measured its temperature constantly throughout the summer to see if tracked air temperatures, especially hot ones, i.e., did my pond display a 'fever' – one of the first symptoms of climate change. I also investigated whether this fever was consistent at varying depths.
By placing sensors at three locations in the water column of the ponds – at the surface, in deep water, and in the sediment – we gained insight into how these ponds heat in response to air temperature. These sensors recorded the temperature of the ponds at each depth every 15 minutes over the course of a month, from June 21 to July 27, 2020.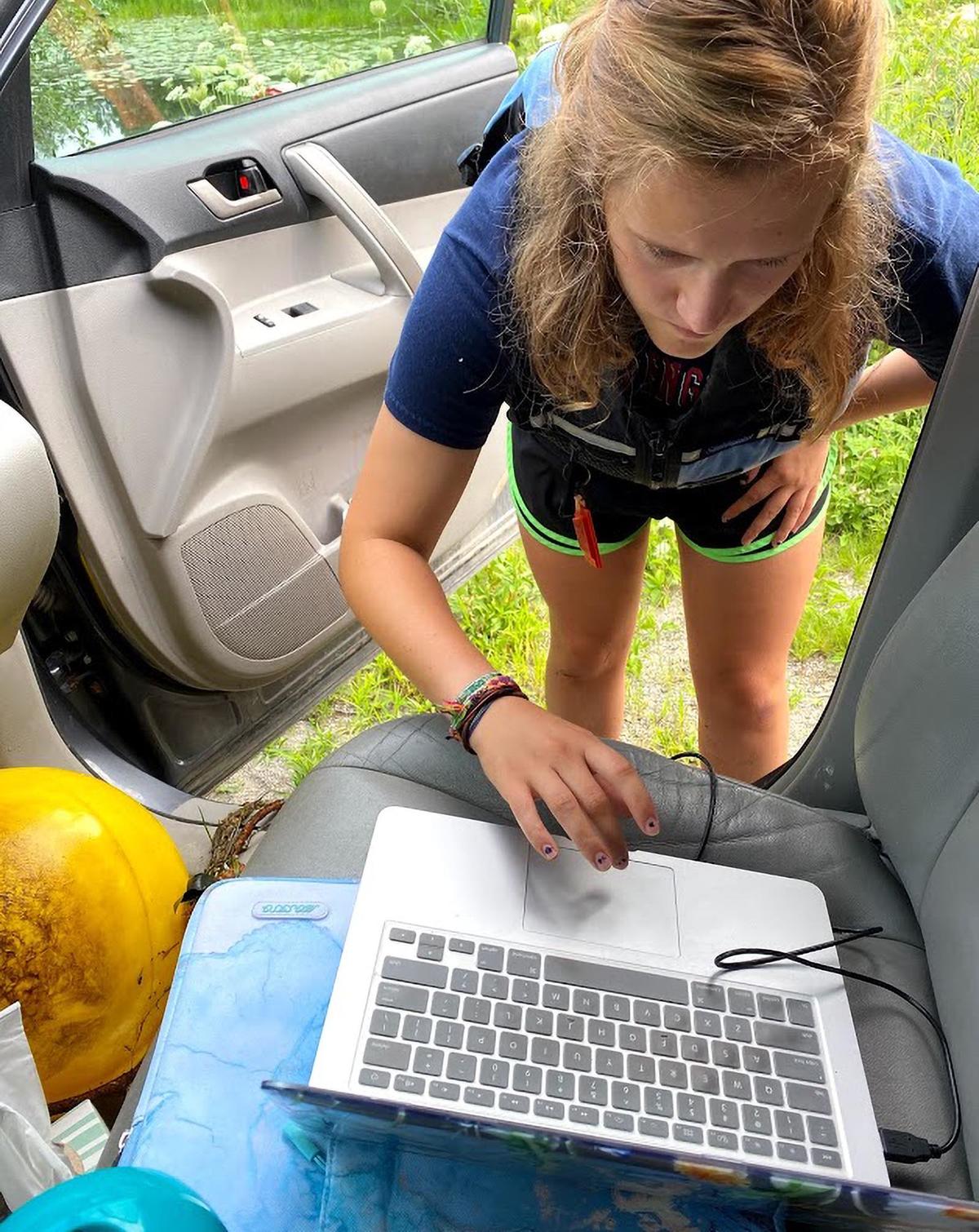 Our data indicate that these ponds do not warm evenly throughout the water column from top to bottom. The temperature at the surface cycles from night to day, warming with the sun and cooling at night. We found that in ponds as shallow as 0.8m, the sediment layer remains stable throughout the day. It is also several degrees cooler, which means that sediment could act as a thermal refuge for invertebrates that require cooler habitat to survive.
My work this summer contributes to our 'big picture' understanding of how the world will change in the coming years. Ponds are individually small, but large in number. It's important to understand their ecology and how they are changing. Even small ecosystems like ponds play an important role in supporting life on Earth. This is why I am happy to be part of the next generation of scientists working hard to prepare for the future.
---
Cassie Roberts, a student at Elizabethtown College, participated in Cary Institute's 2020 Research Experiences for Undergraduates (REU) program. This summer, Cassie worked with David Richardson, Associate Professor of Biology at SUNY New Paltz, and Cary scientist Kathleen Weathers to study effects of climate change and temperature warming on ponds in the northeastern US.