Urban ecologist Timon McPhearson, Senior Research Fellow at Cary Institute and Associate Professor of Urban Ecology & Director of the Urban Systems Lab at The New School, was part of a recent study looking at the ways that cities around the world are adapting to prepare for cloudburst-driven floods, which are increasing in frequency and intensity due to climate change. The paper, published in Environmental Science & Policy, discusses ways that city planners in Phoenix, Copenhagen, and New York City are working to mitigate floods, and stresses the necessity of knowledge-sharing between cities to advance global flood preparedness. Timon answers our questions about the work.
What is a cloudburst?
A cloudburst is a sudden, intense rain event. We call them cloudbursts because it's as if a rain cloud suddenly burst and dropped all its water in one go. We've all experienced them, those rainstorms where there is a massive amount of precipitation that falls locally for anywhere from a few minutes to a few hours.
Cloudbursts are important because they can drop a significant amount of water in a very short period of time and cause local and sometimes intense and damaging flooding. An example is in Copenhagen in 2011, where approximately 2 inches of rain fell in just thirty minutes. In New York City in 2007, a severe thunderstorm dropped over 4 inches of rain in some parts of the city in a mere two hours.
Why are cloudbursts a threat in urban areas?
From an urban planning and management perspective, cloudbursts pose challenges since they can create localized flooding in a very short period of time. Cloudbursts can cause serious damage to homes, cars, business, and roads, and economic costs to recover and repair can be large. Stormwater managers and resilience planners need to better understand and develop ways to reduce impacts of cloudburst-driven flooding on infrastructure, people, and the economy.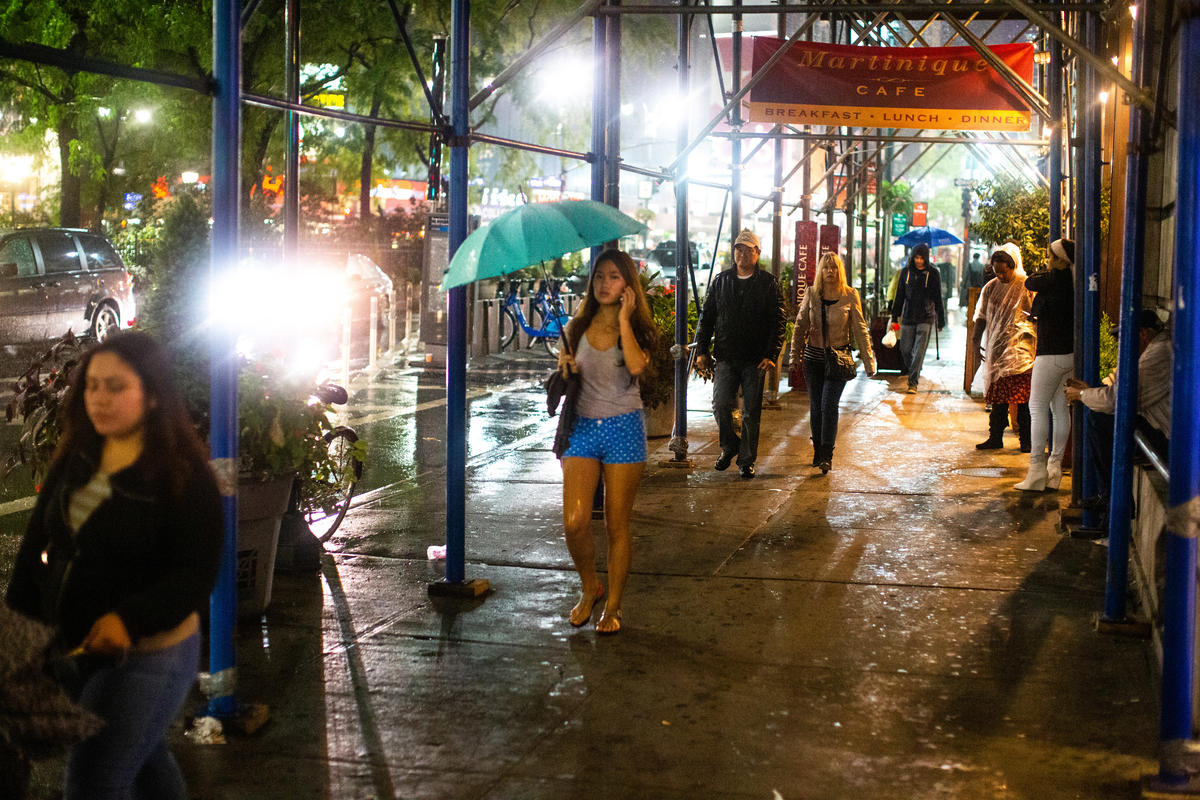 What measures can municipalities take to mitigate effects of cloudbursts?
A city that is resilient to cloudbursts would experience minimal disruptions when they occur and would be able to rapidly recover from any impacts. To do this, we need to better understand current shifting weather patterns and future climate conditions that cause cloudbursts. We must also pinpoint areas that are more vulnerable, either socially or in terms of sensitive or critical infrastructure.
For example, if flooding from a cloudburst happens in a low-income neighborhood with a high density of elderly people, the social impacts are likely to be much more severe than in high-income or industrial areas with no residential homes. Similarly, if flooding happens in a neighborhood with critical infrastructure such as schools, hospitals, or fire stations, cities need to have plans for protecting these places when cloudbursts occur – or better yet, to prevent flooding in the first place.
Cities also need strategies to reduce the impacts of cloudburst-driven urban flooding. For example, green infrastructure can act like a sponge to absorb stormwater and reduce flooding. However, we don't yet know how well different kinds of green infrastructure will perform under different cloudburst events. Cities need to invest in collecting data to better understand how different types of green infrastructure – from rain gardens and bioswales to green roofs or street trees – will absorb stormwater. This is something we are working on.
You've looked at cloudburst preparedness strategies in Phoenix, Copenhagen, and New York City. What is the most effective tool in each city's cloudburst-mitigation toolbox?
In Phoenix, they have put a lot of effort into using roads as temporary ways to convey water away from houses and businesses to low-lying areas where it can be absorbed. Roads are basically backup systems for conventional storms sewers, conveying runoff to retention basins.
In Copenhagen, their climate action plan recommends using green infrastructure to absorb stormwater and reduce stormwater entering the sewer system by up to 30%. In parallel, they are also investing in installing backwater valves in private residences, and developing pathways to convey excess stormwater overland to parks and other urban green spaces.
New York City is not as far along in developing a plan for managing cloudburst impacts, though climate resiliency planning has been a priority ever since Superstorm Sandy made landfall in 2012. The NYC Stormwater Resiliency Project – a coalition of researchers, the NYC Mayor's Office for Resiliency, and the NYC Department of Environmental Protection – is working to advance knowledge on the type of cloudburst events NYC should expect, the degree of flooding neighborhoods will experience, and the location of vulnerable populations and critical infrastructure. This knowledge will inform investments in cloudburst management in the places where they are most needed.
What makes for successful strategy sharing among cities?
Though all cities are unique, they also share challenges. Addressing cloudbursts and their impacts on people and infrastructure is an example of a shared challenge. It's important for cities to talk to each other to address shared challenges together. Copenhagen and New York City, for example, have been working closely on cloudburst planning and management strategies over many years. This partnership is an example of how sharing data, expertise, and best practices can help cities advance tested strategies and avoid pitfalls that others have already encountered. This kind of collaboration is critical to speed up efforts to improve climate resilience – including reducing impacts of cloudbursts. However, successful partnerships take time and resources. City agencies need to commit the time to learn from each other, to invest in research, and to allocate dedicated resources to testing new innovations.
Citation
Bernice Rosenzweig, Benjamin L. Ruddell, Lauren McPhillips, Robert Hobbins, Timon McPhearson, Zhongqi Cheng, Heejun Chang, Yeowon Kim, Developing knowledge systems for urban resilience to cloudburst rain events, Environmental Science & Policy, Volume 99, 2019, DOI: 10.1016/j.envsci.2019.05.020.