Data
Click on the link to access each data set. If you wish to use these data sets, please email Gary Lovett, lovettg@caryinstitute.org with a brief explanation of how you intend to use them.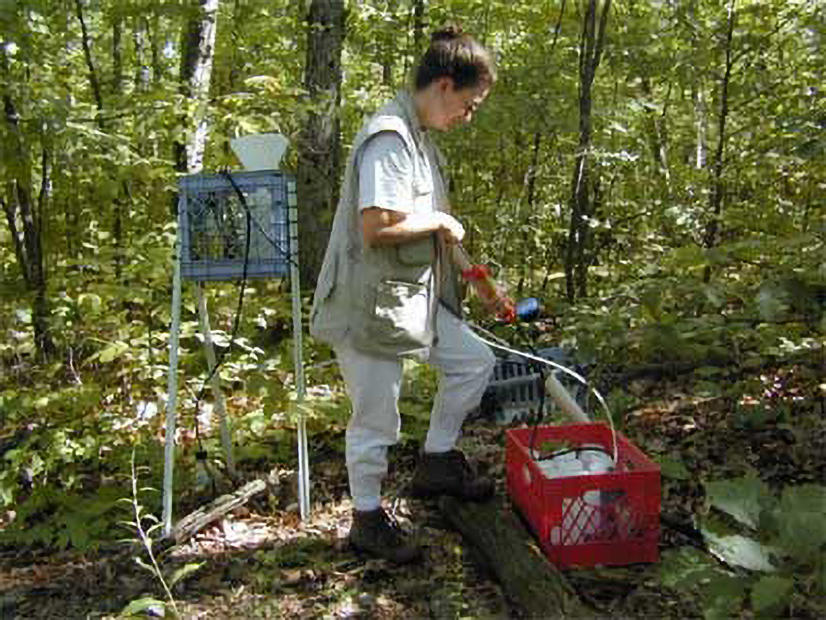 Trends in Nitrogen and Sulfur Deposition
We have observed a decline in total (wet + dry) atmospheric deposition of both nitrogen (N) and sulfur (S) since we began measurements in 1988 (Kelly et al 2002). There have been corresponding declines in fluxes of N and S in throughfall and of S in soil leachate (see graphs below). The fact that S leaching is substantially higher than S deposition suggests that mineral weathering contributes S to this ecosystem. There is minimal leaching of N, suggesting almost complete retention of N under current deposition conditions. With addition of nitrogen through experimental fertilization, nitrate leaching is accelerated, the soils become acidified, and tree mortality increases (Wallace et al. 2007).
Wallace, Z.P., G.M. Lovett, J.E. Hart, and B. Machona. 2007. Effects of nitrogen saturation on tree growth and death in a mixed-oak forest. Forest Ecology and Management 243:210-218.
Lovett, G. M. and J. E. Hart. 2005. Monitoring the Deposition and Effects of Air Pollution in the Hudson Valley, NY. New York State Energy Research and Development Authority Report 05-01. NYSERDA, Albany, NY. 27 pp.
Kelly, V.R., G.M. Lovett, K.C. Weathers and G.E Likens. 2002. Trends in atmospheric concentration and deposition compared to regional and local pollutant emissions at a rural site in southeastern New York, USA. Atmospheric Environment 36:1569-1575.