Chelsey Nieman is a postdoctoral researcher working with Cary scientist Chris Solomon. She grew up in Alaska, where fishing was a large part of her life and her gateway into science. As an undergrad she began studying veterinary science before realizing that fish ecology was her true passion. Chelsey earned a master's in Marine Biodiversity and Conservation at Scripps Institution of Oceanography and a PhD in Environment and Natural Resources at Ohio State University. At Cary, she is currently working on 'FishScapes', a project exploring interactions between nature and people in freshwater recreational fisheries in northern Wisconsin.
Q&A with Chelsey Nieman
Can you tell us about your start in science?
I grew up in a fishing family in Alaska, so interacting with the environment was a big part of my childhood. We went on lots of camping and fishing trips, and I started working on my family's fishing boat when I was 14. My hometown and high school were both very fish-oriented. For example, my high school biology class was more of a fisheries ecology class. That class sparked my interest in fish ecology, and my teacher encouraged me to apply for an internship at the Alaska Department of Fish and Game. That internship didn't happen, but I ended up working at Fish and Game for the next five years. This got me excited about the relationship between how fish populations function and how people interact with and impact them.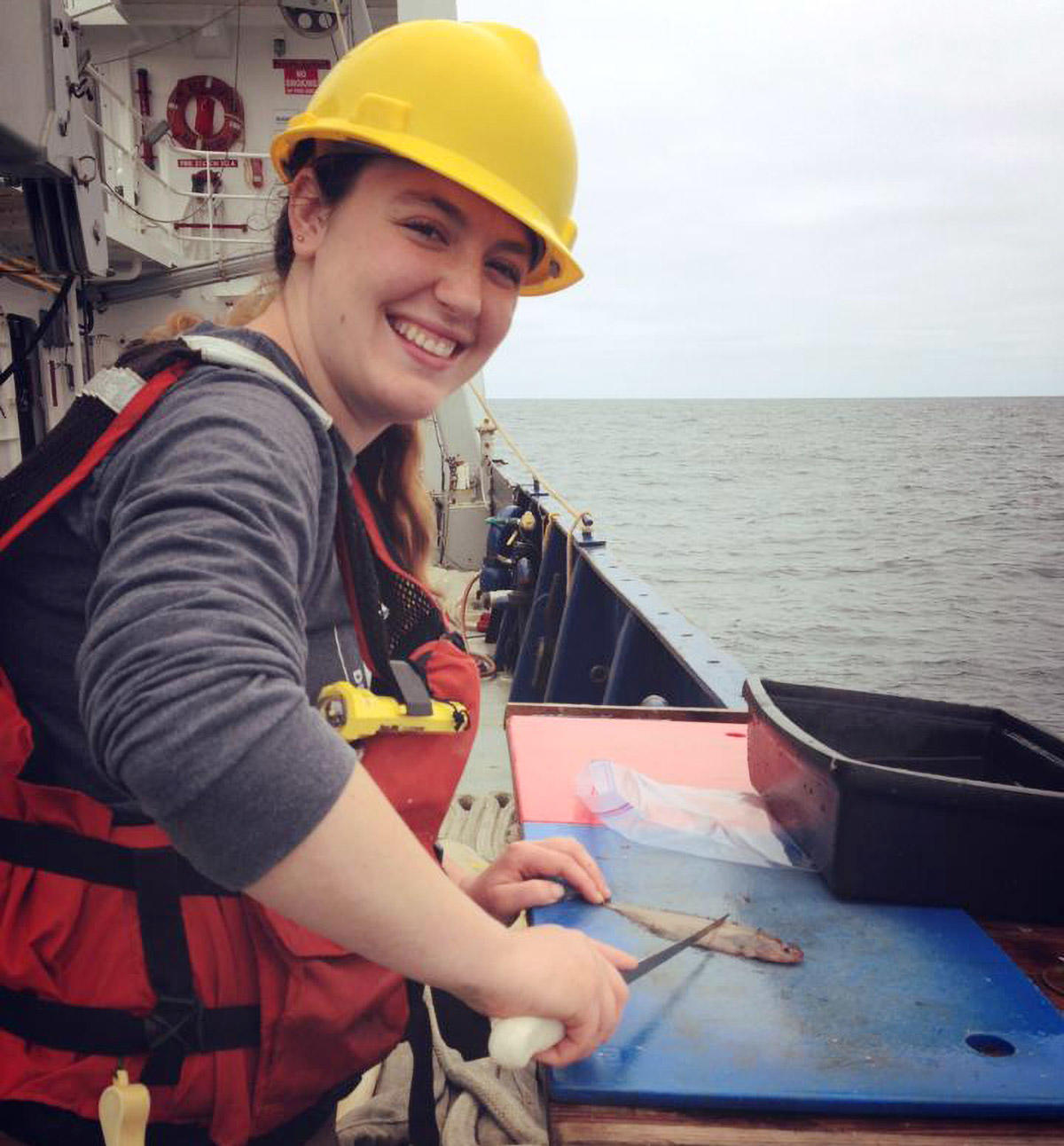 What came next?
I went to Linfield College, a small liberal arts school in Oregon, for undergrad. They didn't offer classes in fish biology or marine biology, so I decided to double-major in environmental science and biology, with a dual focus in plant ecology and economics. I had a teacher who was very encouraging, and let students help edit his manuscripts and work in his lab. We had an especially memorable conversation over coffee. I told him that I wanted to do fish ecology and he told me to read the literature and get involved; don't wait. He believed that you didn't need formal training to do something.
After college, I took a year off from school to sort out the next steps in my higher-ed journey. Did I want to be a vet or a fish ecologist?  Working at a vet clinic helped me realize that path wasn't for me. Then I began my master's degree in Marine Biodiversity and Conservation at Scripps. While there, I studied herring population dynamics in the North Sea off the coast of Norway. I also worked for a marine geologist doing fossil work in the Anza-Borrego Desert in California. We used fossils to reconstruct ancient coral reefs, identify fish teeth from sediment cores, and conceptualize ancient fish populations.
Once I finished my master's, I began working in a research capacity at a fish hatchery in San Diego. I loved it. I wanted to do more research so I undertook a PhD at Ohio State University, concentrating in Environment and Natural Resources.
I completed my PhD research on Lake Erie, studying walleye and emerald shiner. My work focused on the effects reduced water clarity, due to sediments and algae, on the visual capabilities of these fish. I wanted to understand whether turbidity impacts their ability to forage and navigate. I also worked with charter boat captains to understand impacts of algal blooms on recreational angling.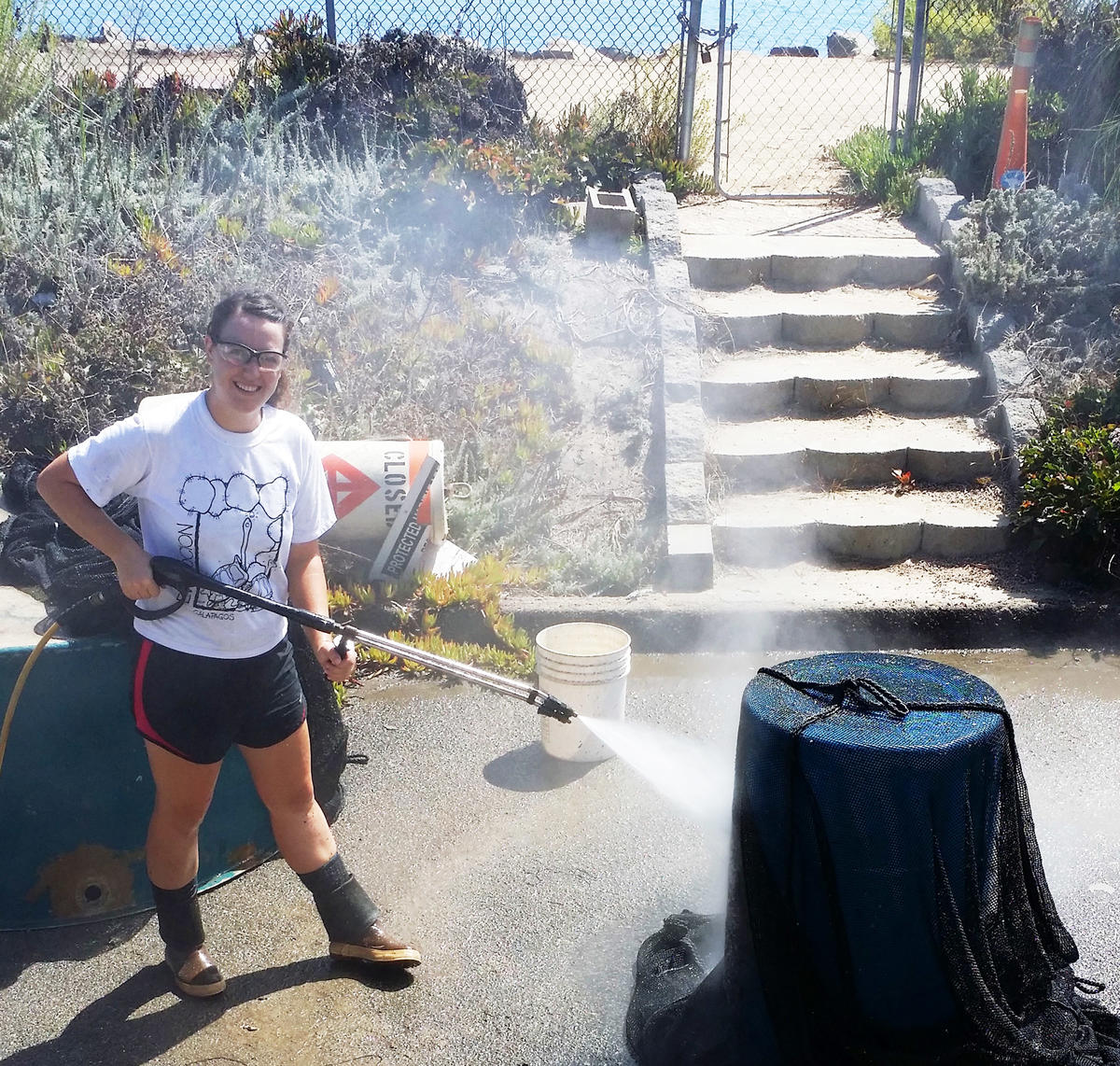 Do you have a science hero?
I appreciate scientists who can connect with people on a personal level and get others to care about science. I'm passionate about science communication and I'm a big fan of 'science Twitter'. I like following scientists that are approachable that can discuss cool things in an accessible way. My science heroes are people that make science open to everyone. Bill Nye-style scientists.
What's your favorite memory from working in the field?
During my PhD, I did all of my field work on an island in Lake Erie. We worked with a variety of researchers doing water quality and fish research. We fished at night for shiners. This past summer, part of our research involved teaching undergrads and high school students about the process of science. I loved seeing their faces light up when we explained something like how fish see in the water.
Generally where there are fish, there are predators. Did you have any experiences with predators?
After undergrad, I worked with the Alaska Department of Fish and Game at a remote field camp that's only accessible by floatplane. They left us there for two months. Our job was to count salmon that came upstream. One day as I was counting fish, staring into the river, I looked up and there was a black bear standing right there, also staring into the river. Without thinking, I grabbed a pole and bopped the bear on its head. This was probably not the smart thing to do. Thankfully, it turned around walked away. Typically, we had more issues with river otters stealing the fish than bears. They're pretty wily and kind of mean.
Do you have any advice to young scientists?
Ask questions. That was the thing I had the most trouble with. I used to be so afraid of asking questions – thinking everyone else must have the answer – so too often I asked nothing. Now looking at it from the other side, I like it when people ask me questions because I know they're engaged and excited to learn. And questions give you a chance to dive deeper. Ask everyone questions, not just your adviser or mentor. If there is something you want to know and there's an expert, ask.
If you weren't a scientist what would you do?
I have several backup plans. Opening a bookstore and cat cafe is up there on my list. I'm passionate about animal rescue and taking care of cats and dogs. I volunteer at the animal shelter. I'd also like to be a vet tech, which is still related to science.
What is the most difficult or most rewarding part of your job?
The most difficult part of my job is trying to rein in all the things I want to do. Doing everything isn't feasible, and making sure there's a balance between what I want to do and what is actually doable is tricky. In terms of what's rewarding, when I work on a model for three months, then finally it runs and there are no error messages and it produces beautiful graphs – that's the greatest.
What is your dream research project?
I would want to do something that looks at large scale changes in fish populations, including interactions with commercial fishermen and local fisheries. I'd also like to expand this work to examine fishery complexities at a global scale.  
What is your favorite local restaurant?
Julien's in Millbrook. They have an anchovy pizza that is so good. It's one of my favorite pizzas ever.