Green infrastructure can help manage urban hazards, such as flooding, extreme heat, and toxic pollution, while improving the availability and quality of urban green space. Across the US, cities have embraced green roofs, bioswales, tree plantings, interconnected parks, and other forms of green infrastructure to make cities healthier and more livable. But too often, equity is absent from planning efforts, and green infrastructure projects fail to consider impacts on marginalized communities.
 
Given pending large scale investments in infrastructure systems around the country, how can we ensure that green infrastructure projects benefit all urban residents? This question guided two new projects: a nationwide analysis of green infrastructure plans and the development of a green infrastructure governance toolkit. Both seek to improve the equity of green infrastructure in planning, policy, and practice.
20 City Analysis: GIequity.org
Researchers from Cary Institute of Ecosystem Studies and the New School's Urban Systems Lab analyzed 122 green infrastructure plans from 20 US cities to reveal how urban planning has contributed to current landscapes of inequality, and what avenues exist to transform planning for equitable infrastructure. Focus cities represented every major biome and included: Atlanta, Austin, Baltimore, Chicago, Denver, Detroit, Louisville, Miami, Milwaukee, New Orleans, New York City, Philadelphia, Phoenix, Portland, Sacramento, San Juan, Seattle, St. Louis, Syracuse, and Washington DC.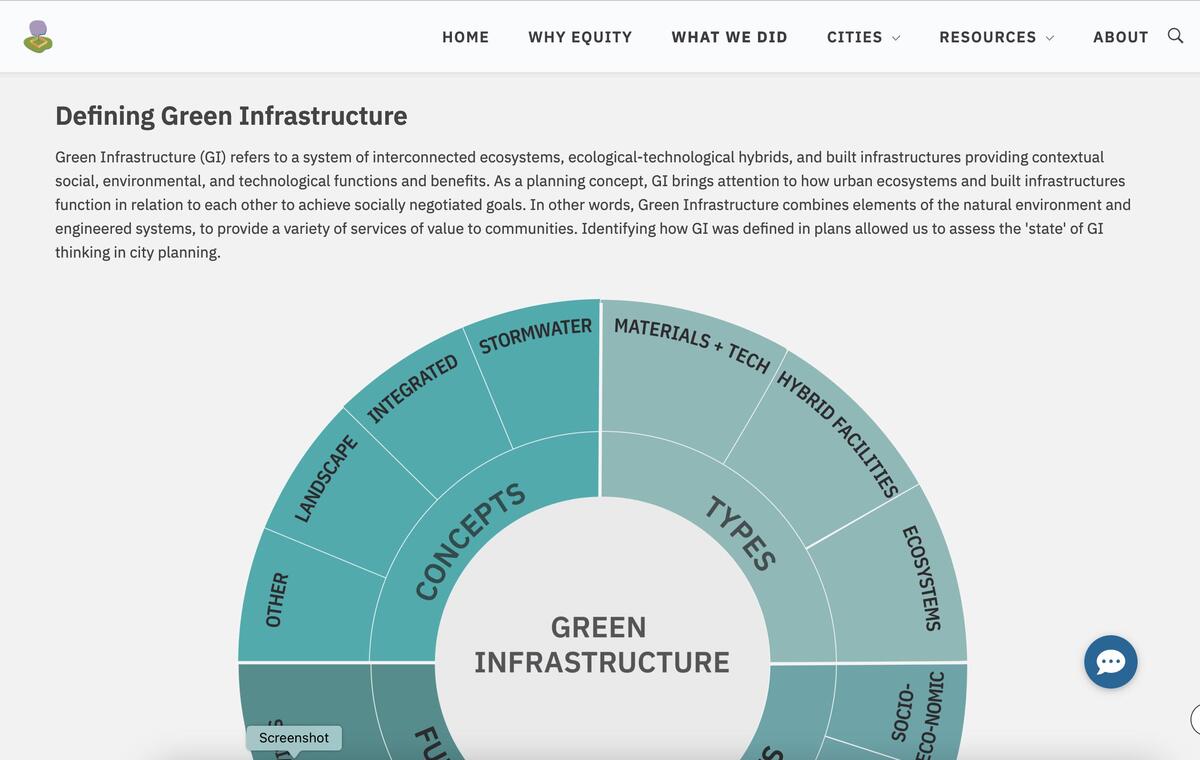 Findings from the 20-city study are featured on GIequity.org, a new website identifying current approaches, gaps, and necessary transformations in urban green infrastructure planning. The website includes an in-depth look at each city studied, including green infrastructure history, a snapshot of key findings, maps, a GI equity score, and targeted recommendations for stakeholders, community groups, policymakers and planners, as well as foundations and funders.
All are invited to learn more about this work at 'Building Equity into US Urban Green Infrastructure Planning', a webinar to be held on January 27th at 1:00pm ET. The virtual event is free and will include ample time for Q+A with researchers Drs. Timon McPhearson and Zbigniew Grabowski. Register to receive login details.
Governing Green: A Toolkit
To help stakeholders examine the social processes that shape decision making for environmental projects in cities, Cary Institute developed an experiential toolkit called Governing Green. Drawing from dozens of interviews with city officials, nonprofit representatives, and community leaders from 6 US cities, the toolkit allows users to explore three true-to-life stories of green infrastructure implementation from the standpoint of different stakeholders. Featured projects look at vacant lot restoration, Complete Streets, and green alleyways. Governing Green prepares users to effectively consider how decisions impact the function, equitable outcomes, or desired benefits associated with green infrastructure.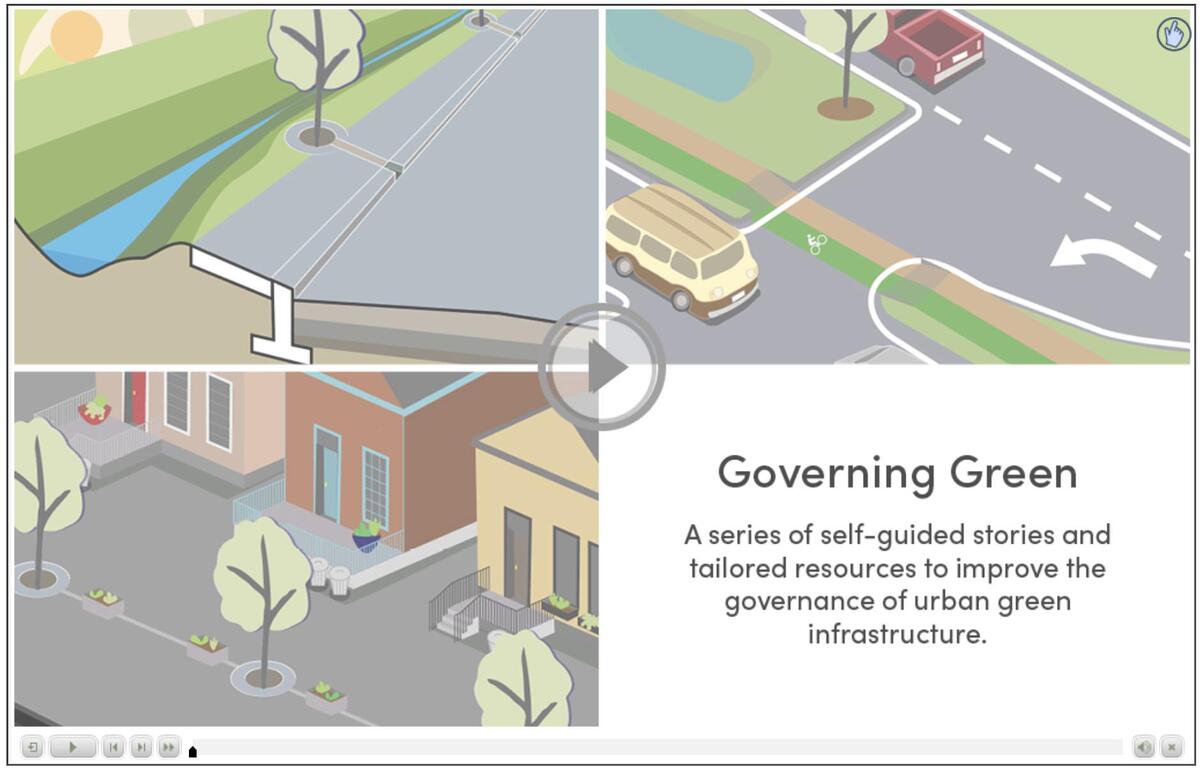 Governing Green creator Dr. Amanda Phillips De Lucas will lead an interactive virtual workshop on February 1st at 6:30pm ET. Learn how city agencies, nonprofit institutions, and community advocates can use the toolkit to achieve more equitable green infrastructure governance. The event is free and open to all. Register to receive login details.
The research team is actively publishing findings from their equity work. A recent open-access paper in Frontiers in Ecology and the Environment put forth a more expansive definition of green infrastructure based on the 20-city analysis, which found that current definitions vary widely and are often narrowly focused on stormwater management. (There is also an associated press release.)
Discover related resources, including publications, essays, a white paper, a Story Map, public talks, and more on Cary Institute's website, and the GIequity website.
 
---
Funding for GIequity.org and Governing Green was made possible by the grant "Making Green Infrastructure Equitable" from The JPB Foundation.
Cary Institute of Ecosystem Studies is an independent nonprofit center for environmental research. Since 1983, our scientists have been investigating the complex interactions that govern the natural world and the impacts of climate change on these systems. Our findings lead to more effective management and policy actions and increased environmental literacy. Staff are global experts in the ecology of: cities, disease, forests, and freshwater.
The Urban Systems Lab is an interdisciplinary research, design and practice space at The New School that provides new insight into developing more equitable, resilient, and sustainable cities. The Lab's work advances cutting edge science, data visualization, and computation to develop systemic solutions to social and environmental challenges driving inequity and injustice in urban areas. We bring together designers, urban ecologists, scientists, researchers and policymakers with the goal to improve the lives of those most vulnerable, and to enhance decision making and science communication from local to global scales.